Commentary
Camp Confidential: Browns don't expect to shrivel in spotlight
Coming off a near-playoff season, expectations are sky-high in Cleveland. But there also are significant questions, James Walker writes.
Updated:
August 18, 2008, 9:00 AM ET
By
James Walker
| ESPN.com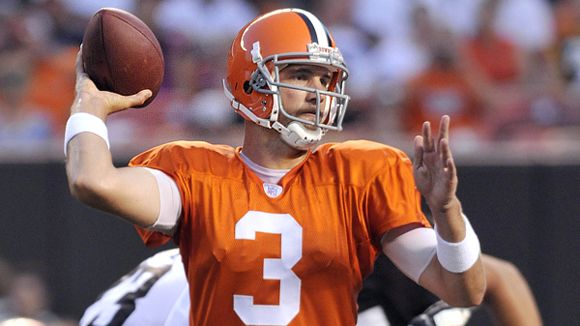 Jason Miller/US PresswireDespite leading Cleveland to the cusp of the playoffs last season, QB Derek Anderson -- who signed a three-year, $24 million contract in the offseason -- faces plenty of scrutiny. And remember this: Brady Quinn is waiting in the wings.
BEREA, Ohio -- The season of great expectations is under way for the
Cleveland Browns
.
Franchise Player

Who's the best player in franchise history? Vote Now!
Not at any point since the Browns returned to the NFL in 1999 has there been such buzz and national attention surrounding this once-struggling franchise. The Browns are the trendy pick to do damage in a deep and talented AFC, and the league obviously wants to showcase them by giving Cleveland five nationally televised, prime-time games. (Surprisingly finishing 10-6 in 2007 and sending seven players to the Pro Bowl will do that for a team.)
Cleveland also added key pieces on defense in free agency and looks even better on paper than it did a year ago. But questions still remain for last season's Cinderella team.
Key questions
1. Can the Browns handle lofty expectations?
There was no pressure for the Browns in 2007. Cleveland was coming off a 4-12 season and many national pundits had the team ranked No. 30 or worse in the preseason. Some had the Browns ranked last. The low expectations created motivation and a nothing-to-lose atmosphere that served Cleveland well for most of the season. It was only toward the end, when expectations rose and the national spotlight was on when the Browns played tight. Cleveland went 2-2 during a key four-game stretch in December that left the Browns out of the playoffs. Cleveland feels it learned how to handle the pressure and expectations of being a playoff contender and will do a better job of not losing focus in big games this season.
2. Is Derek Anderson the real deal?
If it wasn't for the quarterback soap opera in Green Bay, a case could be made that the most questioned QB in the NFL this season is Browns starter Derek Anderson. Few QBs have received this much scrutiny coming off a Pro Bowl season. Anderson threw for 3,787 yards and 29 touchdowns, but he also had 19 interceptions and a 56.5 completion percentage. Does that make him a one-year wonder? Anderson has a very loose personality and the coaching staff believes the 25-year-old only has room to get better. That's why Cleveland backed him with a three-year, $24 million contract this offseason despite having highly touted first-round pick
Brady Quinn
waiting for an opportunity.
Anderson is an ideal fit for this offense. The Browns want to attack defenses vertically, and Anderson has the arm strength and gunslinger mentality the team likes. Of course, taking chances is going to result in mistakes, too. But Cleveland's staff has worked extensively with Anderson on reading coverages and knowing when to throw the ball away on plays that are going nowhere.
If Anderson reduces his turnovers, he has a chance to be a good quarterback for the long term. And eventually the Browns are going to have to decide to move beyond 2008 with either Anderson or Quinn.
3. Will Cleveland's porous defense improve?
[+] Enlarge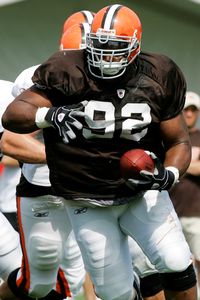 AP Photo/Mark DuncanThe Browns are counting on tackle Shaun Rogers to help turn around last season's 30th-ranked defense.
After finishing last season ranked No. 30 defensively, there is nowhere to go but up for this struggling unit.
The Browns fired defensive coordinator Todd Gratham in the offseason and promoted up-and-comer Mel Tucker, who did a solid job coaching the secondary for three years in Cleveland.
Tucker is doing something different with this unit. Instead of trying to confuse offenses with so many concepts and schemes, Tucker is focusing on just a handful of packages that he wants his defense to master. This was a lesson learned from 2007, when the many changes made throughout the season confused the defense. The players were constantly thinking and in the process were unable to develop an identity. Based on their offseason acquisitions, the Browns want their identity to be stout in the front seven. Cleveland acquired defensive tackle
Shaun Rogers
and defensive end
Corey Williams
from the
Detroit Lions
and
Green Bay Packers
, respectively. The Browns lost depth in the secondary, trading top cornerback
Leigh Bodden
to the Lions in the Rogers deal and losing cornerback
Daven Holly
(knee) for the season during organized team activities.
Market watch
The secondary used to be a strength, but the Browns are only as good as their two second-year players,
Eric Wright
and
Brandon McDonald
. Both have shown potential and are having good camps, but it remains to be seen whether they can compete week in and week out with the talented receivers the Browns face during their brutal schedule. Cleveland signed 12-year veteran
Terry Cousin
to compete at nickelback, but he hasn't stood out in training camp. Versatile safety
Mike Adams
also is getting a look at corner during nickel and dime situations.
Newcomer to watch
Keep an eye on veteran receiver
Donte' Stallworth
. Cleveland signed Stallworth to a seven-year, $35 million contract in March. He had 46 catches for 697 yards and three touchdowns with the
New England Patriots
last season. But with so much talent around him in 2007, Stallworth didn't feel the Patriots used him effectively. The Browns' coaching staff likes Stallworth's ability to stretch the field. They also believe Stallworth has deceptive strength and should be able to break tackles and make plays after the catch.
Observation deck
The Browns are having hard luck with their rookie class this season as top picks
Martin Rucker
and
Beau Bell
suffered knee injuries this summer. The pair of fourth-rounders were expected to provide depth at tight end and linebacker, respectively, but they will miss the first few weeks of the season after knee surgery. ... Cleveland had a quiet offseason signing guard
Rex Hadnot
who is already paying dividends. With recent injuries to
Ryan Tucker
(hip) and
Seth McKinney
(ankle), Hadnot earned most of the reps in training camp and the preseason with the first team. ... Outside linebacker
Kamerion Wimbley
said he is working on several new pass-rushing moves and is expecting a big year after registering just five sacks in 2007. ... The Browns doled out a lot of money this year, but still have two Pro Bowl players in tight end
Kellen Winslow Jr.
and return specialist
Joshua Cribbs
who want new contracts. Neither player has caused a stir, and it appears the Browns' preference is to wait another season.
James Walker covers the NFL for ESPN.com.
ESPN Miami Dolphins reporter
A Temple graduate and Hyattsville, Md., native who lives in Miami
Joined ESPN in 2008
TRAINING CAMP 2008
The regular season approaches. What teams will complete the journey to Tampa for Super Bowl XLIII? Training camp index | Dates


Commentary/features

Warner proves he has future
The Cardinals gave Kurt Warner the chance to compete with Matt Leinart for the starting spot, and the 37-year-old quarterback made the most of the opportunity.
John Clayton
---

Pennington's learning curve
It seemed the Jets could not help Chad Pennington pack his bags fast enough. Now the most experienced QB on the Dolphins, he's relishing the chance to excel again.
Jeffri Chadiha
---
•
Kreidler: Future still promising for 49ers' Smith
•
Clayton: Injuries impact preseason
•
Seifert: A new approach in Detroit
•
Smith: Favre drama a reality check for McNabb
•
Kuharsky: Titans focused on defense
•
Sando: Running key for Holmgren's swan song
•
Mosley: Giants hope history teaches well
•
Garber: Coughlin distances from SB win
•
Williamson: Chiefs engergized by youth
•
Chadiha: O-line might hold real keys for Jets
•
Wickersham: Three tips for Favre
•
Mosley: Giants done with celebrating
•
Naylor: Canadian divide on NFL invasion
•
Graham: Sleeper Bills
|
Blog: Yo, Canada
•
Seifert: For a change, no distractions for Vikes
•
Mosley: McNabb confident Eagles among elite
•
Kuharsky: Garrard taking control
•
Mosley: Eagles poised to return to prominence
•
Clayton: Young on his way to elite status
•
Kuharsky: Garrard ready to lead Jags
•
Chadiha: Delhomme determined to seize moment
•
Yasinskas: Smith's approach suits Falcons
•
Mosley: Zorn's coaching desire finally fulfilled
•
Williamson: Young Raiders share Kiffin's hunger
•
Graham: Jets wiping slate clean
•
Chadiha: Turner ready to lead Falcons
•
Clayton: Vikings firmly in Jackson's corner
•
Walker: Tough schedule awaits Steelers in 2008
•
Mosley: Favre is QB turned ringmaster
•
Clayton: 5 reasons Favre would start for Pack
•
Graham: Patriots not dwelling on past
•
Sando: Rams optimistic despite questions
•
Williamson: Shanahan points to playoffs
•
Walker: Bengals look to move past chaos
•
Yasinskas: Delhomme, Peppers must step up
NFL blog network
•
NFL Nation blog
•
AFC
:
North
|
South
|
East
|
West
•
NFC:
North
|
South
|
East
|
West
•
Contact our bloggers
Camp Confidential training camp tour
A breakdown of our annual camp tour:
• Saturday, July 26: Ravens, Saints
• Sunday, July 27: Colts, Bears
• Monday, July 28: Dolphins, Cardinals
• Tuesday, July 29: Packers

---
•
Wednesday, July 30:
Chargers
,
Cowboys
•
Thursday, July 31:
Texans
,
49ers
•
Friday, Aug. 1:
Patriots
•
Saturday, Aug. 2:
Bengals
,
Panthers
---
•
Sunday, Aug. 3:
Broncos
•
Monday, Aug. 4:
Rams
•
Tuesday, Aug. 5:
Steelers
•
Wednesday, Aug. 6:
Jets
---
•
Thursday, Aug. 7:
Raiders
|
Redskins
•
Friday, Aug. 8:
Falcons
•
Saturday, Aug. 9:
Jaguars
---
•
Tuesday, Aug. 12:
Eagles
|
Vikings
•
Wednesday, Aug. 13:
Bills
•
Thursday, Aug. 14:
Chiefs
---
•
Friday, Aug. 15:
Giants
|
Seahawks
•
Saturday, Aug. 16:
Bucs
|
Lions
•
Sunday, Aug. 17:
Browns
•
Monday, Aug. 18:
Titans
Video
•
NFL Insiders on Bills, Broncos, more
•
Rachel Nichols on Favre, Jets
•
NFL Live dissects ESPN.com power rankings
Audio
•
Podcast: Biggest questions
Scouts Inc.
•
Camp outlook: AFC Q&A on X's and O's

•
Camp outlook: NFC Q&A on X's and O's

•
Notable quarterback battles
Nfl Team Apparel Youth Cleveland Browns Barkevious Mingo #51 Orange T-shirt Shop »

MOST SENT STORIES ON ESPN.COM