Commentary
Camp Confidential: Young Raiders share Kiffin's hunger
Coach Lane Kiffin is committed to returning the Raiders to excellence, and he's convinced his young skill players share the same mindset, writes Bill Williamson.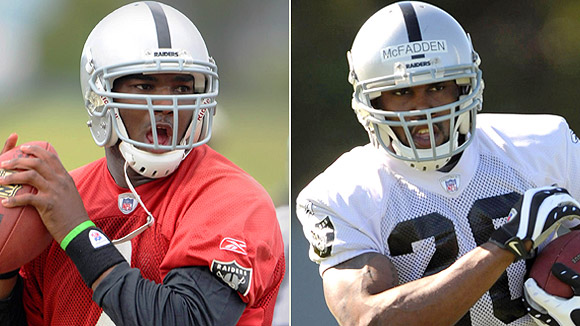 US PresswireThe upsides of JaMarcus Russell, left, and Darren McFadden have the Raiders excited about the future.
NAPA, Calif. -- Lane Kiffin knows that if he is going to save his job and be the coach who restores the excellence in Oakland, he can't do it alone.
He knows he needs a core of young players to help pull the Raiders, who have won a league-low 19 games in the past five seasons, out of the NFL gutter.
AFC West blog

ESPN.com's Bill Williamson writes about all things AFC West in his division blog.
Kiffin thinks he has a core worthy of sponsoring an Oakland revival. As a result of the recent silde, the Raiders have drafted high. However, after not taking advantage of the high draft picks in the first few years of the downslide, Oakland is confident it has found franchise-type players in the past two drafts.
The team is ecstatic about the potential pairing of quarterback JaMarcus Russell and running back Darren McFadden. Russell was the No. 1 overall draft choice in 2007, and McFadden was the fourth choice this spring. Russell is going through the normal young quarterback up-and-down period in training camp, but the team has high hopes for McFadden as a rookie.
What Kiffin likes most about his young centerpieces is their desire to succeed.
"You want to be around guys who this game is as important to them as it is to you," Kiffin said. "That's what you got with these guys. They both want it so bad. They are all about football, and they both want to learn so much, and they work so hard."
Although Oakland has major questions on the offensive line and at receiver, and the defense still has to show it can stop the run, Kiffin believes the team can turn the corner this year because of young players such as Russell, McFadden and second-year tight end Zach Miller. Kiffin said he and his youngsters are equally interested in restoring the Raiders' glory.
"They want to be part of something special," Kiffin said. "We all want to bring this team back to what it used to be in the past. It would be a pretty special feeling if we can do it."
Key questions
Is Russell ready for prime time?
Probably not right away. What young quarterback is, though? After a long holdout last season, Russell played sparingly as a rookie. He struggled at times but showed flashes.
The team has been pleased with his progress in the offseason and in the first two weeks of training camp. There is no questioning Russell's arm strength, and he looks to be in solid shape. The guy is built like a power forward. With a questionable line and receiving corps, Russell might have to do a lot on his own, and that is a lot to ask of a young quarterback. It might take some time.
Will the Raiders' expensive offseason pay off?
Raiders owner Al Davis showed his thirst to become a winner again by shelling out more than $250 million to acquire players through free agency, trades and the draft.
Among the big names who came to Oakland are cornerback DeAngelo Hall, receiver Javon Walker and safety Gibril Wilson. If the big-money offseason doesn't work, it will be interesting to see how the team reacts next offseason.
Is Kiffin safe for this year?
[+] Enlarge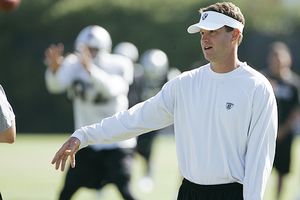 AP Photo/Eric RisbergLane Kiffin's NFL ties, age, recruiting prowess and a potentially strong staff means the Vols could salvage what was shaping up to be a great class.
It was well documented early in the offseason that Kiffin's job security was questionable. However, Kiffin has survived and is leading his team into the season. The Raiders have a very easy schedule in the first 12 games. So the team could build a nice record.
On the flipside, if the Raiders stumble early, Kiffin could be in trouble. From observing Kiffin, he doesn't appear to be worried. He has developed a reputation as a hard worker and is confident in his coaching ability. It doesn't take long to notice Kiffin is in control of his team and here to win. In Oakland, coaching job security always seems to be tenuous. Kiffin, though, seems bent on turning the Raiders around and not worrying about security.
Market watch
Walker could be on the verge of being a colossal free-agent bust. Oakland stunned the league early in the offseason by giving Walker a six-year, $55 million contract after he was cut by AFC West rival Denver. The Broncos cut Walker in part because he had just seven catches in the final six games of 2007 after coming back from a knee surgery. It was his second surgery on the knee in two years.
Walker, who also was the victim of a robbery and assault in June in Las Vegas, has been slow to come on for the Raiders. Because of his inability to get in good playing shape and show his previous elite form (Green Bay in 2004 and Denver in 2006), Walker had to be talked out of retirement last week.
Considering Walker's recent history, the Raiders seem concerned about whether he can become their No. 1 receiver. If Walker can't get the job done, the Raiders will have to rely on veteran Ronald Curry and the newly signed Drew Carter.
Newcomer to watch
Oakland made headlines by bringing in veteran after veteran, but it's a rookie who likely will stand out the most. McFadden looks like the goods.
The Raiders will use the former Arkansas star several ways. He will get plenty of carries out of the backfield and will be a safety net on short passes from Russell. He also likely will be in the return mix.
McFadden might not get the rushing yards Minnesota's Adrian Peterson got as a rookie in 2007, but McFadden's affect on Oakland's offense could be as significant. He has been an extremely hard worker, he has learned the offense quickly and he seems intent on becoming an instant star in the NFL.
Observation deck
Because of the issues on the offensive line, the Raiders might not use JaMarcus Russell's cannon arm as much as they would like. Expect a lot of dump-off passes -- not only to Darren McFadden, but to Zach Miller. The team loves Miller's progress and believes the second-year player from Arizona State could catch 60 to 70 passes this season. … The Raiders are excited about their running back corps, which also includes Justin Fargas and Michael Bush. Kiffin doesn't think there will be a problem getting all three players involved. … Defensive tackle Tommy Kelly is coming along slowly but surely from a torn ACL he suffered in 2007. Kelly, who re-signed with Oakland for $50 million, still has to get in better playing shape.
Bill Williamson covers the NFL for ESPN.com
ESPN Oakland Raiders reporter
Covered AFC West for five seasons for ESPN.com
Covered Broncos for Denver Post
Also covered Vikings, Packers, Seahawks
TRAINING CAMP 2008
The regular season approaches. What teams will complete the journey to Tampa for Super Bowl XLIII? Training camp index | Dates


Commentary/features

Warner proves he has future
The Cardinals gave Kurt Warner the chance to compete with Matt Leinart for the starting spot, and the 37-year-old quarterback made the most of the opportunity.
John Clayton
---

Pennington's learning curve
It seemed the Jets could not help Chad Pennington pack his bags fast enough. Now the most experienced QB on the Dolphins, he's relishing the chance to excel again.
Jeffri Chadiha
---
•
Kreidler: Future still promising for 49ers' Smith
•
Clayton: Injuries impact preseason
•
Seifert: A new approach in Detroit
•
Smith: Favre drama a reality check for McNabb
•
Kuharsky: Titans focused on defense
•
Sando: Running key for Holmgren's swan song
•
Mosley: Giants hope history teaches well
•
Garber: Coughlin distances from SB win
•
Williamson: Chiefs engergized by youth
•
Chadiha: O-line might hold real keys for Jets
•
Wickersham: Three tips for Favre
•
Mosley: Giants done with celebrating
•
Naylor: Canadian divide on NFL invasion
•
Graham: Sleeper Bills
|
Blog: Yo, Canada
•
Seifert: For a change, no distractions for Vikes
•
Mosley: McNabb confident Eagles among elite
•
Kuharsky: Garrard taking control
•
Mosley: Eagles poised to return to prominence
•
Clayton: Young on his way to elite status
•
Kuharsky: Garrard ready to lead Jags
•
Chadiha: Delhomme determined to seize moment
•
Yasinskas: Smith's approach suits Falcons
•
Mosley: Zorn's coaching desire finally fulfilled
•
Williamson: Young Raiders share Kiffin's hunger
•
Graham: Jets wiping slate clean
•
Chadiha: Turner ready to lead Falcons
•
Clayton: Vikings firmly in Jackson's corner
•
Walker: Tough schedule awaits Steelers in 2008
•
Mosley: Favre is QB turned ringmaster
•
Clayton: 5 reasons Favre would start for Pack
•
Graham: Patriots not dwelling on past
•
Sando: Rams optimistic despite questions
•
Williamson: Shanahan points to playoffs
•
Walker: Bengals look to move past chaos
•
Yasinskas: Delhomme, Peppers must step up
NFL blog network
•
NFL Nation blog
•
AFC
:
North
|
South
|
East
|
West
•
NFC:
North
|
South
|
East
|
West
•
Contact our bloggers
Camp Confidential training camp tour
A breakdown of our annual camp tour:
• Saturday, July 26: Ravens, Saints
• Sunday, July 27: Colts, Bears
• Monday, July 28: Dolphins, Cardinals
• Tuesday, July 29: Packers

---
•
Wednesday, July 30:
Chargers
,
Cowboys
•
Thursday, July 31:
Texans
,
49ers
•
Friday, Aug. 1:
Patriots
•
Saturday, Aug. 2:
Bengals
,
Panthers
---
•
Sunday, Aug. 3:
Broncos
•
Monday, Aug. 4:
Rams
•
Tuesday, Aug. 5:
Steelers
•
Wednesday, Aug. 6:
Jets
---
•
Thursday, Aug. 7:
Raiders
|
Redskins
•
Friday, Aug. 8:
Falcons
•
Saturday, Aug. 9:
Jaguars
---
•
Tuesday, Aug. 12:
Eagles
|
Vikings
•
Wednesday, Aug. 13:
Bills
•
Thursday, Aug. 14:
Chiefs
---
•
Friday, Aug. 15:
Giants
|
Seahawks
•
Saturday, Aug. 16:
Bucs
|
Lions
•
Sunday, Aug. 17:
Browns
•
Monday, Aug. 18:
Titans
Video
•
NFL Insiders on Bills, Broncos, more
•
Rachel Nichols on Favre, Jets
•
NFL Live dissects ESPN.com power rankings
Audio
•
Podcast: Biggest questions
Scouts Inc.
•
Camp outlook: AFC Q&A on X's and O's

•
Camp outlook: NFC Q&A on X's and O's

•
Notable quarterback battles
Nike Men's Darren Mcfadden Jersey - Away Game Oakland Raiders Shop »

MOST SENT STORIES ON ESPN.COM