Commentary
Camp Confidential: Delhomme, Peppers integral to Panthers rebound
Jake Delhomme is coming off of Tommy John and Julius Peppers a 2.5-sack season. One thing is clear, both players need to bounce back, Pat Yasinskas writes.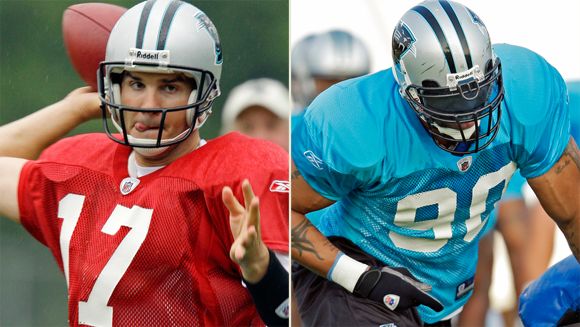 AP PhotoQuarterback Jake Delhomme is hoping to recover smoothly from Tommy John surgery that cut his 2007 season short, while defensive end Julius Peppers tries to rebound from a disappointing 2.5-sack performance in 2007.
SPARTANBURG, S.C., -- First, they fixed Jake Delhomme's elbow. Then, they repaired his offense.
NFC South blog

ESPN.com's Pat Yasinskas writes about all things NFC South in his division blog.
Put those actions together, and it's easy to understand the optimism coming out of the
Carolina Panthers
training camp. Last season's quarterback carousel has stopped with Delhomme's return from Tommy John surgery. Delhomme's presence alone might be enough to take the Panthers from a 7-9 season back to the playoffs, but coach John Fox and general manager Marty Hurney didn't take anything for granted as they went through the offseason. They agreed with Delhomme, who publicly stated at the end of last season that the Panthers had to get more playmakers. "Maybe I shouldn't have said it, but that's just the way I felt," Delhomme said. "It wasn't anger from a disappointing season because I had finished 2½ months early. It was just what I saw and what I felt." The Panthers went out and overhauled their offense, signing veteran receivers
Muhsin Muhammad
and
D.J. Hackett
to provide other options besides
Steve Smith
, who was the only consistent bright spot on the offense last year. They drafted running back
Jonathan Stewart
with their first pick and traded back into the first round to draft offensive tackle
Jeff Otah
, a move that allowed them to blow up the offensive line.
With Otah taking over at right tackle, Jordan Gross will switch to the left side and former left tackle Travelle Wharton has moved to left guard. The Panthers expect to have a bigger, more physical line, and the team is hoping Stewart will be the power back that has been missing since Stephen Davis left town. The plan is to mix Stewart with speed back DeAngelo Williams.
But the biggest change of all should be the return of Delhomme, who went down in Week 3 last season. Without him, the Panthers struggled with
David Carr
,
Vinny Testaverde
and
Matt Moore
taking turns at quarterback. Carr and Testaverde are gone, and Moore, who showed promise late in the season, is the backup. With all the uncertainty at quarterback last season, the Panthers never fully got to show the new offense brought in by coordinator Jeff Davidson, but that's about to change. "I think people forget that in 2½ games, Jake had eight touchdown passes and a 100-plus quarterback rating and he had really delved into the new offense and what we were doing and the flexibility at the line of scrimmage," Fox said. "He had really taken to it, and I thought he was going to have a big year last year. Now, I'm confident he'll have a big year this year."
Key questions
1. Who will end up as the starting running back?
Fox often has preferred to stick with veterans over rookies, but that won't be the case this time. The Panthers used their first pick on Stewart because the offense had been lacking a power back. Stewart's presence should help allow Carolina to get back to the ball-control offense Fox prefers. Williams, a first-round pick in 2006, will be a situational player, and the team would be wise to try to maximize his ability to run outside and catch passes. But the Panthers wouldn't have drafted Stewart if they thought Williams could handle 30 touches a game. 2. Will Julius Peppers bounce back? The defensive end slumped horribly last season, recording only 2.5 sacks and playing poorly against the run. The team and Peppers insist that he was healthy last season, but he clearly wasn't the player he had been in the past. Peppers still has great athletic ability, and the Panthers are hoping a move from left to right defensive end will provide a spark that brings him back to his 13-sack form of 2006. It had better, because after the retirement of defensive tackle Mike Rucker, there aren't many other pass-rushing options. The Panthers need Peppers to emerge as the leader of the defensive line, and he has plenty of reason for motivation as he enters the final year of his contract. 3. Can middle linebacker Jon Beason duplicate his performance from his rookie season?

[+] Enlarge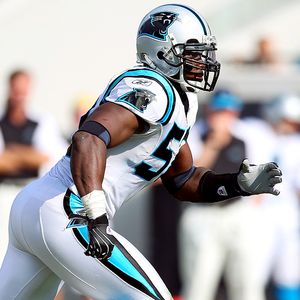 Paul Spinelli/Getty ImagesLinebacker Jon Beason was impressive as a rookie.

Peppers might be the best athlete on the defense, but he's quiet by nature. Beason is not. He took over at middle linebacker early last season, and the defense quickly became his. Beason is going to get only better with experience, and he could be a Pro Bowler before long. Beason will turn out to be the type of player the Panthers thought they had in former middle linebacker Dan Morgan, whose career was ruined by injuries. 4. Are there enough other receiving weapons to take defensive attention away from Smith? The Panthers think so. Muhammad and Hackett aren't big-play guys, but they have the ability to give the Panthers some possession receivers. Muhammad had a good relationship with Delhomme and Smith before leaving to spend the past three seasons in Chicago, and his presence should bring stability. The wild card might be second-year pro Dwayne Jarrett. He struggled last season but has good physical skills and has shown good improvement so far in camp. Jarrett is viewed as a younger version of Muhammad and could become a bigger factor as the season goes on.
Market watch

Fox and Hurney clearly are on the hot seat. They've had two straight nonwinning seasons, and owner Jerry Richardson isn't known for his patience. Fox and Hurney rebuilt this franchise after the George Seifert era and have taken the team to two NFC Championship Games and a Super Bowl. But the team has underachieved the past two seasons. Fox and Hurney got a pass last season because of Delhomme's injury, but Richardson's not likely to put up with any more excuses. Fox has shown an ability to get the most out of his roster in the past, and he needs to do that again.
Newcomer to watch

Although veteran Terrence Holt was brought in, Carolina has been working rookie free safety Charles Godfrey with the first team for most of training camp. The third-round pick out of Iowa has shown good cover skills and a nose for the ball. The Panthers have a strong trio of cornerbacks in Chris Gamble, Richard Marshall and Ken Lucas, and that should protect Godfrey. But strong safety Chris Harris sometimes struggles in deep coverage, so Godfrey likely will have to step up to immediate challenges from opposing offenses.
Observation deck

The Panthers haven't been thrilled with their kickoffs for several years, and they're considering the idea of carrying a kickoff specialist. They have Rhys Lloyd in camp and he gets great distance on his kicks. Kicker John Kasay and punter Jason Baker each have handled kickoffs in the past, and neither gets the ball particularly deep. But carrying Lloyd would require opening a roster spot from somewhere else, and it's tough to imagine Fox doing that. … Defensive tackle has been a problem area in camp because of injuries. Damione Lewis, Maake Kemoeatu, Darwin Walker and Ian Scott -- who are likely to be the top four tackles -- each have missed some practice time. Lewis, Kemoeatu and Walker should be back soon, but the Panthers are taking a long look at Gary Gibson, who has been getting a lot of work in practice. … The Panthers have moved linebacker Thomas Davis from the strong side to the weak side. Davis, a former first-round pick, has great athletic ability but hasn't come up with a lot of big plays. The Panthers believe moving him to the weak side will lessen his coverage responsibilities and free him to come up with more plays.

Pat Yasinskas covers the NFL for ESPN.com.
ESPN Tampa Bay Buccaneers reporter
Previously covered NFC South for ESPN.com
Covered Panthers for The Charlotte Observer from 1999-2008
Began journalism career with The Tampa Tribune in 1990
TRAINING CAMP 2008
The regular season approaches. What teams will complete the journey to Tampa for Super Bowl XLIII? Training camp index | Dates


Commentary/features

Warner proves he has future
The Cardinals gave Kurt Warner the chance to compete with Matt Leinart for the starting spot, and the 37-year-old quarterback made the most of the opportunity.
John Clayton
---

Pennington's learning curve
It seemed the Jets could not help Chad Pennington pack his bags fast enough. Now the most experienced QB on the Dolphins, he's relishing the chance to excel again.
Jeffri Chadiha
---
•
Kreidler: Future still promising for 49ers' Smith
•
Clayton: Injuries impact preseason
•
Seifert: A new approach in Detroit
•
Smith: Favre drama a reality check for McNabb
•
Kuharsky: Titans focused on defense
•
Sando: Running key for Holmgren's swan song
•
Mosley: Giants hope history teaches well
•
Garber: Coughlin distances from SB win
•
Williamson: Chiefs engergized by youth
•
Chadiha: O-line might hold real keys for Jets
•
Wickersham: Three tips for Favre
•
Mosley: Giants done with celebrating
•
Naylor: Canadian divide on NFL invasion
•
Graham: Sleeper Bills
|
Blog: Yo, Canada
•
Seifert: For a change, no distractions for Vikes
•
Mosley: McNabb confident Eagles among elite
•
Kuharsky: Garrard taking control
•
Mosley: Eagles poised to return to prominence
•
Clayton: Young on his way to elite status
•
Kuharsky: Garrard ready to lead Jags
•
Chadiha: Delhomme determined to seize moment
•
Yasinskas: Smith's approach suits Falcons
•
Mosley: Zorn's coaching desire finally fulfilled
•
Williamson: Young Raiders share Kiffin's hunger
•
Graham: Jets wiping slate clean
•
Chadiha: Turner ready to lead Falcons
•
Clayton: Vikings firmly in Jackson's corner
•
Walker: Tough schedule awaits Steelers in 2008
•
Mosley: Favre is QB turned ringmaster
•
Clayton: 5 reasons Favre would start for Pack
•
Graham: Patriots not dwelling on past
•
Sando: Rams optimistic despite questions
•
Williamson: Shanahan points to playoffs
•
Walker: Bengals look to move past chaos
•
Yasinskas: Delhomme, Peppers must step up
NFL blog network
•
NFL Nation blog
•
AFC
:
North
|
South
|
East
|
West
•
NFC:
North
|
South
|
East
|
West
•
Contact our bloggers
Camp Confidential training camp tour
A breakdown of our annual camp tour:
• Saturday, July 26: Ravens, Saints
• Sunday, July 27: Colts, Bears
• Monday, July 28: Dolphins, Cardinals
• Tuesday, July 29: Packers

---
•
Wednesday, July 30:
Chargers
,
Cowboys
•
Thursday, July 31:
Texans
,
49ers
•
Friday, Aug. 1:
Patriots
•
Saturday, Aug. 2:
Bengals
,
Panthers
---
•
Sunday, Aug. 3:
Broncos
•
Monday, Aug. 4:
Rams
•
Tuesday, Aug. 5:
Steelers
•
Wednesday, Aug. 6:
Jets
---
•
Thursday, Aug. 7:
Raiders
|
Redskins
•
Friday, Aug. 8:
Falcons
•
Saturday, Aug. 9:
Jaguars
---
•
Tuesday, Aug. 12:
Eagles
|
Vikings
•
Wednesday, Aug. 13:
Bills
•
Thursday, Aug. 14:
Chiefs
---
•
Friday, Aug. 15:
Giants
|
Seahawks
•
Saturday, Aug. 16:
Bucs
|
Lions
•
Sunday, Aug. 17:
Browns
•
Monday, Aug. 18:
Titans
Video
•
NFL Insiders on Bills, Broncos, more
•
Rachel Nichols on Favre, Jets
•
NFL Live dissects ESPN.com power rankings
Audio
•
Podcast: Biggest questions
Scouts Inc.
•
Camp outlook: AFC Q&A on X's and O's

•
Camp outlook: NFC Q&A on X's and O's

•
Notable quarterback battles
Nike Men's Away Game Jersey Carolina Panthers Cam Newton #1 Shop »

MOST SENT STORIES ON ESPN.COM