Commentary
Camp Confidential: Most hands on Bucs' deck seem very familiar
Even the new faces in Tampa are old: Hello again, Warrick Dunn. The Bucs changed very little from a team good enough to win the NFC South, Pat Yasinskas writes.
Originally Published:
August 16, 2008
By
Pat Yasinskas
| ESPN.com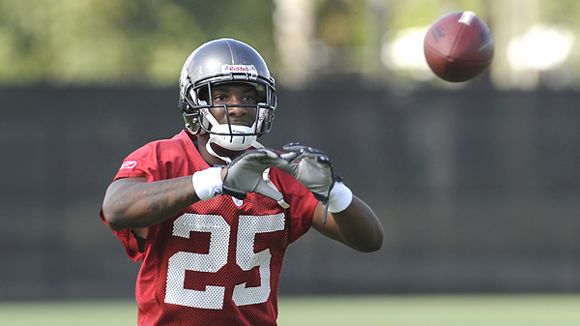 Al Messerschmidt/Getty ImagesRookie cornerback Aqib Talib is among the new faces sprinkled into the Buccaneers' veteran defensive mix. A first-round draft pick out of Kansas, Talib is expected to push for a starting role soon.
TAMPA, Fla. -- Aside from all the talk about Brett Favre, you probably haven't heard much about the Tampa Bay Buccaneers this summer.
The biggest story of their training camp was who wasn't practicing rather than who was on the field. Quarterback
Jeff Garcia
, who survived the Favre talk, missed most of camp with a groin injury. Top receiver
Joey Galloway
didn't practice at all in camp. Neither did left tackle
Luke Petitgout
or running back
Carnell Williams
. Garcia and Galloway are expected to be fine by the start of the regular season. The outlook isn't as optimistic for Petitgout and Williams, who could start the season on the physically unable to perform list.
NFC South blog

ESPN.com's Pat Yasinskas writes about all things NFC South in his division blog.
All the injuries have left the Bucs without a lot of sizzle, and the
New Orleans Saints
and
Carolina Panthers
have become the trendy picks to win the NFC South. The fact is that division title still belongs to the Bucs, though, and they're not about to let it go without a fight. "We're not a team that needs to be talked about at this point in the season," veteran linebacker
Derrick Brooks
said. "We're under the radar right now, but we'll be in the thick of things before you know it." No, the Bucs didn't get Favre and didn't do anything fancy in the offseason. Their biggest move was the signing of center
Jeff Faine
, and a lot of fans griped because the Bucs didn't get a big-name wide receiver in free agency. In a lot of ways, Tampa Bay stayed with what it had. What the Bucs had last year was a team solid enough to get to the playoffs, which no one else in the NFC South can say. "Those teams that are being talked about, it's because they had to do a lot to bolster their team and they're getting the splash talk," Brooks said. "We were good with what we had. We didn't have to go out and make a whole lot of changes. To me, that's a compliment."
Key questions
1. The Bucs didn't have a lot of playmakers on offense last year. Where will the big plays come from this year?
Galloway will turn 37 in November, but he hasn't shown many signs of slowing down. He's coming off a season in which he caught 57 passes for 1,014 yards and six touchdowns, and he's likely to remain the main target in the passing game. But the Bucs need contributions from elsewhere if they're going to make a return trip to the playoffs.
Ike Hilliard
, the other starting wideout in 2007, is a dependable veteran, but coach Jon Gruden has been critical of the rest of the receiving corps during camp. Gruden wants
Antonio Bryant
and
Michael Clayton
-- a pair of reclamation projects -- to play big roles. Bryant, who was out of the NFL last season, had some flashes in training camp and could challenge Hilliard for a starting job as the season goes on.
2. With Williams likely out for at least part of the season, who's going to run the ball?
Related
Buccaneers running back Earnest Graham has come a long way to become a key part of the attack.
• Heckert: $10M the hard way

The Bucs are stronger in the backfield than they have been since Williams tore his patellar tendon early last season. Earnest Graham ended up as the feature back as last season went on, and he rushed for 898 yards and 10 touchdowns. Graham likely will be the starter, but the Bucs have plenty of depth and Gruden is likely to spread the workload among Graham, Warrick Dunn and Michael Bennett.
Dunn, who started his career in Tampa Bay before a stint in Atlanta, is back with a coach who never wanted him to leave. Dunn's ability as a pass-catcher fits perfectly into Gruden's offense, and he still has enough speed to get some carries.
3. What happens to this defense if age suddenly catches up with Brooks, cornerback Ronde Barber and defensive end Kevin Carter?
Monte Kiffin's defense is definitely in transition, but the Bucs have a nice mix of old and young. Defensive end
Gaines Adams
, free safety
Tanard Jackson
and cornerback
Aqib Talib
are players the Bucs have drafted in recent years to keep this defense stocked for the long term. Adams started slowly last season but finished with six sacks, and the Bucs believe he could be on the verge of a breakout year. Guys such as linebackers
Cato June
and
Barrett Ruud
and defensive tackle
Chris Hovan
still are in their primes and will be counted on to help bridge the generation gap.
Market watch
The Bucs might have gotten lucky when they brought in tight end John Gilmore. He had only 21 career catches in four seasons with Chicago. But the Bucs have been pleasantly surprised by Gilmore's speed and pass-catching ability. He moves almost as well as starter Alex Smith. Gilmore was brought in to be a blocking specialist, but he could end up pushing Smith for playing time.
Newcomer to watch
The Bucs paid big money to center Faine in free agency, and they expect a big return on their investment. They view Faine as a bigger, more physical version of Jeff Christy, who was with the team for its Super Bowl run. The position has been a problem spot since Christy left, but Faine should fix that. He's very solid technically and has the ability to move, which will allow Gruden's offense to use trap plays and screen passes better.
Observation deck
The Bucs paid defensive end Marques Douglas decent money, but he was outplayed in camp by Jimmy Wilkerson. Carter and Adams are the starters, but Wilkerson and Greg White have a chance at significant playing time. … Third-round pick Jeremy Zuttah, a center from Rutgers, had the best camp of any Tampa Bay rookie. The Bucs believe Zuttah is ready to be Faine's backup, and that will allow Dan Buenning to focus on playing guard and give the middle of the line plenty of depth. … The Bucs saw second-round pick Dexter Jackson as being very similar to Carolina's Steve Smith, who was drafted as a return man and, despite a lack of size, turned into an elite wide receiver. But there haven't been many signs that Jackson is going to turn out like Smith. He doesn't look ready to contribute on offense, which wasn't totally unexpected. But Jackson also hasn't looked sharp on returns. Rookie return man Clifton Smith has outperformed Jackson so far.
Pat Yasinskas covers the NFL for ESPN.com.
ESPN Tampa Bay Buccaneers reporter
Previously covered NFC South for ESPN.com
Covered Panthers for The Charlotte Observer from 1999-2008
Began journalism career with The Tampa Tribune in 1990
SPONSORED HEADLINES
MORE NFL HEADLINES
MOST SENT STORIES ON ESPN.COM
TRAINING CAMP 2008
The regular season approaches. What teams will complete the journey to Tampa for Super Bowl XLIII? Training camp index | Dates


Commentary/features

Warner proves he has future
The Cardinals gave Kurt Warner the chance to compete with Matt Leinart for the starting spot, and the 37-year-old quarterback made the most of the opportunity.
John Clayton
---

Pennington's learning curve
It seemed the Jets could not help Chad Pennington pack his bags fast enough. Now the most experienced QB on the Dolphins, he's relishing the chance to excel again.
Jeffri Chadiha
---
•
Kreidler: Future still promising for 49ers' Smith
•
Clayton: Injuries impact preseason
•
Seifert: A new approach in Detroit
•
Smith: Favre drama a reality check for McNabb
•
Kuharsky: Titans focused on defense
•
Sando: Running key for Holmgren's swan song
•
Mosley: Giants hope history teaches well
•
Garber: Coughlin distances from SB win
•
Williamson: Chiefs engergized by youth
•
Chadiha: O-line might hold real keys for Jets
•
Wickersham: Three tips for Favre
•
Mosley: Giants done with celebrating
•
Naylor: Canadian divide on NFL invasion
•
Graham: Sleeper Bills
|
Blog: Yo, Canada
•
Seifert: For a change, no distractions for Vikes
•
Mosley: McNabb confident Eagles among elite
•
Kuharsky: Garrard taking control
•
Mosley: Eagles poised to return to prominence
•
Clayton: Young on his way to elite status
•
Kuharsky: Garrard ready to lead Jags
•
Chadiha: Delhomme determined to seize moment
•
Yasinskas: Smith's approach suits Falcons
•
Mosley: Zorn's coaching desire finally fulfilled
•
Williamson: Young Raiders share Kiffin's hunger
•
Graham: Jets wiping slate clean
•
Chadiha: Turner ready to lead Falcons
•
Clayton: Vikings firmly in Jackson's corner
•
Walker: Tough schedule awaits Steelers in 2008
•
Mosley: Favre is QB turned ringmaster
•
Clayton: 5 reasons Favre would start for Pack
•
Graham: Patriots not dwelling on past
•
Sando: Rams optimistic despite questions
•
Williamson: Shanahan points to playoffs
•
Walker: Bengals look to move past chaos
•
Yasinskas: Delhomme, Peppers must step up
NFL blog network
•
NFL Nation blog
•
AFC
:
North
|
South
|
East
|
West
•
NFC:
North
|
South
|
East
|
West
•
Contact our bloggers
Camp Confidential training camp tour
A breakdown of our annual camp tour:
• Saturday, July 26: Ravens, Saints
• Sunday, July 27: Colts, Bears
• Monday, July 28: Dolphins, Cardinals
• Tuesday, July 29: Packers

---
•
Wednesday, July 30:
Chargers
,
Cowboys
•
Thursday, July 31:
Texans
,
49ers
•
Friday, Aug. 1:
Patriots
•
Saturday, Aug. 2:
Bengals
,
Panthers
---
•
Sunday, Aug. 3:
Broncos
•
Monday, Aug. 4:
Rams
•
Tuesday, Aug. 5:
Steelers
•
Wednesday, Aug. 6:
Jets
---
•
Thursday, Aug. 7:
Raiders
|
Redskins
•
Friday, Aug. 8:
Falcons
•
Saturday, Aug. 9:
Jaguars
---
•
Tuesday, Aug. 12:
Eagles
|
Vikings
•
Wednesday, Aug. 13:
Bills
•
Thursday, Aug. 14:
Chiefs
---
•
Friday, Aug. 15:
Giants
|
Seahawks
•
Saturday, Aug. 16:
Bucs
|
Lions
•
Sunday, Aug. 17:
Browns
•
Monday, Aug. 18:
Titans
Video
•
NFL Insiders on Bills, Broncos, more
•
Rachel Nichols on Favre, Jets
•
NFL Live dissects ESPN.com power rankings
Audio
•
Podcast: Biggest questions
Scouts Inc.
•
Camp outlook: AFC Q&A on X's and O's

•
Camp outlook: NFC Q&A on X's and O's

•
Notable quarterback battles