Favre says of situation: 'This probably isn't going to work'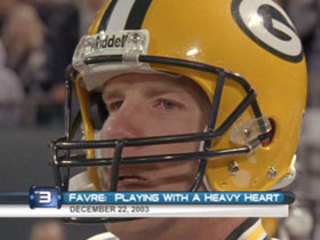 Favre's Top 10 Moments
A countdown of the best moments in Brett Favre's historic 17-year career.
Favre's Top 10 Moments
Green Bay Packers quarterback Brett Favre went into a meeting Tuesday morning acknowledging that he was at a "stalemate" with the team and believed the "best thing for this team is for us to part ways."
Favre left practice shortly before 3 p.m. ET Tuesday, telling ESPN's Wendi Nix that he was not going to practice. He said there would be another meeting with his family and Packers general manager Ted Thompson to discuss trade possibilities, in hope of resolving the situation. That meeting at Favre's house ended at 3:45 p.m. ET.
"We're at a stalemate," Favre said. "Mike and I both agreed last night that me being out there is a distraction and will continue to be a distraction. We all know the reason I'm here is because the commissioner [Roger Goodell] reinstated me so we have a lot of things to figure out. It's simple and complicated, both at the same time."
Favre said the team once again rejected his request to talk to teams about a trade within the NFC North -- preferably to the Minnesota Vikings or possibly the Chicago Bears.

The problem is that there's been a lot of damage done and I can't forget it. Stuff has been said, stories planted, that just aren't true. Can I get over all that? I doubt it.
-- Brett Favre
But a source said Favre is now receptive to talking to the Tampa Bay Buccaneers, an NFC South team, about a possible trade there.
Favre left the Packers' facility without practicing on Tuesday, but sources told Nix that his wife, Deanna, and his agent, James "Bus" Cook, encouraged him to practice.
Favre clarified reports that he and the Packers have backpedaled on the premise that there would be an open competition with Aaron Rodgers for the starting job.
"Mike told me, hey, we're a better team with you on it but wanted to know if I have a problem with an open competition," Favre said. "I don't have a problem with competing -- you know that, but Aaron should be the starter right now because he's been out here all this time. This is more than about an open competition and I can do that, absolutely, but this is going to be mass confusion and that's not good for this team.
"I'll practice my butt off, if it comes to that, and I think we all know what the end result will be, but this probably isn't going to work. And I truly understand that if I was in Mike's shoes, I'd see it basically the same way he sees it, I'm sure. And I think if he was in my shoes, he'd see it my way. I think we both agree on that.
"They want to know if I'm committed but I want to know if they're 100 percent committed. The problem is that there's been a lot of damage done and I can't forget it. Stuff has been said, stories planted, that just aren't true. Can I get over all that? I doubt it."
Favre, who officially returned from retirement Sunday, met with McCarthy for 5½ hours on Monday night without reaching a resolution. The meeting went long enough that McCarthy had to postpone a planned briefing with the media.
Favre announced his retirement on March 6, and the Packers moved ahead with Rodgers, Favre's former understudy, as the team's new starting quarterback. But Favre, still under contract with the Packers, then followed through on hints that he was interested in a return to the NFL.
The Packers have attempted to work out a trade outside the NFC North, with the New York Jets and Buccaneers reported as likely suitors, but to no avail. And last week, team president Mark Murphy flew to Mississippi to discuss a marketing deal for Favre worth a reported $25 million. Favre has not accepted that deal, either.
Asked what stories have been "planted," Favre alluded to the reports that said he waffled on unretiring in late March or early April. He said that's "just not the way it went down, at all."
He also expressed anger with the stories that alleged he had a team-issued cell phone that showed the Vikings were tampering with him.
"Again, that was bull on both parts," he said.
"Then," Favre said, "they tried to buy me off to stay retired."
He added, "So they can say they welcome me back but, come on, the way they've treated me tells you the truth. They don't want me back, so let's move on. I don't know where it's headed. We'll see."
ESPN's Chris Mortensen covers the NFL. ESPN reporters Wendi Nix and Ed Werder contributed to this report.
NFL reporter
ESPN Senior NFL Analyst
Joined ESPN in 1991
George Polk Award winner; Twice nominated for Pulitzer Prize
BRETT FAVRE SAGA: OVER
After pushing and pushing to keep playing either in Green Bay or elsewhere, Brett Favre's storied career will continue in 2008. The unretired quarterback has been traded by the Packers to the Jets.
NFC North blog | AFC East blog
News
•
Favre on offseason saga: 'I knew I wanted to play'
•
Favre unlikely to play in Jets' preseason finale
•
Report: Pack's Favre deal included souvenirs, blog
•
On Day 5 with Jets, Favre says arm feels 'fatigued'
•
Favre finally arrives in New York, meets mayor
•
Rodgers: 'Still following Brett's legacy'
•
Jets introduce Favre in Cleveland
•
Favre era ends in Green Bay with trade to Jets
•
Favre leaves Green Bay, destination unknown
•
Favre: 'This probably isn't going to work'
•
Favre flying under radar in Green Bay
•
Favre: Reinstatement done, Green Bay flight set
•
Favre mulling offer; NFL ruling put off again
•
Favre actively weighing Packers' offer
•
Report: Packers mull dealing Favre in division
•
Team president meeting with Favre, agent
•
Source: Favre files for reinstatement
•
Rodgers takes over as starting QB
•
Favre signs reinstatement letter, waits to send
•
Favre won't report to Packers camp Sunday
•
Sources: Favre, Packers talk trade destinations
•
Favre support muted at shareholders meeting
•
Report: Favre doesn't have team-issued phone
•
Report: NFL security visits Vikings
•
Favre questions likely from shareholders
•
Packers reportedly weigh trade offers for Favre
•
Favre returns to Lambeau Field
•
Packers president supports GM, coach
•
What they're saying about Favre
•
Favre won't apply for reinstatement right away
•
Sources: Packers claim Vikings tampered
•
Favre may show up at camp
•
Favre 'clears it up' in interview with Fox
•
Few fans attend Favre rally in Milwaukee
•
Pack fans rally, calling for Favre reinstatement
•
Pack won't release Favre
•
Sources: Favre seeks unconditional release
•
Favre itching to return to field
Trade Commentary/Features
•
Clayton: History doesn't favor Favre, Jets
•
Chadiha: Packers will be fine without Favre
•
Wojciechowski: Divorce cause? Lack of trust
•
Clayton: Deal is a downer for Favre
•
Scouts Inc.: Jets now a playoff contender

•
Clayton: Questions, answers on Favre trade
•
Fantasy spin: Deal boosts value of many Jets
Other Commentary/Features
•
Clayton: 5 reasons Favre would start for Pack
•
Mosley: Favre is QB turned ringmaster
•
Wojciechowski: Favre and away the best solution
•
Clayton: Favre wins ugly duel
•
Clayton: It's a painful divorce
•
Chadiha: Rodgers unfazed by Favre circus
•
Yasinskas: Favre makes sense for Bucs
•
Wojciechowski: Packers can't win this game
•
Clayton: It's a delicate situation
•
Wright Thompson: Catching Favre's fastballs
•
Wojciechowski: What's the answer, Packers?
•
Williamson: Where could he end up?
•
Seifert: What happens after HOF QBs move on
•
Paolantonio: Favre is overhyped
•
Kiper: 2005 analysis of prospect Rodgers
•
Madden '09 cover boy Favre to stay retired
•
Thompson: Brett, we miss you already
•
Wojciechowski: Worth the price of admission
•
Price of signed Favre items to go up
•
Yasinskas: Rodgers ready to take the reins
•
FB Outsiders: Measuring Favre's greatness
•
Sando: Gunslinger mentality defined Favre
•
Yasinskas: Majkowski on Favre's legacy
•
Clayton: Questions surrounding Favre
•
Clayton: Packers will miss Favre's magic
•
Chadiha: Favre will regret decision
•
Keating: Favre just getting started
•
Hashmarks: Favre fun-loving guy
•
Burning Questions: Is Rodgers ready?
•
Experts: Is Favre the best, or among them?
•
Favre's top 10 moments
•
Forde: Favre's flair for dramatic started in college
•
Favre's rating in Mel Kiper's '91 draft guide
•
Favre's hometown quiet on day of his retirement
•
Sadness, shock envelops Green Bay
•
Wounded Army officer has last ball thrown
•
Around sports: What they're saying
•
Fantasy spin: Rodgers not top-20 QB
•
Scouts: Rodgers has talent to succeed

•
Packers local: Complete hometown coverage
Video
•
Favre traded to Jets for conditional pick
•
Jets GM on trade for Favre, imminent release of Pennington
•
Steve Young on Favre's Jets future
•
Cris Carter on what trade means to Jets?
•
Schlereth: Exciting news for Jets
•
Sal Pal on Favre's move to AFC
•
Rachel Nichols on Favre's pre-trade mindset
•
Favre interview: Part 3
|
2
|
1
SportsNation
•
How will Jets do with Favre behind center?
•
Fans react to Favre's retirement
Photo Galleries
•
Favre flashback
•
Top TD guns
•
Top TD targets
Nike Women's Home Limited Jersey Green Bay Packers Aaron Rodgers #12 Shop »

MOST SENT STORIES ON ESPN.COM