New York mayor introduces Favre at City Hall
Updated:
August 9, 2008, 1:37 AM ET
Associated Press
NEW YORK -- Cameras flashed by the dozens, and a wide-eyed Brett Favre took his first steps into the New York spotlight.
"Just like home," the Jets' newest quarterback said Friday with a deep breath and a sheepish grin.
Get used to it, Brett. This is only the beginning.
"Time will tell, but I don't want to say, 'Be patient,' " Favre said Friday at a City Hall news conference. "I have to get a lot done in a short amount of time. They wouldn't have signed me if they didn't think I could do that."
Having won three MVPs and led two Green Bay teams to the Super Bowl, Favre is more than just a country boy from Mississippi. But even he seemed a little awed by his welcome to jaded New York. Mayor Michael Bloomberg greeted him, showering the star quarterback with a number of gifts -- including some cheesecakes -- designed to help with his transition.
"The legendary No. 4 has now become Jet Favre," Bloomberg said, "and we're delighted to welcome him to City Hall."
The Jets acquired the recently unretired Favre from the Packers for a conditional draft pick late Wednesday night. He was with the team for its preseason-opening victory at Cleveland, flew into town early Friday morning and quickly popped in for his City Hall visit.
The Hall of Famer in waiting will practice with his new teammates for the first time Saturday after passing his physical. After his meeting with the mayor, Favre headed to the team's facility and took his conditioning test, joined in team meetings and got better acquainted with his teammates.
No. 4 in your program,
No. 1 in sales
In the first 24 hours after Brett Favre's trade to the Jets was announced, more than 6,500 Favre jerseys for his new team were ordered on NFL.com. According to an NFL spokesman, this isn't just an unprecedented level of sales for a single player -- it breaks the single-day sales mark for all of NFL.com. Page 2 UniWatch columnist Paul Lukas has more. Page 2


"I know I still can play," said Favre, wearing a blue and white polo shirt and khaki slacks and sporting his familiar 5 o'clock shadow. "I don't think too many people question that. I think a lot of people question what happened this offseason."
Favre closed a summer of discontent and opened a new chapter in his career by joining the Jets, who stunned the NFL by outbidding the Tampa Bay Buccaneers for the iconic QB. He brings instant relevance to a team that went 4-12 last season and hasn't had a quarterback of his stature since Joe Namath ruled Manhattan more than 30 years ago.
"There's no guarantees," Favre said. "You see teams go out in free agency and spend on a lot of guys and everyone says, 'Oh, they're going to be great and go to the Super Bowl.' It takes chemistry, and to me, that's the most important thing. You can have all the talent in the world, but if the chemistry is not there, it won't matter.
"I think we can achieve that."
[+] Enlarge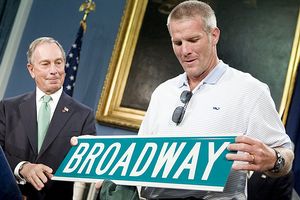 AP Photo/Richard DrewBrett Favre says he didn't come to New York to be a big hit on Broadway. But there's no arguing he's the Jets' biggest star at quarterback since "Broadway Joe" Namath.
After a huddle with staff members, Bloomberg picked out a few things to help Favre "make a quick adjustment" to the Big Apple. As part of the city's initiative to plant a million trees by 2017, Bloomberg announced one would be planted in Favre's name.
"I cannot tell you where the tree is going to be, for obvious reasons, because it'll be stripped bare in about 30 seconds," said Bloomberg, wearing a green tie in honor of the Jets.
Bloomberg then presented Favre with a MetroCard -- with $4 fare on it, of course.
"If you had picked a number higher, you would've gotten more money on your MetroCard," Bloomberg said, drawing laughs.
He also gave Favre a huge "Broadway" street sign, a copy of his book, "Bloomberg by Bloomberg," an empty key ring -- "You win the Super Bowl and I promise you will get a key" -- and a few cheesecakes from Junior's Cheesecakes.
Favre, joined by Jets owner Woody Johnson and general manager Mike Tannenbaum, presented Bloomberg with a green and white Favre jersey, already a hit with fans who have snatched up more than 6,500 of them since the trade. The 38-year-old Favre, who joked that his daughter asked if he was joining a college team because all the other players look much younger, won't commit to playing for the Jets beyond this season.
"Let's enjoy this year," he said. "The future is now. I don't have 17 more years to play, I don't think. I want to give the New York Jets and the people of this city the best year possible. Believe me."
AFC East blog

ESPN.com has the Patriots, Jets, Dolphins and Bills covered in the AFC East division blog.
Favre is coming off one of his most productive seasons, passing for 4,155 yards, his most since 1998, and had 28 TDs with 15 interceptions.
"We wish Brett nothing but the best," said Packers quarterback Aaron Rodgers, Favre's replacement. "He still has the utmost amount of respect from the guys in this locker room here and we wish him well, wish him a good season and hope to see him in Tampa."
That, of course, is the site of the next Super Bowl.
"The pressure is just building," Favre said. "The attention I've gotten since I've been here has been overwhelming. The bottom line, as we all know, is to win games. That's what I'm here to do."
Five months after a tearfully retiring, and a month after changing his mind, Favre is starting over. His new teammates are glad he is.
"There have been smiling faces around here all day," said Jets tight end Bubba Franks, who played eight seasons with Favre in Green Bay. "It is good to have him here. When you play with a legend, you can't help but feed off of it. I think he'll fit right in with both the team and the city."
Favre is now part of a rebuilding Jets team that has been reduced to second-stringer status in New York behind the defending Super Bowl champion Giants.
"Hopefully I can bring as much excitement throughout the year," Favre said, "as we've had the last two or three days."

Copyright 2008 by The Associated Press
SPONSORED HEADLINES
MORE NFL HEADLINES
MOST SENT STORIES ON ESPN.COM
BRETT FAVRE SAGA: OVER
After pushing and pushing to keep playing either in Green Bay or elsewhere, Brett Favre's storied career will continue in 2008. The unretired quarterback has been traded by the Packers to the Jets.
NFC North blog | AFC East blog
News
•
Favre on offseason saga: 'I knew I wanted to play'
•
Favre unlikely to play in Jets' preseason finale
•
Report: Pack's Favre deal included souvenirs, blog
•
On Day 5 with Jets, Favre says arm feels 'fatigued'
•
Favre finally arrives in New York, meets mayor
•
Rodgers: 'Still following Brett's legacy'
•
Jets introduce Favre in Cleveland
•
Favre era ends in Green Bay with trade to Jets
•
Favre leaves Green Bay, destination unknown
•
Favre: 'This probably isn't going to work'
•
Favre flying under radar in Green Bay
•
Favre: Reinstatement done, Green Bay flight set
•
Favre mulling offer; NFL ruling put off again
•
Favre actively weighing Packers' offer
•
Report: Packers mull dealing Favre in division
•
Team president meeting with Favre, agent
•
Source: Favre files for reinstatement
•
Rodgers takes over as starting QB
•
Favre signs reinstatement letter, waits to send
•
Favre won't report to Packers camp Sunday
•
Sources: Favre, Packers talk trade destinations
•
Favre support muted at shareholders meeting
•
Report: Favre doesn't have team-issued phone
•
Report: NFL security visits Vikings
•
Favre questions likely from shareholders
•
Packers reportedly weigh trade offers for Favre
•
Favre returns to Lambeau Field
•
Packers president supports GM, coach
•
What they're saying about Favre
•
Favre won't apply for reinstatement right away
•
Sources: Packers claim Vikings tampered
•
Favre may show up at camp
•
Favre 'clears it up' in interview with Fox
•
Few fans attend Favre rally in Milwaukee
•
Pack fans rally, calling for Favre reinstatement
•
Pack won't release Favre
•
Sources: Favre seeks unconditional release
•
Favre itching to return to field
Trade Commentary/Features
•
Clayton: History doesn't favor Favre, Jets
•
Chadiha: Packers will be fine without Favre
•
Wojciechowski: Divorce cause? Lack of trust
•
Clayton: Deal is a downer for Favre
•
Scouts Inc.: Jets now a playoff contender

•
Clayton: Questions, answers on Favre trade
•
Fantasy spin: Deal boosts value of many Jets
Other Commentary/Features
•
Clayton: 5 reasons Favre would start for Pack
•
Mosley: Favre is QB turned ringmaster
•
Wojciechowski: Favre and away the best solution
•
Clayton: Favre wins ugly duel
•
Clayton: It's a painful divorce
•
Chadiha: Rodgers unfazed by Favre circus
•
Yasinskas: Favre makes sense for Bucs
•
Wojciechowski: Packers can't win this game
•
Clayton: It's a delicate situation
•
Wright Thompson: Catching Favre's fastballs
•
Wojciechowski: What's the answer, Packers?
•
Williamson: Where could he end up?
•
Seifert: What happens after HOF QBs move on
•
Paolantonio: Favre is overhyped
•
Kiper: 2005 analysis of prospect Rodgers
•
Madden '09 cover boy Favre to stay retired
•
Thompson: Brett, we miss you already
•
Wojciechowski: Worth the price of admission
•
Price of signed Favre items to go up
•
Yasinskas: Rodgers ready to take the reins
•
FB Outsiders: Measuring Favre's greatness
•
Sando: Gunslinger mentality defined Favre
•
Yasinskas: Majkowski on Favre's legacy
•
Clayton: Questions surrounding Favre
•
Clayton: Packers will miss Favre's magic
•
Chadiha: Favre will regret decision
•
Keating: Favre just getting started
•
Hashmarks: Favre fun-loving guy
•
Burning Questions: Is Rodgers ready?
•
Experts: Is Favre the best, or among them?
•
Favre's top 10 moments
•
Forde: Favre's flair for dramatic started in college
•
Favre's rating in Mel Kiper's '91 draft guide
•
Favre's hometown quiet on day of his retirement
•
Sadness, shock envelops Green Bay
•
Wounded Army officer has last ball thrown
•
Around sports: What they're saying
•
Fantasy spin: Rodgers not top-20 QB
•
Scouts: Rodgers has talent to succeed

•
Packers local: Complete hometown coverage
Video
•
Favre traded to Jets for conditional pick
•
Jets GM on trade for Favre, imminent release of Pennington
•
Steve Young on Favre's Jets future
•
Cris Carter on what trade means to Jets?
•
Schlereth: Exciting news for Jets
•
Sal Pal on Favre's move to AFC
•
Rachel Nichols on Favre's pre-trade mindset
•
Favre interview: Part 3
|
2
|
1
SportsNation
•
How will Jets do with Favre behind center?
•
Fans react to Favre's retirement
Photo Galleries
•
Favre flashback
•
Top TD guns
•
Top TD targets
ESPN FAN SHOP