With Favre gone, Rodgers leads Pack: 'Job going to be difficult'
Updated:
August 9, 2008, 6:02 PM ET
ESPN.com news services
GREEN BAY, Wis. -- Aaron Rodgers needed an extra squirt of antiseptic spray for his sore throat before speaking, but the lump from having to compete for his job is gone, jettisoned with Brett Favre to New York.
Rodgers is right back where he began in March. He's the starting quarterback of the Green Bay Packers. That doesn't mean the pressure has diminished -- well, maybe a little.
"My job is going to be difficult either way. There's a lot of pressure to just be a starting quarterback in this league," Rodgers said Friday. "I'm still following Brett's legacy, regardless of the fact if he's here, retired or like he is in New York now.
[+] Enlarge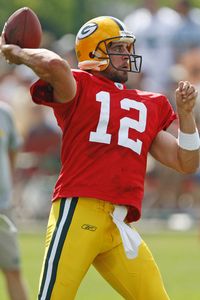 AP Photo/Matt LudtkeAaron Rodgers, throwing this week in practice, expressed relief Friday for the end of the Brett Favre standoff with the Packers.
"There's high expectations on myself, on our team and I think it's still going to be a difficult situation as far as the pressure outside this locker room that's put on me."
For the first time, though, the fans that showed up to watch training camp practice at the NFL's smallest outpost gave him a break, besides a lone heckler who kept riding the organization's "mistake." There were no "Save Brett" signs and the number of No. 4 jerseys was about even with Rodgers' No. 12.
Rodgers and the rest of the offense looked crisp, too. Wide receiver Greg Jennings, who had emerged last season as one of Favre's favorite targets, made a nifty one-handed grab for a touchdown for his new QB during a no-huddle drill.
Rodgers, who fired his agent, Mike Sullivan, on Thursday, argued that the trade had nothing to do with the offense's sudden improvement in practice, but the grin gave him away despite his efforts to deny it.
"It was good to get a resolution to the whole thing. It's been definitely on all of our minds. We've had to talk about it a lot, throughout the training camp," Rodgers said. "Everybody in the locker room. We're happy for Brett that he gets to still play and we're going to move forward together as a team."
Sullivan had represented Rodgers, who will become a free agent after the 2009 season, since he was drafted in the 2005 NFL draft.
"Aaron has decided to go in a different direction as far as an agent," Sullivan said, according to the SportsBusiness Daily. "While I am disappointed with his decision, I wish him the best."
Packers coach Mike McCarthy didn't answer his first Favre-related question for several minutes. He had no comment about Favre in a Jets jersey, but was relieved to get past explaining why the organization traded the face of the franchise for a conditional draft pick late Wednesday night.
"A sense of relief? You could say [it] in a lot of ways. I'm about press conferenced out, number one. That's something, it's a responsibility, I understand, but it was something that the situation needed to be resolved and it was nice to get to a finality of that," McCarthy said. "I'm relieved that we're talking about football, our football team, and that's what the focus needs to be on."
Nine veterans had the morning off, which included the core group of players who'd been with Favre the longest, like right tackle Mark Tauscher and wide receiver Donald Driver.
Rodgers, who had been under Favre for only three years and watched the team reach the NFC Championship Game last season, said that he's learned from the experience over the past month.
"I'm just reassured of the fact that things happen for a reason, just to trust God in every situation and try and remain patient and even-keeled, because there's going to be ups and downs in life as in football and the things you can't control are the things often you want to worry about the most," Rodgers said. "But it's really useless to worry about those because they're really out of your control. This situation was a prime example of that."
The Packers' first-round pick in 2005, Rodgers heard the news of the trade at the St. Norbert College dorms, where the team stays during training camp. He was in the middle of his cribbage game with Korey Hall, John Kuhn and Tauscher.
It put to rest any talk of a quarterback competition for a job handed to him after Favre announced his retirement in a tearful news conference on March 6.
Still, Rodgers said he would have welcomed Favre back and prepared for a competition, even though he acknowledged the coaching staff never told him what the plan was if Favre would have stayed in Green Bay.
"The thing that would've happened potentially is a quarterback competition, that was kind of the worst option, I guess you could say, which wasn't even a bad option at all," Rodgers said. "They told me I was the starter back in March and I worked hard to figure out ways to exert my leadership on this team, get to know guys a little more.
"When all this stuff kind of went on last week, I realized the very worst case scenario was being able, having to compete for my job. So that wasn't a bad situation."
Now it's just a much better one.
Notes
Packers RB Ryan Grant sat out practice with a strained hamstring that McCarthy characterized as "slight." Grant missed the first week of training camp before signing a four-year contract potentially worth $30 million. ... Green Bay signed CB Scorpio Babers on Friday. Babers took the spot Favre vacated on the 80-man roster when he was traded.
Information from The Associated Press was used in this report.
SPONSORED HEADLINES
MORE NFL HEADLINES
MOST SENT STORIES ON ESPN.COM
BRETT FAVRE SAGA: OVER
After pushing and pushing to keep playing either in Green Bay or elsewhere, Brett Favre's storied career will continue in 2008. The unretired quarterback has been traded by the Packers to the Jets.
NFC North blog | AFC East blog
News
•
Favre on offseason saga: 'I knew I wanted to play'
•
Favre unlikely to play in Jets' preseason finale
•
Report: Pack's Favre deal included souvenirs, blog
•
On Day 5 with Jets, Favre says arm feels 'fatigued'
•
Favre finally arrives in New York, meets mayor
•
Rodgers: 'Still following Brett's legacy'
•
Jets introduce Favre in Cleveland
•
Favre era ends in Green Bay with trade to Jets
•
Favre leaves Green Bay, destination unknown
•
Favre: 'This probably isn't going to work'
•
Favre flying under radar in Green Bay
•
Favre: Reinstatement done, Green Bay flight set
•
Favre mulling offer; NFL ruling put off again
•
Favre actively weighing Packers' offer
•
Report: Packers mull dealing Favre in division
•
Team president meeting with Favre, agent
•
Source: Favre files for reinstatement
•
Rodgers takes over as starting QB
•
Favre signs reinstatement letter, waits to send
•
Favre won't report to Packers camp Sunday
•
Sources: Favre, Packers talk trade destinations
•
Favre support muted at shareholders meeting
•
Report: Favre doesn't have team-issued phone
•
Report: NFL security visits Vikings
•
Favre questions likely from shareholders
•
Packers reportedly weigh trade offers for Favre
•
Favre returns to Lambeau Field
•
Packers president supports GM, coach
•
What they're saying about Favre
•
Favre won't apply for reinstatement right away
•
Sources: Packers claim Vikings tampered
•
Favre may show up at camp
•
Favre 'clears it up' in interview with Fox
•
Few fans attend Favre rally in Milwaukee
•
Pack fans rally, calling for Favre reinstatement
•
Pack won't release Favre
•
Sources: Favre seeks unconditional release
•
Favre itching to return to field
Trade Commentary/Features
•
Clayton: History doesn't favor Favre, Jets
•
Chadiha: Packers will be fine without Favre
•
Wojciechowski: Divorce cause? Lack of trust
•
Clayton: Deal is a downer for Favre
•
Scouts Inc.: Jets now a playoff contender

•
Clayton: Questions, answers on Favre trade
•
Fantasy spin: Deal boosts value of many Jets
Other Commentary/Features
•
Clayton: 5 reasons Favre would start for Pack
•
Mosley: Favre is QB turned ringmaster
•
Wojciechowski: Favre and away the best solution
•
Clayton: Favre wins ugly duel
•
Clayton: It's a painful divorce
•
Chadiha: Rodgers unfazed by Favre circus
•
Yasinskas: Favre makes sense for Bucs
•
Wojciechowski: Packers can't win this game
•
Clayton: It's a delicate situation
•
Wright Thompson: Catching Favre's fastballs
•
Wojciechowski: What's the answer, Packers?
•
Williamson: Where could he end up?
•
Seifert: What happens after HOF QBs move on
•
Paolantonio: Favre is overhyped
•
Kiper: 2005 analysis of prospect Rodgers
•
Madden '09 cover boy Favre to stay retired
•
Thompson: Brett, we miss you already
•
Wojciechowski: Worth the price of admission
•
Price of signed Favre items to go up
•
Yasinskas: Rodgers ready to take the reins
•
FB Outsiders: Measuring Favre's greatness
•
Sando: Gunslinger mentality defined Favre
•
Yasinskas: Majkowski on Favre's legacy
•
Clayton: Questions surrounding Favre
•
Clayton: Packers will miss Favre's magic
•
Chadiha: Favre will regret decision
•
Keating: Favre just getting started
•
Hashmarks: Favre fun-loving guy
•
Burning Questions: Is Rodgers ready?
•
Experts: Is Favre the best, or among them?
•
Favre's top 10 moments
•
Forde: Favre's flair for dramatic started in college
•
Favre's rating in Mel Kiper's '91 draft guide
•
Favre's hometown quiet on day of his retirement
•
Sadness, shock envelops Green Bay
•
Wounded Army officer has last ball thrown
•
Around sports: What they're saying
•
Fantasy spin: Rodgers not top-20 QB
•
Scouts: Rodgers has talent to succeed

•
Packers local: Complete hometown coverage
Video
•
Favre traded to Jets for conditional pick
•
Jets GM on trade for Favre, imminent release of Pennington
•
Steve Young on Favre's Jets future
•
Cris Carter on what trade means to Jets?
•
Schlereth: Exciting news for Jets
•
Sal Pal on Favre's move to AFC
•
Rachel Nichols on Favre's pre-trade mindset
•
Favre interview: Part 3
|
2
|
1
SportsNation
•
How will Jets do with Favre behind center?
•
Fans react to Favre's retirement
Photo Galleries
•
Favre flashback
•
Top TD guns
•
Top TD targets