Commentary
CFL to NFL: Moon, Flutie, Gilchrist among stars in both circuits
The Bills' adventures in playing home games in Canada prompted this question: Which players made the most successful transitions from the CFL to the NFL? Mike Tanier has the top 10.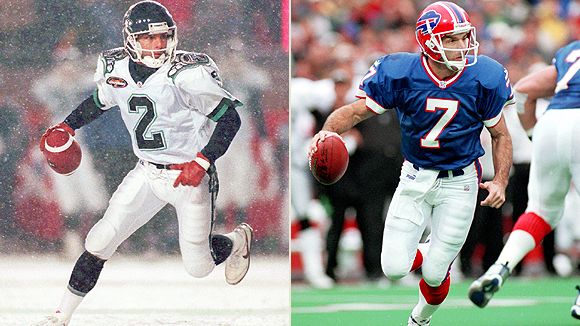 AP Photo/Getty ImagesQuarterback Doug Flutie excelled both with the CFL's Toronto Argonauts (left) and the NFL's Buffalo Bills. He's one of a handful of players who starred in both leagues.
Some Canadian Football League superstars had brief, nonproductive NFL careers -- remember Dieter Brock or Henry "Gizmo" Williams? Other players leave behind NFL stardom for une tasse de café in Canada (think Ricky Williams). The players on this list excelled in both the NFL and its older, wackier brother to the north.
10. Harald Hasselbach:
Hasselbach is one of a handful of players to have won both a Super Bowl and a Grey Cup. The Dutch-born defensive end spent four years with the Calgary Stampeders before joining the
Denver Broncos
in 1994 and staying in Denver for seven seasons.
9. Ed George:
The Steelers' fourth-round pick in 1970, George went north to play tackle for the Montreal Alouettes and Hamilton Tiger-Cats instead of blocking for Terry Bradshaw and Franco Harris. He later returned to the United States to play for the Baltimore Colts and
Philadelphia Eagles
. George missed his chance to win four Super Bowls, but don't feel too bad for him: He won two Grey Cups with the Alouettes, and he was inducted into the Canadian Football Hall of Fame.
8. Mervyn Fernandez:
Christened "Swervin' Mervyn" by his high school quarterback, Fernandez was drafted by the Los Angeles Raiders in 1983 but couldn't make the squad. After heading north to play for the B.C. Lions, he won a Grey Cup and a Most Outstanding Player award. He returned to the Raiders and enjoyed several seasons as a deep threat receiver, catching 57 passes for 1,069 yards and 9 touchdowns in 1989.
AFC East blog

ESPN.com's Tim Graham writes about the Bills' venture into Canada and how Buffalo is reacting in this blog post.
7. Jeff Garcia:
Despite glowing endorsements from Bill Walsh, Garcia was not drafted when he left San Jose State in 1994. He headed to Calgary to back up Stampeders legend Doug Flutie. Five years and one Grey Cup victory later, Garcia signed with the 49ers as the backup to Steve Young. He's done well for a guy who is supposedly too small and too weak-armed for the NFL.
6. Rocket Ismail:
By 1991, the CFL couldn't compete with the NFL when offering salaries to top prospects. But Bruce McNall, owner of the Toronto Argonauts, decided to break the bank for Ismail, locking the Notre Dame superstar into a four-year, $18.2-million contract before the NFL draft. Ismail's nifty running style was perfectly suited for Canada's spacious fields, and he helped the Argos to a Grey Cup championship in his rookie year. Two years later, Rocket joined the Raiders and enjoyed a respectable career as a receiver and return man.
5. Joe Kapp:
The former Cal star is one of the few players ever traded from the CFL to the NFL, in a complicated waiver deal
explained in the historical pages of the CFL's Web site
. Kapp led the B.C Lions to a Grey Cup in 1964, but the Lions traded him to the
Minnesota Vikings
when the team stumbled in 1967. Kapp led the Vikings to a loss in Super Bowl IV and was briefly the NFL's highest paid player. He's the only CFL Hall of Famer ever to quarterback a Super Bowl team.
4. Joe Theismann: Notre Dame's Theismann was the Heisman Trophy runner-up in 1970, but the Dolphins only offered him a $17,000 contract as a fourth-round pick. The Toronto Argonauts offered him a three-year, $150,000 contract with a $50,000 signing bonus. Theismann made two CFL all-star teams before the Redskins acquired his rights, then spent several years as a punt returner and a backup before winning a starting job and leading the team to two Super Bowls.

3. Doug Flutie: He won six CFL Most Outstanding Player awards and three Grey Cups for the Calgary Stampeders. He was voted the greatest player in CFL history by The Sports Network. He was a pretty darn good NFL quarterback, and he was even a star in the USFL. The 5-foot-9 Flutie was considered too small for the NFL, but Donald Trump gave the Heisman winner a $3.1 million contract to helm the USFL's New Jersey Generals. When that league folded, Flutie endured a brief stint with the Chicago Bears before becoming a superstar north of the border. He came back to the states and had several fine seasons for the Buffalo Bills and San Diego Chargers before finishing as a backup with the New England Patriots. 2. Cookie Gilchrist: A bruising fullback and linebacker, Gilchrist was so good that the Cleveland Browns tried to sign him straight out of high school. When that deal fell through, Gilchrist went north, playing rugby before signing with the Hamilton Tiger-Cats in 1956. He won a Grey Cup and played for several teams before joining the Buffalo Bills of the brand-new American Football League. He became that league's first 1,000 yard rusher and reached the AFL All-Star game four times. His final all-star appearance was his most famous: Gilchrist led an anti-segregation protest that got the game moved from New Orleans to Houston. 1. Warren Moon:He's the only player enshrined in both the Canadian Football Hall of Fame and the Pro Football Hall of Fame. He led the Edmonton Eskimos to five straight Grey Cup victories. He reached the Pro Bowl nine times. He threw for over 70,000 yards in his pro career. Not bad for a player NFL scouts wanted to move to tight end. African-American quarterbacks were rare in pro football when Moon left the University of Washington in 1978, and the NFL ignored the Rose Bowl MVP in the draft when he refused to change positions. Thirty years later, Moon is an all-time great in two countries. Mike Tanier is Contributing Editor at FootballOutsiders.com and a co-author of Pro Football Prospectus 2008, available in bookstores now.
SPONSORED HEADLINES
MORE NFL HEADLINES
MOST SENT STORIES ON ESPN.COM
TRAINING CAMP 2008
The regular season approaches. What teams will complete the journey to Tampa for Super Bowl XLIII? Training camp index | Dates


Commentary/features

Warner proves he has future
The Cardinals gave Kurt Warner the chance to compete with Matt Leinart for the starting spot, and the 37-year-old quarterback made the most of the opportunity.
John Clayton
---

Pennington's learning curve
It seemed the Jets could not help Chad Pennington pack his bags fast enough. Now the most experienced QB on the Dolphins, he's relishing the chance to excel again.
Jeffri Chadiha
---
•
Kreidler: Future still promising for 49ers' Smith
•
Clayton: Injuries impact preseason
•
Seifert: A new approach in Detroit
•
Smith: Favre drama a reality check for McNabb
•
Kuharsky: Titans focused on defense
•
Sando: Running key for Holmgren's swan song
•
Mosley: Giants hope history teaches well
•
Garber: Coughlin distances from SB win
•
Williamson: Chiefs engergized by youth
•
Chadiha: O-line might hold real keys for Jets
•
Wickersham: Three tips for Favre
•
Mosley: Giants done with celebrating
•
Naylor: Canadian divide on NFL invasion
•
Graham: Sleeper Bills
|
Blog: Yo, Canada
•
Seifert: For a change, no distractions for Vikes
•
Mosley: McNabb confident Eagles among elite
•
Kuharsky: Garrard taking control
•
Mosley: Eagles poised to return to prominence
•
Clayton: Young on his way to elite status
•
Kuharsky: Garrard ready to lead Jags
•
Chadiha: Delhomme determined to seize moment
•
Yasinskas: Smith's approach suits Falcons
•
Mosley: Zorn's coaching desire finally fulfilled
•
Williamson: Young Raiders share Kiffin's hunger
•
Graham: Jets wiping slate clean
•
Chadiha: Turner ready to lead Falcons
•
Clayton: Vikings firmly in Jackson's corner
•
Walker: Tough schedule awaits Steelers in 2008
•
Mosley: Favre is QB turned ringmaster
•
Clayton: 5 reasons Favre would start for Pack
•
Graham: Patriots not dwelling on past
•
Sando: Rams optimistic despite questions
•
Williamson: Shanahan points to playoffs
•
Walker: Bengals look to move past chaos
•
Yasinskas: Delhomme, Peppers must step up
NFL blog network
•
NFL Nation blog
•
AFC
:
North
|
South
|
East
|
West
•
NFC:
North
|
South
|
East
|
West
•
Contact our bloggers
Camp Confidential training camp tour
A breakdown of our annual camp tour:
• Saturday, July 26: Ravens, Saints
• Sunday, July 27: Colts, Bears
• Monday, July 28: Dolphins, Cardinals
• Tuesday, July 29: Packers

---
•
Wednesday, July 30:
Chargers
,
Cowboys
•
Thursday, July 31:
Texans
,
49ers
•
Friday, Aug. 1:
Patriots
•
Saturday, Aug. 2:
Bengals
,
Panthers
---
•
Sunday, Aug. 3:
Broncos
•
Monday, Aug. 4:
Rams
•
Tuesday, Aug. 5:
Steelers
•
Wednesday, Aug. 6:
Jets
---
•
Thursday, Aug. 7:
Raiders
|
Redskins
•
Friday, Aug. 8:
Falcons
•
Saturday, Aug. 9:
Jaguars
---
•
Tuesday, Aug. 12:
Eagles
|
Vikings
•
Wednesday, Aug. 13:
Bills
•
Thursday, Aug. 14:
Chiefs
---
•
Friday, Aug. 15:
Giants
|
Seahawks
•
Saturday, Aug. 16:
Bucs
|
Lions
•
Sunday, Aug. 17:
Browns
•
Monday, Aug. 18:
Titans
Video
•
NFL Insiders on Bills, Broncos, more
•
Rachel Nichols on Favre, Jets
•
NFL Live dissects ESPN.com power rankings
Audio
•
Podcast: Biggest questions
Scouts Inc.
•
Camp outlook: AFC Q&A on X's and O's

•
Camp outlook: NFC Q&A on X's and O's

•
Notable quarterback battles