Commentary
Catch this: Welker shines in Patriots offense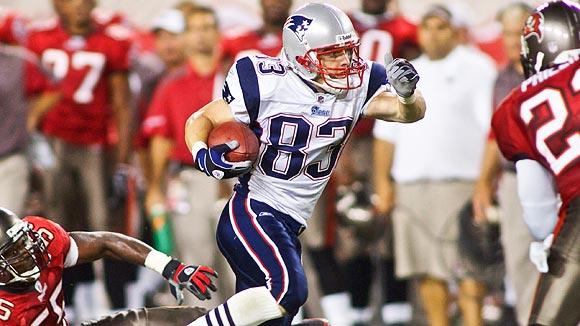 Chris Livingston/Icon SMIPatriots WR Wes Welker led the NFL with 112 catches in 2007, a 45 catch improvement from 2006.
Last year, Patriots wide receiver
Wes Welker
emerged as the perfect complement to
Randy Moss
. When teams devoted safeties to double up on Moss, Welker abused linebackers and nickel backs in the slot to the tune of an NFL-high 112 catches. The undrafted Texas Tech grad was widely regarded as an important part of the best offense in league history. The most fascinating aspect of Welker's season, though, wasn't how many passes he caught or where he came from; it was how successful he was at actually catching the ball.
While we often think of completion percentage when looking at the ability of a quarterback, it's rarely used when analyzing the performance of a wide receiver. Heaping all of the credit for a completed pass and the blame for an incomplete one on the quarterback is obviously inaccurate; both the quarterback and his receiver have a role to play. From 1995 through 2007, quarterbacks who threw more than 250 passes in a season averaged a completion percentage of 59.2 percent. Over that same timeframe, wide receivers who had 50 or more passes thrown to them in a given season had an average catch rate of 55.4 percent.
Best WR Seasons in Catch Rate, 1995-2007 (min. 50 passes)
Year
Player
Team
Pass
Catches
Yards
Average
TD
Catch Rate
2002
Dennis Northcutt
CLE
50
39
604
15.5
5
78 %
2007
Wes Welker
NE
145
112
1175
10.5
8
77 %
2004
Hines Ward
PIT
109
82
1010
12.3
4
75 %
2006
Eric Moulds
HOU
77
57
557
9.8
1
74 %
2001
Az Hakim
STL
53
39
374
9.6
3
74 %
1995
J.J.Stokes
S.F.
52
38
517
13.6
4
73 %
2002
Jerry Porter
OAK
70
51
688
13.5
10
73 %
2001
Ricky Proehl
STL
55
40
563
14.1
6
73 %
2007
Anthony Gonzalez
IND
51
37
576
15.6
3
73 %
1997
J.J Stokes
S.F.
80
58
733
12.6
4
73 %
Most of the players on this list were in roles similar to Welker's, although they weren't anywhere near as active in the offense. Receivers like Az Hakim,
J.J. Stokes
,
Ricky Proehl
and
Anthony Gonzalez
spent much of their time working out of the slot, running short patterns and using their talents to pick up yardage after the catch. Of course, a guy running six-yard curl patterns is more likely to catch the ball than someone like
Plaxico Burress
, who runs deep outs and posts on a regular basis. Indeed, as a player's yards per reception go up, catch rate tends to go down.
When you compare Welker to similar players, though, he still shines. Welker averaged 10.5 yards per reception last year. If we look at all receivers since 1995 who averaged less than 11 yards per reception, the average catch rate was 58 percent. That's above the league-wide average of 55 percent, but still significantly below Welker's astounding figure of 77 percent.
Welker also clearly benefited from having Tom Brady behind center. In 2006, Welker toiled for the Miami Dolphins and caught "only" 67 percent of the passes thrown to him; still an above-average figure, but nowhere near what he did in 2007.
However, Welker is an exception, because usually changing teams has surprisingly little effect on a receiver's catch rate. Exactly 120 receivers besides Welker had 50 attempts thrown to them in consecutive seasons for different teams (since 1995). Sixty-one of them saw their catch rate decline, and 59 saw it improve. The average change was -0.5 percent; in other words, basically nothing. There's no doubt that Brady helped Welker (especially when you consider that Moss saw his catch rate rise by 18 percent), but the way Welker was used and his own innate ability to catch the ball played a huge factor as well.
Even with Brady as quarterback, nobody would have predicted before 2007 that Welker would have improved on his previous catch rate of 67 percent. Since 1995, 68 wide receivers have caught between 65 percent and 70 percent of the 50-plus passes thrown to them in a season. Only 15 receivers (22 percent ) saw their catch rate rise the next season, and only Welker saw his rise more than 7.5 percent. All in all, those receivers saw an average drop of nearly -5.6 percent in catch rate the year after; Welker's performance simply blew that away.
Simple regression would project a decreased catch rate for Welker in 2008. Receivers who caught 70 percent of the passes thrown to them in a season saw their catch rate decline, on average, by 10.2 percent the year after. If he's to put up another year like his 2007, Wes Welker will have to defy expectations yet again.
Bill Barnwell is a contributing editor to FootballOutsiders.com and co-author of the book Pro Football Prospectus 2008, in stores now.
SPONSORED HEADLINES
MORE NFL HEADLINES
MOST SENT STORIES ON ESPN.COM
TRAINING CAMP 2008
The regular season approaches. What teams will complete the journey to Tampa for Super Bowl XLIII? Training camp index | Dates


Commentary/features

Warner proves he has future
The Cardinals gave Kurt Warner the chance to compete with Matt Leinart for the starting spot, and the 37-year-old quarterback made the most of the opportunity.
John Clayton
---

Pennington's learning curve
It seemed the Jets could not help Chad Pennington pack his bags fast enough. Now the most experienced QB on the Dolphins, he's relishing the chance to excel again.
Jeffri Chadiha
---
•
Kreidler: Future still promising for 49ers' Smith
•
Clayton: Injuries impact preseason
•
Seifert: A new approach in Detroit
•
Smith: Favre drama a reality check for McNabb
•
Kuharsky: Titans focused on defense
•
Sando: Running key for Holmgren's swan song
•
Mosley: Giants hope history teaches well
•
Garber: Coughlin distances from SB win
•
Williamson: Chiefs engergized by youth
•
Chadiha: O-line might hold real keys for Jets
•
Wickersham: Three tips for Favre
•
Mosley: Giants done with celebrating
•
Naylor: Canadian divide on NFL invasion
•
Graham: Sleeper Bills
|
Blog: Yo, Canada
•
Seifert: For a change, no distractions for Vikes
•
Mosley: McNabb confident Eagles among elite
•
Kuharsky: Garrard taking control
•
Mosley: Eagles poised to return to prominence
•
Clayton: Young on his way to elite status
•
Kuharsky: Garrard ready to lead Jags
•
Chadiha: Delhomme determined to seize moment
•
Yasinskas: Smith's approach suits Falcons
•
Mosley: Zorn's coaching desire finally fulfilled
•
Williamson: Young Raiders share Kiffin's hunger
•
Graham: Jets wiping slate clean
•
Chadiha: Turner ready to lead Falcons
•
Clayton: Vikings firmly in Jackson's corner
•
Walker: Tough schedule awaits Steelers in 2008
•
Mosley: Favre is QB turned ringmaster
•
Clayton: 5 reasons Favre would start for Pack
•
Graham: Patriots not dwelling on past
•
Sando: Rams optimistic despite questions
•
Williamson: Shanahan points to playoffs
•
Walker: Bengals look to move past chaos
•
Yasinskas: Delhomme, Peppers must step up
NFL blog network
•
NFL Nation blog
•
AFC
:
North
|
South
|
East
|
West
•
NFC:
North
|
South
|
East
|
West
•
Contact our bloggers
Camp Confidential training camp tour
A breakdown of our annual camp tour:
• Saturday, July 26: Ravens, Saints
• Sunday, July 27: Colts, Bears
• Monday, July 28: Dolphins, Cardinals
• Tuesday, July 29: Packers

---
•
Wednesday, July 30:
Chargers
,
Cowboys
•
Thursday, July 31:
Texans
,
49ers
•
Friday, Aug. 1:
Patriots
•
Saturday, Aug. 2:
Bengals
,
Panthers
---
•
Sunday, Aug. 3:
Broncos
•
Monday, Aug. 4:
Rams
•
Tuesday, Aug. 5:
Steelers
•
Wednesday, Aug. 6:
Jets
---
•
Thursday, Aug. 7:
Raiders
|
Redskins
•
Friday, Aug. 8:
Falcons
•
Saturday, Aug. 9:
Jaguars
---
•
Tuesday, Aug. 12:
Eagles
|
Vikings
•
Wednesday, Aug. 13:
Bills
•
Thursday, Aug. 14:
Chiefs
---
•
Friday, Aug. 15:
Giants
|
Seahawks
•
Saturday, Aug. 16:
Bucs
|
Lions
•
Sunday, Aug. 17:
Browns
•
Monday, Aug. 18:
Titans
Video
•
NFL Insiders on Bills, Broncos, more
•
Rachel Nichols on Favre, Jets
•
NFL Live dissects ESPN.com power rankings
Audio
•
Podcast: Biggest questions
Scouts Inc.
•
Camp outlook: AFC Q&A on X's and O's

•
Camp outlook: NFC Q&A on X's and O's

•
Notable quarterback battles
ESPN FAN SHOP