Commentary
First-hand looks favor Vikings, Steelers
Originally Published:
August 17, 2009
By
John Clayton
| ESPN.com
The final tally for my recently completed 12-team training camp tour was more than 2,600 miles of driving and more than 5,000 of flying. Just so you know, you have more flexibility in the Midwest and East if you drive.
Thunderstorms delay planes, but not cars. And no, I didn't have a driver. I only saw the Mort Bus. When you throw in minicamps and OTAs, I've seen 17 teams and will see Oakland, San Francisco, San Diego and Denver this week.
In the NFC, the Minnesota Vikings were the best team I saw. You can't run on them, and they are difficult to pass against because of their pass rush. I'm not saying the Vikings are the favorites to win the NFC; I didn't get the pleasure of seeing the four NFC East teams in person.
QUESTIONS, PLEASE
Do you have a query for John Clayton?
Click here to send a note to his mailbag.
Figure the NFC North to be a wild battle. The Vikings have the best starting lineup except for the quarterbacks. The Green Bay Packers are better than you might think, thanks to their move to the 3-4 defense. Aaron Rodgers performed like a Pro Bowler with his two touchdown drives against the Cleveland Browns in the preseason opener. And don't worry about Jay Cutler's so-so performance in his Chicago Bears debut. I'm more concerned about the Bears' leaky defense than Cutler and the Bears' passing offense.
The good news for the Seattle Seahawks is that they can match up pretty well against a talented outfit such as the San Diego Chargers, as the Seahawks showed in San Diego this past weekend. The bad news for the Seahawks is that their NFC West rival Arizona Cardinals appear to be better on defense. Cardinals QB Kurt Warner is just fine after his hip surgery.
The Atlanta Falcons have a slight edge over the New Orleans Saints and the Carolina Panthers from what I've seen so far. Falcons head coach Mike Smith still has a lot to work on with a defense that changed five starters.
In the AFC, the Pittsburgh Steelers are the best of the eight teams in that conference I've seen. Don't worry, New England Patriots fans -- I still have the Pats seeded second in the AFC behind the Steelers. Despite their bad performance against the Packers, the Browns still can be a team that plays close to .500 because of the schedule. The Cincinnati Bengals will be in the seven-to-eight-win range, too.
The Tennessee Titans and Indianapolis Colts should have a great battle for the AFC South with the Houston Texans shadowing just a couple of games behind.
In the AFC East, the New York Jets are closer to the Buffalo Bills than I suspected because of their defense and rookie quarterback Mark Sanchez, who will win the starting job. I'm a little concerned about the Bills' offensive line.
It's pretty clear the St. Louis Rams, Kansas City Chiefs and Detroit Lions are in rebuilding modes. Anything above five wins is a bonus for them.
Let's go to the mailbag.
From the inbox
Q: After reading that story about Michael Crabtree the other day, it made me sick to my stomach. During the draft I was hoping the Eagles would trade up to get him because I feel we needed that hard-nosed receiver. Now I'm glad we didn't waste our time. Where does he get off demanding all this money when he hasn't proven anything when it comes to the NFL? Do you think that Mr. Goodell should look into standardizing rookie salaries either across the board or make the top-10 picks get a certain salary and then a standard contract after that?
From Ryan in Philadelphia
A: Every year there are going to be draft holdouts; as long as the current system remains, at least. San Francisco 49ers selection Crabtree, a receiver out of Texas Tech, felt he was better than the 10th pick in the 2009 draft. The Oakland Raiders' signing of receiver Darrius Heyward-Bey, the No. 7 overall pick, raised the cost of the draft choices in the top 10. With the likelihood that the Buffalo Bills will sign Aaron Maybin this week, Crabtree and Andre Smith of the Cincinnati Bengals will be the last two draft choices out. Once Maybin gets done, it should speed up talks with the 49ers and Crabtree. I predict Smith will be the last first-rounder holding out of the camp.
Short takes
Daniel in Montpelier, Ohio, watched the Hall of Fame inductions wondering if former Chicago Bears defensive end Richard Dent has a chance to be there next year. I think there is a good chance. … Jon in Los Angeles wants a progress report on the Collective Bargaining Agreement talks. There's been no progress. Owners haven't figured out a strategy to take against the union other than staring across the table. … Josh in Winston-Salem, N.C., agreed with a thought I recently had that the worst decision the Cowboys made was not getting another cornerback. He thought they should have gone after Shawn Springs. That wouldn't have been the answer, but you can see the injuries are already holding back this thin part of the defense. … Here's another schedule question. Greg in Montville, N.J., wonders where the Atlanta Falcons will end up now that they have one of the toughest schedules in the league. Last season, they had an easy schedule. Because of Matt Ryan, I think they could win the NFC South with a 10- or 11-win season. … Varad in Milwaukee wonders if having RB Ryan Grant in a full Green Bay Packers training camp could help him. Absolutely. I'm not saying he's going to have a 1,300-yard season, but he should improve from last season's numbers. . … Brandon in Los Angeles wants me to pick a quarterback under the age of 30 to start a team. While some might go for Ben Roethlisberger, Eli Manning or Aaron Rodgers, I'd go for Matt Ryan. … George in Pittsburgh wonders if the Steelers should worry about the number of players on their roster over the age of 30. The big worry is on the defensive line. They dress five linemen who are in their 30s. They have done a nice job of getting younger at linebacker and the offensive line in the past couple of years. The next mission is getting younger at defensive line. … Bill in Denver suggests the Vikings could upgrade their quarterback position by trading for Derek Anderson. I agree. If the Browns would take a No. 2 for him, I'd make that move in a second. … Al in Chicago writes to say he heard a recent comment on ESPN that claimed Aaron Rodgers is far and away the best quarterback in the NFC North. That wasn't me. l can't wait to see Jay Cutler duel Rodgers. Both are far and away better than the Vikings' quarterbacks. We probably can agree on that. … Ryan in Washington, D.C., asks if Baltimore Ravens head coach John Harbaugh's motivational tactics will work for Willis McGahee, who's been bothered by injuries. Not sure. McGahee's body appears to be pretty beat up, and Ray Rice isn't a bad substitute. … Nelson in Houston wonders if Marvin Harrison could be a good possession receiver on the other side of the Houston Texans' Andre Johnson. I believe Harrison still can play, but he wouldn't draw any double coverage away from Johnson. Harrison was singled up most of last season. … Ed in Houston wants my opinion on the NFL allowing the Titans to don the Houston Oilers throwback uniforms. I have two problems with it. First, the Titans moved out of Houston, so wearing the old Oilers uniforms doesn't seem right. Second, I don't like many of the throwback uniforms. I think they should be throw-out uniforms. … Justin in Crystal, Minn., believes Sage Rosenfels could be an adequate quarterback this year for the Minnesota Vikings and Tarvaris Jackson could be the future if people don't give up on him. I think your thinking is rational. But if the Vikings don't go far in the playoffs, there could be more that changes than the quarterback position. The future is now in Minnesota. … Ian in Oregon wonders why I don't mention the Detroit Lions much when I'm talking about the division race in the NFC North. This just in, Ian, the Lions went 0-16 last year. Need I say more?. … Bryan in Washington, D.C., has been watching what the New England Patriots have been doing on defense of late. They activated Shawn Crable off the PUP (Physically Unable To Perform) list and brought in Derrick Burgess in a trade. From what I'm hearing, though, Pierre Woods still has the starting outside linebacker job locked down on the other side of Adalius Thomas. … Ben in Pittsburgh wondered why the Titans decided to run a fake punt in the Hall of Fame win over the Bills. Jeff Fisher always does that in the preseason to make opponents do extra special teams prep for them during the regular season. By the way, that fake punt was an old Reggie Roby play from years ago. … Ed in Chicago Heights, Ill., wants to know if having Lovie Smith calling the Bears' defensive plays will get him another contract extension. No, winning will get him another contract extension. Lovie calling the plays might do that. … Clinton in Fremont, Calif. doesn't see Tyler Thigpen fitting in with the Kansas City Chiefs. I agree. If they are lucky, they could get some low-draft-choice trade value for QBs Thigpen and Brodie Croyle. … Sinde in Chattanooga, Tenn., asks, "What is it going to take for the Titans to dump Vince Young?" Judgment day for Vince Young is next season. I don't see why so many people want to get rid of him now. The guy was 18-11 as a starter the last I checked. … Buster in Cheyenne, Wyo., asks if the Chiefs are going to run more of their running plays out of one-back formations. They have more plans to use a fullback, but coach Todd Haley is trying to see what he has at receiver first before setting in on an offensive personality.
Q: The one-year "Brett Favre experiment" for the Jets seemed to be a success in the eyes of many Jets fans, but was it really? His old body caught up to him by the end of the season (making just another NYJ disappointment) and the Jets were caught up in seeking after another QB this offseason. I am not complaining of a waste at a first-round pick for Mark Sanchez this season, but do you think the team could make a smooth transition from virtually polar-opposite QBs? If not this year, how long?
From Matt in Morristown, N.J.
A: You don't win in this league without quarterbacks. They gambled on Favre and got off to an 8-3 start, which was great. I don't know if they could have gotten a Mark Sanchez last year. Sure, it was embarrassing to lose a playoff spot to Chad Pennington after he went to the Miami Dolphins, but the Jets decided it was time to move on from Pennington. I would have stayed with Pennington. The Jets might have won nine games with the easy 2008 schedule, but Pennington probably wouldn't had been the starter given where the Jets were going.
Q: Do you think that with the Packers' personnel on defense that they have a shot at making a smooth transition from a 4-3 to a 3-4 and remaining consistent every week? If so, can the Packers be a more aggressive team with this change?
From Mike in Ladysmith, Wis.
A: I'd give it a B grade. Ryan Pickett looks good at the nose tackle position. I think there are enough defensive ends to make the 3-4 work. The cornerbacks -- Al Harris and Charles Woodson -- have bought into the new system. I just think there will be a two-year transition at linebacker. Aaron Kampman got off to a good start in the first preseason game against the Browns at outside linebacker. Injuries have slowed the other outside linebacker spot, but Clay Matthews should be fine there. The problem could be on the inside. There isn't a run-stopper. On the positive side, I think this could be one of the better 3-4 transitions.
Q: If Matt Schaub can't stay healthy, or doesn't perform well this season, is it time to start shopping for a new signal-caller in Houston? Small, extremely biased side note: I still think letting David Carr go was a significant mistake for this franchise. Of course, starting him from Day 1 was a mistake as well.
From Mike in Toledo, Ohio
A: If the Texans don't get over the hump and have a winning record, there could be a lot of changes. Everyone is on the hot seat. I think Gary Kubiak and Rick Smith have done a decent job of rebuilding the roster, particularly on defense. Schaub is an efficient, accurate quarterback who should be able to get this team to nine wins if he stays healthy. Owner Bob McNair is patient, but it's time for this team to step up. They had to move away from David Carr because he was beat up physically and mentally. Yes, I agree they shouldn't have rushed him into the starting job.
Q:What are your thoughts on the battle going on between [Indianapolis Colts running backs] Donald Brown and Joseph Addai? I can't understand why they are kicking Addai to the curb. The guy had an outstanding rookie campaign, has playoff experience, and has been plagued by injuries. This isn't to say that Brown doesn't have a huge upside, but why ditch the veteran? Is Brown going to jump Addai on the depth chart?
From Matt in Poway, Calif.
A: It's not much of a battle this year. Joseph Addai is the starter, but Donald Brown looks great on some of the inside runs. They should be a great 1-2 punch as long as the offensive line can stay healthy and grow together. Brown is noticeable when you watch him in practice. He's got an explosive first couple of steps and is hard to stop on first contact. Addai is the elusive runner and better on the stretch plays, which set up play-action passes for Peyton Manning. Next year will be more of a battle for playing time, but I think Brown could get five to 10 carries a game this season.
Q: Do you think Jerome Harrison will be a major contributor in Cleveland's running game? Jamal Lewis is the starter, but Harrison caught my attention last year as a fast and powerful back.
From Karyn in Paramus, N.J.
A: I like Jerome Harrison, but I don't see him as being the No. 1 back in Cleveland. He's a perfect No. 2 back on any roster because he's a good runner and seems to do everything well. Eric Mangini wants to install a power-oriented run game. Jamal Lewis has had a lot of carries during his career, but he gets one more season as the Browns' feature back. My guess is that the Browns will be looking for a back next season, which won't allow Harrison to advance much.
Q: If a QB completes a 5-yard pass in which the RB runs for another 75 yards, the QB is credited with an 80-yard completion. Why is that? The QB did absolutely nothing for the majority of the play, so why should he get statistical consideration for it? Seems to me the QB should get a 5-yard-pass credit and the RB a 75-yard-run/reception credit. Instead the QB gets an 80-yard-pass voucher and the RB does as well, totaling 160 yards for a single 80-yard play.
From Alan in Lubbock, Texas
A: There are stats organizations that keep track of run-after-catch, but those specifics aren't identified in the official NFL stats. The NFL isn't like baseball in many of its stats breakdowns, but it is getting better. Sure, it's unfair, but look what YAC (Yards After Catch) did for Matt Cassel. It made him one of the highest-paid quarterbacks in the league. Cassel threw short lobs to Randy Moss, Wes Welker and Kevin Faulk and had a near-Pro Bowl season for an 11-win Patriots team last year.
Q: I'm curious about your opinion on the impact of the Baltimore Ravens losing Jason Brown. He was a large center/mauler who could handle the large NTs of the AFC North. How do you see veteran Matt Birk handling Shaun Rogers, Casey Hampton, etc.?
From Ned in Baltimore
A: To keep an offensive line together, you sometimes have to make sacrifices. The Ravens couldn't afford -- under the salary cap -- to pay $7 million a year for a center. Jason Brown is perfect for the AFC North. But Ozzie Newsome has done a great job over the past three years rebuilding the line. He's made it bigger, stronger and younger. Losing Brown was huge. Matt Birk is a nice replacement for a year or two until Ozzie finds the next Jason Brown. In this case, the loss of Brown was a tribute to how well the Ravens did in finding offensive line talent.
Q: Do you think Green Bay was wise taking B.J. Raji over Brian Orakpo in the 2009 draft? Orakpo is a DE/LB and I hear that they are just going to move Raji to the DE, even though he is a DT. Do you think that Orakpo would have been the smarter choice looking at what position needed to be filled?
From Chris in Gahanna, Ohio
A: What a great question. From what I see of Orakpo, he has a chance to be a 10-sack star. Players like him are hard to find. But if you are switching to the 3-4, you have to find big defensive linemen. Raji is good enough to be a 3-4 end, but if needed, he can be Ryan Pickett's replacement at nose tackle in the next couple of years. The fact that the Packers drafted Clay Matthews covered the outside linebacker question, but, wow, I'm thinking Orakpo could be a star.
John Clayton, a recipient of the Pro Football Hall of Fame's McCann Award for distinguished reporting, is a senior writer for ESPN.com.
NFL senior writer
Senior NFL writer and commentator
Joined ESPN in 1995
Member of the writers' wing of the Pro Football Hall of Fame in Canton, Ohio
PRESEASON NFL COVERAGE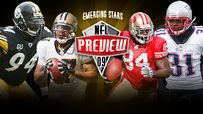 BLOGS
EMERGING STARS
AFC CAMP CONFIDENTIAL
NFC CAMP CONFIDENTIAL
FOOTBALL OUTSIDERS
COLUMNS/FEATURES