Commentary
Broncos in tough spot with Marshall
Originally Published:
August 24, 2009
By
John Clayton
| ESPN.com
Jay Cutler
trade, don't look now.
The Brandon Marshall situation might be worse. The trust between Marshall and the Broncos has been broken on both sides. Marshall doesn't trust the trainers; he doesn't trust the organization. On the flip side, the Broncos don't trust him enough to offer him a contract extension. Trading him would set more precedents for players who might want to leave the Broncos.
What the Broncos need is a face-saving angel, a team willing to trade the equivalent of a No. 1 and No. 4 pick to resolve this situation. Watching the Broncos play the Seahawks on Saturday night, I think the Broncos can get by with three- and four-receiver sets that feature Eddie Royal, Jabar Gaffney, Brandon Stokley and Chad Jackson.
That group of receivers might not be tall, but it's solid enough for Kyle Orton, who is going to operate a quick passing offense out of three- and five-step drops. The problem facing the Broncos is that because their defense is suspect, they probably are going to play a lot of shootouts. Orton is good, but I don't see him winning three games in which the defense surrendered 30 or more points, as Cutler did last season.
Plus, starting in Week 4, the Broncos face an eight-game stretch in which it's going to be hard to win many games. From Oct. 4 to Nov. 26, they face Dallas, New England, San Diego, Baltimore, Pittsburgh, Washington, San Diego and the Giants. They could lose all eight. Getting value for Marshall, who is in the final year of his contract, is the wise thing to do if McDaniels is going to build the Broncos back into a playoff team.
Marshall would be a great fit on the Ravens or the Jets. If neither team -- or another suitor -- offers a No. 1 and a No. 4, the Broncos will have to keep him, even though his attitude might cause his productivity to drop.
Let's go to the mailbag.
From the inbox
Q: I'm sitting here watching the Thursday night preseason Eagles versus Colts game, and I began to wonder whether or not Donovan McNabb is worthy of the Hall of Fame. What do you think? Has he done enough at this point to earn a gold blazer, or does he have more to prove? My thought is that he probably needs at least another Super Bowl appearance or maybe an MVP award to solidify his case, and that a Lombardi Trophy would probably make him a sure-fire lock. Thoughts?
Bruce in Washington, D.C.
A: McNabb is worthy of consideration, but I don't know where the cutoff point will be for the quarterbacks of his era. It's pretty easy to say that Tom Brady, Brett Favre and Peyton Manning will make it. Taking his team to five NFC title games puts him close, but does McNabb lose out to Ben Roethlisberger, who has won two Super Bowls? It's a great debate. Obviously, there's still time for so many of these quarterbacks to add stats and accomplishments to their résumés. He has a chance.
Q: Do you believe that if Alex Mack and one of the receivers the Cleveland Browns drafted don't improve the offense significantly and Abram Elam is as bad as he was in the first preseason game, Eric Mangini won't last here long either? Especially since they reached for every one of their first four picks and passed up on the likes of Rey Maualuga, Sean Smith, Everette Brown and LeSean McCoy, all of which were WAY more important than a third and fourth receiver. Cleveland had a lot of leverage with the fifth pick and we pretty much gave the Jets their future QB for some irrelevant players.
Ray in Cleveland
A: It's too early to pass total judgment. The Browns may end up with a better record than their talent base would suggest because of their easy schedule, but they have some serious holes in their roster. Mack is going to be a very good interior blocker, but I didn't like the idea of trading down a couple of times and taking a center. When you have a bad season, you want to restock the team with impact players at impact positions. Still, Mangini deserves some time to see where he is going with this team.
Q: I am a huge Vikings fan and I regularly read Kevin Seifert's NFC North blog, so I was puzzled to find that there is no information about the Vikings quarterbacks now that Favre has signed. Someone has to get let go. Who do you think it will be?
Rob V. from Jersey
A: It will be John David Booty. The Vikings can't get rid of Tarvaris Jackson after he threw for 202 yards in the game against Kansas City. He's a better quarterback than Booty. It's pretty evident with the signing of Favre that the Vikings are trying to win now and aren't worrying about the future. Unless there is trade value for Jackson -- which is unlikely, from what I hear -- the Vikings will have to keep their best three quarterbacks: Favre, Jackson and Sage Rosenfels.
Q: I don't think that enough people are giving the Dolphins respect this year. They have improved their offensive line and drafted a couple of wide receivers who will fill in nicely. Their secondary is vastly improved. Linebacker Cameron Wake is a question mark mainly because we don't what to expect, but he may be something special. Then there's the schedule: besides at San Diego in Week 3, every road game is on the East Coast. That has to count for something.
Jon in Boston
A: I like what I see from Cameron Wake. He's a little leaner than I expected, and, wow, can he fly to the quarterback. If he gets around the tackle, the quarterback better watch out. It's hard to find pass-rushers for a 3-4 defense, but he's going to be a great third or fourth option. Remember, he led the CFL in sacks for the past two years. The Dolphins' schedule is tough, and that's going to pull the team down two or three games this season. The Dolphins won't be able to sneak up on their rivals in the AFC East after last year. At least you know the Dolphins are geared for the battle.
Q: How is the QB competition with the 49ers shaking out? GMs and pundits talk all day long about potential, but potential doesn't win games. Results do. Shaun Hill gets results. I hear that Alex Smith has been looking good in practice, but he wasn't that impressive against the Broncos. Am I wrong to expect Hill starts Week 1?
Adam in Sacramento
A: The winner will be Hill, which goes to your point. Hill manages the game well. He doesn't have the talent of Smith, but he's more consistent on the field than Smith at this point. The 49ers want to run the ball. That's pretty clear. For the 49ers to win, they can't be trailing by 10 or more points in the fourth quarter. Smith would be the better quarterback in a fourth-quarter comeback because he can throw better deep balls, but it is going to take a Tom Brady-like performance for Smith to win the job during the preseason. Expect Hill to start.
Q: Is Cedric Benson the answer at running back for Cincinnati after looking OK in the second half or will they need to address that position in the offseason?
Rich in Pittsburgh
A: Cedric Benson is a perfect back for the Bengals. Unlike the Bears, the Bengals have designed running plays that fit Benson's downhill running skills. As long as he does well, the Bengals only need to make sure they have a solid enough backup to give Benson some rest. Benson is young enough to be efficient for a couple of years in Cincinnati. He's a physical back, so he could wear down with some injuries, but I would be surprised if he rushes for fewer than 1,100 yards.
Q: Why is nothing made of the fact of Brett Favre's negative impact on a locker room? A quick Google search can find quotes in stories from Thomas Jones, Kerry Rhodes, Aaron Rodgers and Greg Jennings, and just this morning on a sports radio station in Boston there was a clip of Matt Hasselbeck explaining how Favre would show up 90 minutes late for quarterback meetings without any apology. For all the talk that Terrell Owens is a bad teammate, why is Favre's wishy-washy, "me-first" attitude summarily ignored?
Craig in Quincy, Mass.
A: The reason you don't hear much about the negative impact is because I don't think he is a negative influence in the locker room. If he was, the Jets would not have had an 8-3 start last season. He had a 13-win season in 2007 with the Packers. The guy loves the game, and his personality in the huddle wins over teammates because he makes it fun. Sure, the Jets were sniping a little bit after the season because they were frustrated about their finish. But they wouldn't have been 8-3 without Favre's 70 percent completions over the first 11 games. He's 39. How many 25-year-old guys does he need to hang around with?
Q: It seems that a lot of people are picking the Patriots to win the Super Bowl this year, which I really don't understand. Why the Pats over the Steelers? The Steelers are returning 20 starters and all returners are better than last year. The only addition to the Pats is Tom Brady, but not including his last full season, he never had more than 28 touchdowns. So why is it that they are projected to win the Big Game, while the much better-equipped Steelers aren't?
Michael in Linesville, Pa.
A: Because it's hard to repeat in the NFL, people are scrambling for some team other than the Steelers, and the Patriots are the convenient pick. I still think the Steelers are good enough to stay No. 1 in my seedings going into the season. I have the Patriots as No. 2. You still have to admit that the return of Brady is huge for the Patriots -- he's a Hall of Fame quarterback and with that offense, he'll throw more than 30 touchdown passes this season. You know in the AFC it's either the team that is healthier or the team that has home-field advantage that ends up with the edge in the playoffs.
Q: I always thought that Marc Bulger was overrated (and I still haven't forgiven the Rams for ditching Kurt Warner). But I couldn't say it out loud because he posted a 36-24 record as a starter at the beginning of his career. But he has lost 23 of the past 27 games he has started, which makes him 40-47. Is the Rams' bad defense and offensive line to blame, or is it just that people gave too much credit to Bulger when the team won?
Charles in Montreal
A: Don't forget Warner had a seven-game losing streak before he left, dating to his starts in 2002 and 2003. I don't think Bulger is overrated. I think he just happens to be on a team that had two problems -- bad drafts and bad offensive lines. They have lost everything from one of the great offenses of the modern era. When he's healthy, Bulger is an accurate quarterback, one of the most accurate in the game. I blame the team more than the quarterback.
John Clayton, a recipient of the Pro Football Hall of Fame's McCann Award for distinguished reporting, is a senior writer for ESPN.com.
SPONSORED HEADLINES
MORE NFL HEADLINES
MOST SENT STORIES ON ESPN.COM
PRESEASON NFL COVERAGE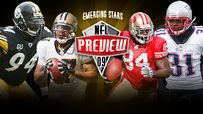 BLOGS
EMERGING STARS
AFC CAMP CONFIDENTIAL
NFC CAMP CONFIDENTIAL
FOOTBALL OUTSIDERS
COLUMNS/FEATURES