Commentary
Eli Manning seeks a comfort zone
ALBANY, N.Y. -- The Giants' receiving situation is sort of like that card-trick line: Pick a card, any card. Only with the Giants, you don't know if you'll come up with an ace, a jack or a joker.
"I don't know who our top three receivers are going to be right now," Eli Manning admitted Saturday.
He knows they won't be Plaxico Burress and Amani Toomer. They're gone and not coming back.
"It's a little different," Manning said with a smile. "So many times you stepped into the huddle and you just knew they [Toomer and Burress] were going to be there for you to make a play in the fourth quarter."
The candidates to replace them are Steve Smith, Domenik Hixon, Mario Manningham, Sinorice Moss, Derek Hagan, David Tyree, Hakeem Nicks and Ramses Barden.
[+] Enlarge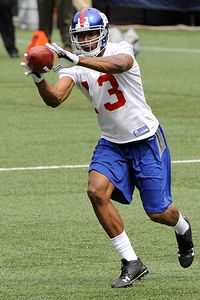 AP Photo/Bill KostrounRookie WR Ramses Barden has outplayed first-round pick Hakeem Nicks in training camp.
"I've had to be a bit more of a coach," Manning said of his role. "I'm not just teaching these guys the ins and outs of offense but also working with their confidence, making sure they don't get down and making sure they keep working."
Manning said he sees improvement in most of the young wideouts, but added that "it's kind of receiver by committee; we're moving guys around."
Manning confirmed that Manningham and Moss have made strong early impressions. That's a big deal for Manning, because he is convinced the Giants must be more explosive in their passing offense. He sounded confident about the chances to pull that off.
"Mario Manningham has had a great camp and the same for Sinorice Moss -- those guys have speed," said the quarterback. "You want to be a physical team, but we want to get more [passing] plays downfield. With this receiving corps, we have more speed to get downfield and get those corners scared."
Then Manning said something that should open some eyes.
"These guys do better [deep] than maybe some of the guys we've seen in the past," he said. "With Plax and Amani, we had more intermediate routes. We led the league with possessions inside the red zone, but we've got to hit the big play instead of just dinking and dunking. It's got to be run the ball and taking more big shots."
Also interesting is that Barden, the Giants' third-round pick from Cal Poly, appears significantly ahead of first-round pick Nicks of North Carolina. Barden, who is 6-foot-6, has impressed Manning.
"Barden has made some plays in camp," Manning said. "Nicks has fallen behind because he's been banged up. It's tough enough for a rookie receiver to step into a starting role because their heads are spinning, so when you miss four or five days of practice [like Nicks has], then you miss all those installations. And if you're not on the field making mistakes and learning by experience, it's hard to catch up.
"So, really, you expect guys like Hixon, Moss and Smith -- those third- and fourth-year guys -- to be more comfortable and take the next step up and really excel," Manning said. "I'm counting on that, and if Manningham keeps playing like he has, then we'll be good there."
Here's what else I learned at Giants camp, the 14th stop on my training camp bus tour:
MORT GOES TO CAMP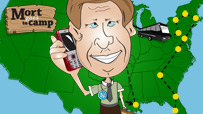 ESPN senior NFL analyst Chris Mortensen's 21-team bus tour of training camps is over. Mort's trip started in Arlington, Texas, where he met Dallas owner Jerry Jones at the team's new stadium and ended in Miami Gardens, Fla., for a visit with the Dolphins. Mort camp page


MORT'S CAMP SCHEDULE
8/3: Rams (St. Louis)
8/9: Browns (Berea, Ohio)
8/10: Steelers (Latrobe, Pa.)
8/11: Eagles (Bethlehem, Pa.)
8/12: Jets (Hempstead, N.Y.)
8/13: ESPN, Bristol, Conn.
8/14: Bills (Pittsford, N.Y.)
8/15: Giants (Albany, N.Y.)
8/17: Redskins (Ashburn, Va.)
8/20: Buccaneers (Tampa, Fla.)
Nike Men's Salute To Service Limited Jersey New York Giants Eli Manning #10 Shop »

MOST SENT STORIES ON ESPN.COM