Cutler smooths things over with Hester
Updated:
August 19, 2009, 11:15 PM ET
Associated Press
BOURBONNAIS, Ill. -- Chicago Bears quarterback Jay Cutler insists the reaction to his postgame comments last week didn't bother him.

Cutler
Still, he made a point to smooth things over with wide receiver Devin Hester.
Cutler got off to a rocky start with his new team in the preseason opener, completing only half his passes in a loss to Buffalo while throwing more interceptions (one) than touchdowns (zero). He also offended Hester after the game while trying to explain to reporters why he got picked off on an underthrown ball.
Many took it as a knock at Hester, who was bothered by the remarks at first. Cutler, however, pointed the finger at himself and added there is no problem between the two and that his comment was "taken out of context."

Copyright 2009 by The Associated Press
SPONSORED HEADLINES
MORE NFL HEADLINES
MOST SENT STORIES ON ESPN.COM
PRESEASON NFL COVERAGE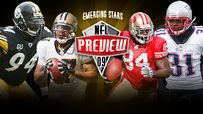 BLOGS
EMERGING STARS
AFC CAMP CONFIDENTIAL
NFC CAMP CONFIDENTIAL
FOOTBALL OUTSIDERS
COLUMNS/FEATURES
ESPN FAN SHOP