Stafford to take first-quarter snaps
Updated:
August 21, 2009, 8:00 PM ET
ESPN.com news services
Matthew Stafford will start Saturday for the Detroit Lions when they face Cleveland in a preseason game.
NFC North blog

ESPN.com's Kevin Seifert looks in depth at the Lions in his Camp Confidential from training camp.
Story | NFC North blog
• Blog network: NFL Nation
Stafford, the No. 1 pick in the 2009 NFL draft, backed up Daunte Culpepper in the team's first preseason game. This week, Stafford will start, Culpepper will play the second quarter and Drew Stanton will handle the second half.
Lions coach Jim Schwartz wouldn't use the word "start" in terms of Stafford. He told Detroit-area media members that Stafford will "begin the game."
"You see, starter has a different connotation," he said, according to The Detroit News. "And I don't have any starters. We don't have any starters right now."
Stafford was 7-of-14 for 114 yards and a touchdown in his professional debut against Atlanta. He also threw an interception.
That isn't enough to convince Schwartz that Stafford is the starter.
"He has played one preseason game, played a few snaps," Schwartz said. "We have a long way to go to decide if anybody's ready or not."
PRESEASON NFL COVERAGE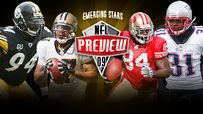 BLOGS
EMERGING STARS
AFC CAMP CONFIDENTIAL
NFC CAMP CONFIDENTIAL
FOOTBALL OUTSIDERS
COLUMNS/FEATURES
ESPN FAN SHOP