LT getting jump with preseason action
Updated:
August 25, 2009, 2:48 PM ET
Associated Press
SAN DIEGO -- LaDainian Tomlinson is happy he's not stuck on the sideline this August.
The San Diego Chargers' star running back said he's feeling fine after playing in the first two exhibition games, his first action in a preseason since 2005.
"I'm feeling good," he said Monday, when the Chargers started their final four days of training camp. "I'm feeling really good, actually. I haven't had any problems. I'm healthy. Not even sore at all, either. So I'm pretty encouraged by the way I feel."
AFC West blog

ESPN.com's Bill Williamson writes about all things AFC West in his division blog.
Tomlinson was slowed by toe and groin injuries last season, when he had a career-low 1,110 yards. He and coach Norv Turner figured it would be good to get some August snaps so he'll be up to speed once the real games start.
In two games, Tomlinson has carried 12 times for 28 yards and caught three passes for 26 yards.
"I'm glad I was able to get in and get some carries just to kind of get that first hit and the feel of the game again," Tomlinson said. "I think it's important when you're coming off an injury-plagued season that you kind of get back out there as soon as possible to try to get some timing in and to get hit again and just go through the whole routine of preparing for a game."
Turner said he'll tell the starters to be prepared to play three quarters this Saturday at Atlanta. Whether that includes Tomlinson remains to be seen.
"It's just looking at what we've done in the first two weeks, looking at where we are in the running game," Turner said. "We're not doing it just to do it. We played LT in the first two games because I thought it would help him. I thought it would help our offensive line. And if by the end of the week I think it will continue to help, then he will play. If not, he won't."
Tomlinson is looking forward to the regular season so the Chargers can break out more plays. He said they've been so generic that they've only run three or four different plays.
"When I was watching film yesterday and just realizing how vanilla we were, I just started thinking, 'Man, I can't wait till we get to run these certain runs that we really like.' I'm excited about it," Tomlinson said.
One area of concern after Saturday night's 17-6 victory at Arizona was that quarterback Philip Rivers was sacked four times in the first quarter.
"I'm always concerned when your quarterback gets put on the ground," Turner said. "The things that happened to us are correctable. In three of the four cases, they're just individuals not handling their responsibilities in terms of what they need to do. We need to have an emphasis there and a focus there."

Copyright 2009 by The Associated Press
PRESEASON NFL COVERAGE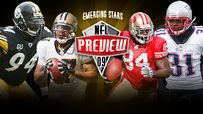 BLOGS
EMERGING STARS
AFC CAMP CONFIDENTIAL
NFC CAMP CONFIDENTIAL
FOOTBALL OUTSIDERS
COLUMNS/FEATURES

MOST SENT STORIES ON ESPN.COM