Commentary
Kevin Kolb fits leadership profile
No longer Donovan McNabb's understudy, he steps into the Eagles' starting QB job
BETHLEHEM, Pa. -- Winston Justice felt the intense pain as soon as his right index finger snapped during that January game in Dallas last season.
By the time the
Philadelphia Eagles
right tackle reached the sidelines, teammates and coaches alike winced at the sight of a digit so mangled it pointed sideways at a 90-degree angle. Backup quarterback
Kevin Kolb
was just as disgusted by the injury. What he didn't do, however, was allow his shock to prevent him from doing something helpful.
Donovan McNabb
to Washington in April -- Kolb has been preparing for the chance to lead an NFL team since long before Philadelphia made him a second-round pick in the 2007 draft. Most of his confidence comes from his obvious physical skills and his trademark determination. The rest is the result of a quality Justice witnessed on that day back in Dallas: Kolb's innate understanding of how to keep teammates focused under difficult circumstances.
Fewer pedestals in Philadelphia
DeSean Jackson
,
Jeremy Maclin
and tight end
Brent Celek
. In both of Kolb's two starts last season, seven receivers caught at least one pass from him. The concept of sharing is one Kolb also applies to leadership. Although he naturally carries a bulk of the responsibility because of his position, he also wants his teammates to help fill the void created by the departure of veteran stars like McNabb and running back
Brian Westbrook
. In fact, Kolb was delighted during a recent practice when five different offensive players criticized what seemed to be a lethargic effort at various times in the day. It told the quarterback the right kind of chemistry is evolving on one of the youngest teams in the league. Said Kolb: "We want everybody to feel like they have a voice here. Everybody can speak up because that's how you build a team. If you have three guys standing on a pedestal and everybody else is down below, it's harder to get things done. Because at some point, you're going to have some people feeling like they're not as involved as they need to be."
Be content to be No. 4, not No. 5
"

Donovan taught me that there will always be peaks and valleys in this game. But no matter what is said, you can't listen to it.

"

-- New Eagles starting QB Kevin Kolb, on advice he got from the man he succeeds, Donovan McNabb
Then there are the lessons Kolb learned while sitting behind McNabb. "The big thing I saw from him was how he handled the highs and lows of the job," Kolb said. "Donovan taught me that there will always be peaks and valleys in this game. But no matter what is said, you can't listen to it. "In the NFL and especially in this city, people will get down on you. So you can't get too high and you can't get down on yourself." The way Kolb handled his three years on the bench has left a strong impression with his teammates. Rarely did a day go by when he wasn't throwing extra passes after practice or supporting McNabb any way possible. When teammates came to the sidelines during games, Kolb also was quick to offer advice on adjustments and defensive looks. He wanted the players to know his head was in the game even when his body wasn't. In turn, they saw a young quarterback with the potential to grow up in a hurry once his time came. Eagles wide receiver
Jason Avant
remembered how diligently Kolb prepared for his first career start last season, when an injury to McNabb left Philadelphia vulnerable in a big Week 2 game against New Orleans.
Kansas City Chiefs
, Kolb became the first player in NFL history to have back-to-back 300-yard games in his first two starts. He also showed the kind of progress that delights coaches. "You could see that he was applying lessons from the past," Eagles offensive coordinator Marty Mornhinweg said. "In that Kansas City game, he saw a blitz that he had seen in the previous year [Kolb made four appearances as a backup in 2008] and he wound up making a mistake the first time around. This time, he saw the same look and turned it into a 12-yard completion. So you can see that Kevin learns from his mistakes quickly and then moves on." Added Chiefs safety
Jon McGraw
: "I was impressed with him, especially because it was his second start. You could see that he made good decisions and that he was very accurate. It can be tough for young quarterbacks to mentally process a lot of stuff when they're thrown into those kinds of situations. He's definitely a guy with a bright future."
Text message from McNabb
Michael Vick
during a recent break from training camp. Kolb saw firsthand what McNabb went through in Philadelphia. He realizes his honeymoon period won't last long once problems arise. In fact, McNabb sent Kolb a text message before training camp began, offering his former understudy good luck and encouraging him to stay patient. The second part of that message might be the best advice Kolb gets as the glare of the spotlight increases. "To be honest, I've been surprised by how I've been treated because it's not like people bother me in restaurants," Kolb said. "But I also know what these fans expect from the quarterback on this team. I realize I have to get things done."
Senior writer Jeffri Chadiha covers the NFL for ESPN.com
.
SPONSORED HEADLINES
MORE NFL HEADLINES
MOST SENT STORIES ON ESPN.COM
2010 NFL TRAINING CAMPS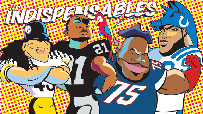 Follow ESPN's NFL coverage on Twitter
GREAT DEBATES
INDISPENSABLE PLAYERS
NFL BLOG NETWORK
CAMP CONFIDENTIAL: NFC
CAMP CONFIDENTIAL: AFC
COMMENTARY/BLOG POSTS
ESPN LOCAL COVERAGE
Nike Women's Philadelphia Eagles Take It Long Birch Heather Long Sleeve Shirt Shop »