Commentary
Lions lagging behind Matthew Stafford
Second-year QB looks impressive, but Detroit's roster not yet ready to be competitive
Originally Published:
August 2, 2010
By
John Clayton
| ESPN.com
ALLEN PARK, Mich. -- Anyone doubting whether Matthew Stafford was the right choice for the Detroit Lions just needs to watch him practice.
Watching him brings back memories of the development of Troy Aikman. It's too early to say Stafford will have Aikman's accuracy, but Stafford has a strong arm, a great football mind and the willingness to take a franchise from nothing and turn it into something. Too bad the Lions can't pull off a Herschel Walker-like trade to speed up the process as far as recording victories is concerned.
QUESTIONS, PLEASE
Do you have a query for John Clayton?
Click here to send a note to his mailbag.
Walker, if you don't remember, was the great running back for whom former Cowboys coach Jimmy Johnson swapped a treasure trove of players and draft choices. Unfortunately, no team can find enough starters in two years to totally revamp a roster that produced an 0-16 record. All you have to do is to study the Lions' defense to see it's going to take another draft or two for the Lions to be good enough for Stafford to translate his development into victories.
Head coach Jim Schwartz and general manager Martin Mayhew have replaced every defensive starter from the 2008 team. The struggle is in the back end of the defense. Safety Louis Delmas and middle linebacker DeAndre Levy are two mainstays in the middle of the back seven, but Schwartz and Mayhew need another year or two to upgrade outside linebacker, cornerback and the other safety spot. Julian Peterson, a former Pro Bowler, is a nice bridge for the next year or two until the Lions find the next linebacker who can rush the quarterback.
The secondary remains a primary concern. Chris Houston, Jonathan Wade, Eric King and third-round choice Amari Spievey are upgrades from 2009, but the position is so unstable the team had to make a late run to bring back former Lion Dre' Bly. The defensive line should be a strength with Ndamukong Suh, Corey Williams and Sammie Lee Hill in the three-tackle rotation and Kyle Vanden Bosch rushing from defensive end.
As for Stafford, expect a dramatic improvement. He was 2-8 as a starter last year, completing 53.3 percent of his passes with 13 touchdowns and 20 interceptions. Offensive coordinator Scott Linehan hopes to flip the touchdown-interception numbers and improve Stafford's completion percentage by four to six points. From the looks of Mayhew's offseason additions, those goals could be reached.
Though the trade didn't make major headlines, the acquisition of tight end Tony Scheffler could be the key. Scheffler runs great routes and is a nice target to take some coverage away from wide receiver Calvin Johnson. Defenses put what Schwartz called "a box and one'' around Johnson last year. They would have a linebacker check to Johnson's route even though he had a cornerback covering him and a safety backing up coverage on top. Because there were few threats, the rest of the defense could stuff the run and allow the other non-threat receivers to go in single coverage.
Free-agent addition Nate Burleson will help at split end. Kevin Smith has made an amazing recovery from knee reconstruction surgery and returns to a backfield that added lightning-quick Jahvid Best.
The only problem is translating those improvements into victories. That part will take time.
From the inbox
Q: I look for the Dolphins to be a sleeper team that nobody's picking. Miami is such a team. Two years ago, people took notice. Last year they had a brutal schedule and a not-ready-for-big-time QB. The O-line caused a minor setback.
Garth in Albuquerque, N.M.
A: You may hit on that one. I have them as about an eight- or nine-win team, but I have them third in the division. By ranking them third in the AFC East, though, I'm not saying the Dolphins aren't a playoff contender. In my opinion, the AFC East is the toughest division in the AFC this season because of the improvement of the Jets over the past two seasons and the presence of the Patriots. I do have concerns about some of the recent problems along Miami's defensive line -- the loss of Phillip Merling for the season and the retirement of Jason Ferguson. I also wonder if the Dolphins can generate many sacks with Cameron Wake, Charlie Anderson and Koa Misi.
Short takes
Matt in Honolulu is sick of how the Bills are getting trashed by the national press. He thinks getting rid of Dick Jauron might help the cause. Jauron was a good coach. Chan Gailey is a good coach. The problem is talent. The Bills need talent. ..… Shane in Trinity, N.C., wants to know how the Packers' defensive backfield will play this season. With Al Harris coming off a major injury and Charles Woodson getting older, I think there will be a little slippage. They are great at safety and great at corner if Harris and Woodson are healthy. Age could catch up on the corners this year, but the Packers will still be good in the secondary, if not necessarily great. .… Jon in Overland Park, Kan., watched the Chris Johnson piece on "E:60" and didn't agree with Johnson that he should be the highest-paid offensive player in the league. He thought Johnson showed too much ego. I have no problem with Johnson asking for the moon, but he's not going to get it. Running backs have shorter careers than most players, so you might as well ask. If you wait, you're gone. .… Jerome in San Antonio, Texas, is looking at all the offensive talent on the Colts and wonders if Peyton Manning could win his fifth MVP. He's certainly the favorite at this point. .… Back to the Bills, Nick in Rochester, N.Y., accepts that the Bills could have a bad season, but he thinks they could win enough games that it could cost them a shot at drafting a great player to build around. Despite the Bills' losing ways, Nick notes the Bills haven't had a top-five pick since 2002. There are four possible first-round quarterbacks in next year's draft. The Bills have to get one of them, no matter how many wins or losses they accumulate. .… Daniel in Rome, Ga., sees I have been high on the Falcons. Why, he asks? Three reasons: Matt Ryan, Mike Smith and Thomas Dimitroff. .… Kovacs in Santa Monica, Calif., doesn't totally buy my observations that this is now a passing league. He asks: "Why do you discount running the ball, controlling the clock and playing smash-mouth football?" The reality is that style of football keeps you in games until the fourth quarter, but if you are playing an elite quarterback, the elite quarterback wins with fourth-quarter drives. Elite quarterbacks beat non-elite quarterbacks more than 80 percent of the time last season. .… Elvis lives in Paris and agrees with me that the Bucs did great drafting two defensive tackles and two wide receivers early this year. He wonders if they can win five or six games. Because some of the league's worst teams play each other a bunch this year, one of the bad teams could get to five or six wins. It could be the Bucs. .… Lance in Springfield, Va., I think Ernie Sims will start at weakside linebacker for the Eagles, Stewart Bradley will win back his job in the middle and Moise Fokou will win the strongside job. .… Robert in Waynesboro, Pa., wonders what is going on with the Packers' offensive line. They let the line get too old at tackle and weren't solid at guard. They have started to address those problems with recent drafts, but it's a concern.
Q: The Steelers' offense lost Willie Parker, Santonio Holmes, Willie Colon, and Ben Roethlisberger for four to six games. They enter training camp with Rashard Mendenhall, Mewelde Moore, Frank Summers, Isaac Redman, Justin Vincent and rookie Jonathan Dwyer as RBs, and the only fullback is a rookie free agent who played defensive tackle in college. Is this enough to improve the running game and take the pressure off Byron Leftwich/Dennis Dixon, and Big Ben when he returns? Or should the Steelers have done more in the draft or free agency given how poor the running game was last year?
Bill in San Francisco
A: Good question. I think Mendenhall has Pro Bowl ability and they will be fine with Moore and Dwyer as the backups. The question remains about their desire to run the ball. Under Bruce Arians, the Steelers are a pass-leaning team that doesn't use a fullback. Arians said before camp that he doesn't necessarily think the team needs to run the ball more, but just needs to convert the short-yardage plays better. I'd advise them to run the ball as best they can during the first four weeks without Roethlisberger because if they don't, they could start the season 1-3.
Q: Why do none of the "experts" have the Bears ranked higher in their preseason predictions? They've upgraded at running back, safety, linebacker and along the defensive line. Jay Cutler and his receivers have now had a full year to work together, after clearly not being on the same page last season. Everyone seems to agree that Mike Tice will have the offensive line playing even better. Shouldn't the Bears be good for two to three more wins than last year?
Eric in Richfield, Minn.
A: I don't know if just bringing back Chris Harris is considered an upgrade at safety. And where are the improvements at linebacker? It's the same linebacking corps. The reason the Bears aren't getting much respect is because they are considered the third-best team in the NFC North behind the Vikings and Packers. If the Bears were in the NFC West, they'd be the favorites. I do think they are improved and they have a shot at the wild card, it's just hard to put a third-place team in a division higher than 15th.
Q: I'm a Jaguars fan in San Diego; strange huh? Anyway, what do you see is the problem with David Garrard these last couple of years? After the breakout year he had in 2007, I felt he was ready for great things, but he has just been mediocre. And if things don't get better, can Luke McCown do an adequate job?
Matt in San Diego
A: Even though he is relatively young, Garrard may be losing a little bit of his skills as a starting quarterback. Plus, he's been held back by the problems at wide receiver and the recent transition along the offensive line. This is a make-or-break year for him. Garrard doesn't have the strongest arm; his game is mobility and accuracy. He also doesn't get a break because he's in a division with Peyton Manning, Matt Schaub and Vince Young. Garrard is good enough to compete against them, but he's not good enough to consistently outscore them. As he has proved in the past, he can be good enough to sneak in a wild-card run if the circumstances and schedule are right. Still, he's an older quarterback on a young team in transition.
Q: The Browns suddenly have 1) a great O-line; 2) two potential rookie runners in Montario Hardesty and James Davis; 3) a bruiser/goal line back in Peyton Hillis; 4) a veteran RB with a ridiculous upside in Jerome Harrison; and 5) a successful Wildcat running game with Josh Cribbs/Seneca Wallace. With all this talent, flexibility and strength, what can my team do to maximize the running game and pick up some wins?
Andrew in Cleveland
A: Running the ball doesn't get a team as many wins as it did five years ago. It's a passing league. I do think the Browns have a chance to run the ball pretty well, but running the ball well may get them only 18 points a game. If the defense doesn't get better, the Browns could still be destined for a 10-loss season. The key for them is doing better in division games and getting a couple of wins there.
Q: What is going on with the Logan Mankins situation?
Mike in Roslindale, Mass.
A: The business world can be tough, and the Mankins holdout is nasty business. It's pretty clear the team said it would take care of Mankins once his contract expired, the problem is defining "taking care of him." The price of top guards in this league is now at $8.1 million a year, and the Patriots offered $6.5 million. Teams make tough business decisions, and players get emotional when they don't get market offers. This situation is similar to Alan Faneca's situation in Pittsburgh before he left to get $8 million a year from the Jets. Because of the stands of both sides, it may be hard to patch up this relationship.
Q: Mike Bell took the most carries for my Saints last year and added an important power rushing element to that offense. Will Lynell Hamilton really be able to adequately replace him? Have the Saints shown any signs of targeting another running back to at least compete with him?
Will in New Orleans
A: The Saints seem to be set with what they have with Reggie Bush, Pierre Thomas and Hamilton, and it appears they are pretty confident Hamilton can handle the third-back role when needed. The Saints know what they're doing. They will be fine.
Q: I have seen a lot of people crown the Ravens as the de-facto division winners in the AFC North. However, over the course of the offseason, I have not seen them address their No. 1 problem last year: cornerback. Their cornerbacks were mediocre at best, and now that they are going to start the season without Ed Reed and possibly Fabian Washington and Lardarius Webb, I see them having huge problems in the secondary. Do you think their front seven will be able to cover up the deficiencies in their secondary this year?
Ike in Cincinnati
A: You raise a valid point. Cornerback is the Ravens' biggest question mark, and could come back to haunt them. It doesn't help that there are doubts about Reed being able to start the regular season healthy. It also doesn't help that they may not have the young pass-rushing threat of Sergio Kindle, who fell down some stairs and cracked his skull. Of course, the Ravens had the same questions at corner all last year and went deep into the playoffs. The upgrades to their offense should help. They will need to score more points because they might allow more points if they don't get healthy corners at the start of the season.
John Clayton, a recipient of the Pro Football Hall of Fame's McCann Award for distinguished reporting, is a senior writer for ESPN.com.
NFL senior writer
Senior NFL writer and commentator
Joined ESPN in 1995
Member of the writers' wing of the Pro Football Hall of Fame in Canton, Ohio
SPONSORED HEADLINES
MORE NFL HEADLINES
MOST SENT STORIES ON ESPN.COM
2010 NFL TRAINING CAMPS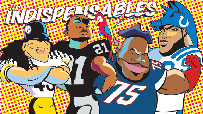 Follow ESPN's NFL coverage on Twitter
GREAT DEBATES
INDISPENSABLE PLAYERS
NFL BLOG NETWORK
CAMP CONFIDENTIAL: NFC
CAMP CONFIDENTIAL: AFC
COMMENTARY/BLOG POSTS
ESPN LOCAL COVERAGE