Commentary
Now or never for Eric Mangini
Originally Published:
August 2, 2010
By
John Clayton
| ESPN.com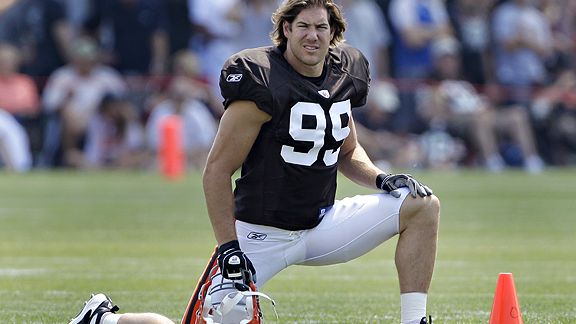 AP Photo/Amy SancettaLinebacker Scott Fujita, who won a Super Bowl title with the Saints last season, is the type of player expected to excel in Browns coach Eric Mangini's defensive system.
BEREA, Ohio -- In the house that Mike Holmgren is remodeling, Eric Mangini still has free reign. A year ago, team owner Randy Lerner went against the wishes of some of his advisers and hired Mangini to run the
Cleveland Browns
. Lerner liked Mangini's energy, ideas and plan. He allowed Mangini the chance to shape the Browns in his image. Mangini cleaned out the locker room of players he didn't think fit. Big names such as
Braylon Edwards
,
Kellen Winslow
and others were replaced by players of Mangini's choosing.
But a 5-11 season damaged Mangini's credibility among fans, so Lerner hired new team president Holmgren, who was responsible for major rebuilding successes in Green Bay and Seattle. Though he struggles daily with whether he wants to coach again, Holmgren, respectful of bright, young coaches, had Mangini's back and kept him as the coach.
What's clear in visiting the Browns is that this is a Mangini-built team, manufactured by the type of smart, heady football players who grasp the coach's detailed concepts and ability to learn multiple positions. Mangini maneuvers players like chess pieces, hoping to outsmart his opponents. What's also clear is if the team fails again this year, Mangini will have no excuses and probably no job. Here are the main observations from camp.
1. The true test of the Mangini system is how the linebacking corps works out.
Like Bill Belichick, Mangini is willing to sacrifice quality for quantity as long as the masses assembled are good, smart football players.
Kamerion Wimbley
was the 13th player selected in the 2006 draft, but in 2009 under Mangini he rarely showed flashes of his 11½-sack rookie season. Today, Wimbley is a Raider. Mangini moved away from
Andra Davis
, a 2008 starter. Through two offseasons, Mangini has assembled the type of smart linebackers that fit his system --
Matt Roth
,
Scott Fujita
,
Chris Gocong
,
Eric Barton
,
Jason Trusnik
,
David Veikune
, Marcus Benard and
Kaluka Maiava
. They are interchangeable parts in Mangini's different packages. Inside linebackers line up on the outside on some plays. Outside linebackers line up on the inside at times. This linebacking corps could be the disciples of the "No-Name Defense" that defined the
Miami Dolphins
teams of the early 1970s. The only surviving linebacker from the Romeo Crennel regime is inside linebacker
D'Qwell Jackson
, who might be the team's second-best defensive player behind nose tackle
Shaun Rogers
. As hard as it was to lose a close friend in Wimbley, Jackson loves what he sees from Mangini's mass of linebackers. He sits with them in meeting rooms and marvels at their attentiveness and how they carry the coach's concepts to the field. The concern from outside the organization is whether there is enough athleticism or playmaking ability from the position. As Jackson points out, this unit should be good against running teams, but this is a passing league, and there aren't many candidates who could put up double-digit sack totals.
2. By far, the cornerback position is the most improved on the team.
It might be one of the most improved positions of any I've seen early on during this training camp tour. I remember the Browns' surprising 10-6 season and how thin they were at cornerback in 2007.
[+] Enlarge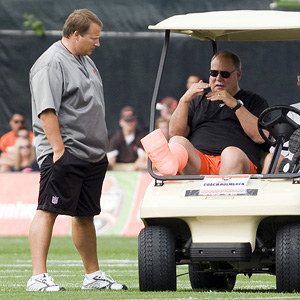 Jason Miller/US PresswireBrowns coach Eric Mangini (left) knows team president Mike Holmgren (right) is manning the controls.
Leigh Bodden
was the starter, but Crennel had to rush rookies
Eric Wright
and
Brandon McDonald
into the No. 2 and No. 3 roles because there weren't other options. Since then, Wright and McDonald have started on pass defenses that ranked 26th and 29th, respectively, the past two years. The Browns not only traded for Pro Bowl alternate
Sheldon Brown
, but they made
Joe Haden
the seventh pick in the NFL draft.
Mangini now has the ability to match up against any four-receiver package in football. What was impressive in drills is how the Browns' corners can contest just about every pass. They looked particularly sharp in man coverage on plays in the end zone. Brown, Wright and Haden can succeed in press coverage, and McDonald does well in zones. The concern is whether the front seven can generate enough pass rush so these four corners aren't in coverage too long. As a former secondary coach, Mangini probably will take advantage of their coverage skills to blitz more, but if the blitzers don't get to the quarterback, the corners will be exposed.
3. Don't expect anything out of Colt McCoy, who has clearly replaced Brady Quinn as the fans' hope for the quarterback position.
McCoy shows some flash for his leadership and willingness to step up and make crisp throws. Still, the former Texas star is not tall, he has passes batted down at the line of scrimmage and still is a little tentative because he's thinking through the plays instead of being instinctive. That's a typical rookie thing. The plan is to sit McCoy this season. Holmgren brought in
Jake Delhomme
and
Seneca Wallace
to make the quarterback position stable, but their most important mission aside from winning is determining whether 2009 draft choices
Mohamed Massaquoi
and
Brian Robiskie
are legitimate NFL starting receivers. Blame it on the schemes or the throwing talent, but Quinn and
Derek Anderson
didn't get much out of the two second-round receivers from a year ago. Massaquoi caught 34 passes. Robiskie caught seven. Say what you want about Delhomme and Wallace, but they are established quarterbacks and their experience can bring out some of the qualities in these receivers. This still might end up being a 15-point-a-game offense this year, but Delhomme and Wallace will give the personnel office a true look at whether it will need to draft receivers next year.
What would be a disaster for the Browns is if Massaquoi and Robiskie -- who aren't really explosive -- fail. If the receivers fail to blossom, the Browns could be drafting high and forced to take a Jake Locker or an Andrew Luck at quarterback despite the presence of McCoy on the roster. As the Browns have found out, franchise quarterbacks are hard to find, because this franchise hasn't found one yet.
John Clayton, a recipient of the Pro Football Hall of Fame's McCann Award for distinguished reporting, is a senior writer for ESPN.com.
NFL senior writer
Senior NFL writer and commentator
Joined ESPN in 1995
Member of the writers' wing of the Pro Football Hall of Fame in Canton, Ohio
SPONSORED HEADLINES
MORE NFL HEADLINES
MOST SENT STORIES ON ESPN.COM
2010 NFL TRAINING CAMPS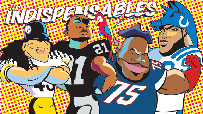 Follow ESPN's NFL coverage on Twitter
GREAT DEBATES
INDISPENSABLE PLAYERS
NFL BLOG NETWORK
CAMP CONFIDENTIAL: NFC
CAMP CONFIDENTIAL: AFC
COMMENTARY/BLOG POSTS
ESPN LOCAL COVERAGE