Commentary
Head coaching keeps getting tougher
When owners approve 18-game schedule, coaches will have less time to set rosters
Originally Published:
August 23, 2010
By
John Clayton
| ESPN.com
The job of an NFL head coach only got tougher last week, and it will get significantly tougher this week.
Minnesota Vikings coach Brad Childress was able to get back his quarterback, Brett Favre, but he had to endure stories about a strained relationship with the passer and how much authority he sacrifices by letting Favre be Favre. Clearly, Childress is doing a tightrope act to appease a 40-year-old quarterback who is still good enough to get the Vikings to a conference championship game and maybe the Super Bowl.
QUESTIONS, PLEASE
Do you have a query for John Clayton?
Click here to send a note to his mailbag.
Meanwhile, the training camp portion of preseason work ended for the Washington Redskins, but coach Mike Shanahan is still battling Albert Haynesworth over conditioning and other things. In the past couple of decades, no coach has had more control and authority than Shanahan, who ran the Broncos as if he owned the team. Those not on the same page usually boarded one-way flights leaving the Mile High City.
Shanahan ultimately will get his way, but hearing Haynesworth voice his displeasure over how Shanahan is using him with the second-half backups is almost unprecedented.
The head-coaching job for future years will get tougher this week, when NFL owners are expected to rubber-stamp a plan to expand the 2012 regular season to 18 games. To do so, the league will start working with the players' union to revise the offseason schedule. Expect a significant drop in OTAs -- those organized training activities that are supposedly voluntary but really aren't. Expect the enhanced schedule to shorten the time players can be pushed to train in team facilities.
If the regular season is extended, training camps as we know them will never be the same. Coaches will have only two preseason games to figure out rosters and prepare their players for the regular season whether they like it or not. Favre might be OK with that, as he had his way in blowing off the training camp part of the summer to spend more time in Mississippi.
"In college, you practice three weeks before you play a game," Favre said after Sunday's exhibition game against the 49ers. "I think physically speaking, as players get older, the chemistry, the camaraderie, all of those things are very important. If you can get that in college in a short amount of time, you can obviously get it in pro football because you spend a lot more time in pro football on football. You don't have to worry about class and things like that. There are some other restrictions in college football.
"If it is eight weeks of training camp, then it is eight weeks. If it is two weeks, it is whatever anyone else is doing really. I keep using college as an example. As much time as we spend in pro football, you still make a ton of mistakes. … If it is two preseason games, which I would much rather have, then you go in, knock it out and do it for real."
From the inbox
Q: You rank the Cowboys ahead of the Vikings in your latest NFL Power Rankings. I don't see the logic in this. My Vikings put a whuppin' on Dallas in the playoffs last season. Now you like the Cowboys more because they drafted Dez Bryant?
Carl in Minnetonka, Minn.
A: That's why it's fun to debate ratings. Here's my logic, but remember that I came out of last year's training camp visits saying the Vikings were the most talented team in the NFL, a point that you probably agree with and I stand by. The 2009 season took a big toll on the Vikings' bodies. Cedric Griffin, E.J. Henderson and Antoine Winfield are only a few of the starters who are still slow coming off injuries. Pat Williams is a year older. Brett Favre has an ankle problem. Sidney Rice hasn't practiced because of his hip injury, and Percy Harvin really must be concerned about the migraines that seem to be getting worse, not better. The Cowboys' biggest issues are the injuries and age of their offensive line, but their offense and defense are loaded. The Vikings' offensive line, meanwhile, struggled toward the end of last season. What happened last year happened last year. It's my opinion, but that's why they play the games.
Short takes
Ron in Omaha, Neb., also sees a group of four quality quarterbacks coming into the NFL next year, but he wonders whether a lockout would scare Andrew Luck or any other underclassman quarterback from turning pro. Great thought. Even if there is a lockout, there will be a season in 2011. … Chris in Syracuse, N.Y., has been hanging out at Eagles camp and likes what he sees in first-round choice Brandon Graham. I think he can make a difference on the defensive line. I don't know whether he'll pick up 10 to 12 sacks, but he should get at least six to eight. … To Scott in Denver, I still favor the Vikings in the NFC North, but not by much over the Packers. The Patriots' margin over the Jets in the AFC East is equally thin, but I expect Tom Brady to win the division. … Justin in Taunton, Mass., thinks the Patriots got a steal by getting Brandon Spikes in the second round, and I agree. But Justin wants to know what the Pats will do to find some outside linebackers. They will have to wait until next year for reinforcements there. This wasn't the year to get a pass-rushing outside linebacker. … To Steve in Alexandria, Ky., the Bengals finally have legitimate tight end in Jermaine Gresham. He's a stud and will only get better. … Here's a follow-up Bengals answer to Mike in Cincinnati. With all the weapons now given to Carson Palmer, I do believe that he will be a 4,000-yard passer again. … Ted in Philadelphia wants to know which NFC East team has the best defense. Dallas is loaded with athletes and playmakers. … Mark in Ann Arbor, Mich., wants former Lion Dick LeBeau to coach the Lions' defense. He'd be great, but he's going to coach the Steelers until he retires. Also, do you really want the Lions to switch to a 3-4 scheme? … To Nils in Lincoln, Neb., I don't think Kyle Vanden Bosch will have 10 or more sacks because the Lions will be trailing in games too often. Still, I think he is a great addition to what should be an excellent defensive line. … To Tim in St. James, Mo., the plan in Kansas City is for Thomas Jones to start and Jamaal Charles to get 10 to 15 carries a game. It's a great one-two punch. … Joshua in Los Angeles notes that the Bucs lost four games by seven points or fewer and thinks they are ready to climb. But I think they need more help at defensive end, and I don't see them reaching the eight-win figure you cite. … An astute Nick S. in Miami notes that the era of the elite quarterback has brought about the return of the 3-4 defense. He wonders whether it makes sense to use a formation of three running backs to beat the 3-4. Nope. What teams will do this season is use more three- and four-receiver sets to force 3-4 defenses into nickel defenses and four-man lines. In the old days, the 3-4 was geared to stopping the run and confusing West Coast passing teams. The current 3-4 revival puts more pressure on the quarterback. … Brian in Montgomery, Ala., asks whether the addition of Terrence Cody to the Ravens' defensive line will free up Ray Lewis for an MVP season. Lewis will be well-protected by the big bodies in front of him, but as great as he is -- he's a first-ballot Hall of Famer -- I don't see him having an MVP season. … Achitek79 in Dallas suggests a Derrick Ward trade to Houston for a late-round pick or a veteran defensive end. I don't think Houston would bite on that after losing Ben Tate for the season, but it's not a bad consideration, and I do think the Bucs would want to move Ward. Yes, I like the addition of Mike Williams to the Bucs' receiving corps. He's a fourth-round steal. … Taylor in Cary, Ill., wonders what type of year Larry Fitzgerald will have with Matt Leinart at quarterback. I don't see much of a drop-off. He's the best receiver since Jerry Rice. … Finally, AJ in Denver wants me to take the "work in progress" label off Tim Tebow. I won't. To be fair, AJ wrote his note before Kyle Orton signed his one-year contract extension. By keeping Orton for next year, the Broncos are basically saying that Tebow is a work in progress and will take their time developing him.
In your last mailbag you wrote: "The reason teams dress only 45 is the conservative belief from older owners that having 53 active players will destroy competitive balance. They believe a team coming off a bye week with a healthy roster could destroy a team that carries eight or nine injuries. They also feel as though the better teams would have a big advantage because they would have more role players to use." Knowing that almost anything can be related back to money, is it also possible the owners just don't want to sign eight extra game checks every week?
DB in Edwardsville, Ill.
A: DB, it's not a matter of money. The inactive players get full game checks. There will be adjustments in the roster sizes once the owners approve the 18-game schedule this week. There are still too many votes to keep the active rosters down, but it will always be debated.
Q: Many people have been predicting the Green Bay Packers to win the NFC North and possibly be a Super Bowl contender, and for the most part with good reason. With the return of Favre to the Vikings, how do you think that will affect the Packers in the division and the NFC?
Ethan in Flagstaff, Ariz.
A: My initial reaction is that the Vikings are still the team to beat in the NFC North with a one-game edge over the Packers, but I'm starting to hedge a little. The Packers are a Super Bowl contender even if they are No. 2 in the NFC North, but you can make a strong case that they will win the division. Aaron Rodgers keeps getting better and better at quarterback. General manager Ted Thompson found a long-term replacement at offensive tackle with Bryan Bulaga. Although Green Bay could use another pass-rushing linebacker, its defense is loaded. As of this week, I still favor the Vikings, but don't be surprised if I end up putting the Packers ahead when I make my final preseason picks. Regardless, both teams are playoff-caliber.
Q: I was noticing when watching the Broncos-Bengals game that Matt Jones wasn't looking too impressive. I know he's had his struggles outside of football and figure this may be his last shot at making an NFL roster. Do you agree with this?
Jason in Denver
A: When I saw Jones in minicamp in June, he appeared to have lost a couple of steps. He's just not as fast as he was when he came into the league. I wouldn't say the Bengals will be his last stop. Other teams still might need a big wide receiver, but I predict he won't make the Bengals. He did a decent job of catching the ball in their first preseason game, and that's important because he needs good video for that next team to give him a chance.
Q: I often hear about teams having their great corners shadow the other team's best receiver all over the field. Why not put the shutdown corner on the No. 2 guy and double up on the star receiver?
Brian in Denver
A: Then what would you do against the run? It is a great luxury to have a shutdown corner. If the shutdown corner can handle an opponent's No. 1, you have the freedom to use an extra defender against running plays or on another receiver. Sure, the shutdown corner has a lot of pressure on him. At times, he will be beaten. But putting the best corner on the No. 2 receiver won't get the quarterback to throw the ball more to the No. 2 receiver. I wouldn't do it.
Q: How good do you think the Bears' defense will be? Also, what do you think of the Bears' coaching staff having four ex-head coaches on it?
Louis in Chicago
A: The defense won't be great, but it should be better than it has been the past couple of years. Watch for Julius Peppers to have a monster season, and that could spark more big plays on defense. Bears coach Lovie Smith told me that Peppers was 300 pounds. He dominated training camp and gained so much respect among the players that he was named team captain. Everyone seems to be worried about the safety position, but I think the Bears have enough athletes to be all right there. As for the coaching staff, I love it. These are all good coaches, and they all seem to be getting along. I don't know whether the Bears will make the playoffs, but I do know they look better on the field.
Q: I watched the Eagles play the Jags the other day, and the offense looked like it has potential to dominate, but Kevin Kolb clearly made some mistakes throwing into heavy coverage several times. Nate Allen is already a starter, and Brandon Graham was in with the first string in passing situations. How long should it take this team to hit its stride? Will it be this year, or should I try to temper my hopes?
Nick in Altoona, Pa.
A: This is a young team, but it's also a talented team. Its problem will be its schedule. The Eagles' defense will face 11 elite quarterbacks, 12 if you want to include Jay Cutler. Those quarterbacks will try to force the Eagles into making mistakes. Kolb's problems will come in the fourth quarter because young quarterbacks struggle to learn how to win the games in the fourth quarter when they go against great quarterbacks. Aaron Rodgers was the perfect example two years ago. That's why I feel as though Kolb and the Eagles will struggle to get wins this season. By next year, though, watch out.
Q: In your mailbag you explained that New Orleans was looking for a power runner because it wanted to make another Super Bowl push. Then in the Short Takes you claimed that the teams with excess corners do not need running back help. The Saints have Jabari Greer, Tracy Porter, Malcolm Jenkins, Patrick Robinson, Randall Gay and Leigh Torrence. Surely that qualifies as excess, and they could use a good power runner like Willis McGahee. Am I wrong here?
Brendan in Frogtown, Pa.
A: That would be almost too good a fit. What the Saints are looking for is a Mike Bell-type of back. McGahee would be a great inside talent, but his salary might be a problem. He is scheduled to make $3.6 million this season, which is more than twice what Pierre Thomas makes. With Reggie Bush making $8.5 million this season, that's a lot of money tied up in the backfield. A corner for McGahee? It's an interesting deal, but I don't see it happening the more I think about it. Good thought, though.
John Clayton, a recipient of the Pro Football Hall of Fame's McCann Award for distinguished reporting, is a senior writer for ESPN.com.
NFL senior writer
Senior NFL writer and commentator
Joined ESPN in 1995
Member of the writers' wing of the Pro Football Hall of Fame in Canton, Ohio
2010 NFL TRAINING CAMPS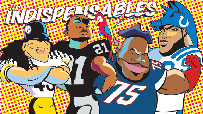 Follow ESPN's NFL coverage on Twitter
GREAT DEBATES
INDISPENSABLE PLAYERS
NFL BLOG NETWORK
CAMP CONFIDENTIAL: NFC
CAMP CONFIDENTIAL: AFC
COMMENTARY/BLOG POSTS
ESPN LOCAL COVERAGE


MOST SENT STORIES ON ESPN.COM