Commentary
Roger Goodell avoids flipping the switch
Sidestepping vote on an 18-game season, he gains time to get player input on issue
ATLANTA -- Arthur Blank, the dapper owner of the Atlanta Falcons, arrived early at the Ritz-Carlton on Wednesday for the NFL owners meetings after a short drive from his office north of downtown. Blank was anxious to hear commissioner Roger Goodell's plan for the new 18-game regular-season schedule.
"Will there be a vote?" he was asked. His answer was short and sweet: "If Roger wants one."
When the meeting was over 5½ hours later, Blank was the first owner to leave, climbing into a waiting sedan, unusually silent about the day's proceedings, especially considering he was the host owner.
His face told it all: There was no vote on the new plan. Goodell decided not to take one.
And, one by one, the owners left the building empty-handed -- with no tangible consensus other than the catch-all "momentum is building" for the so-called "enhanced schedule," which could be the final financial solution -- or undoing -- of stalled labor negotiations that have the owners and players in an uneasy place.

So, why didn't Goodell call a vote -- one that many owners and their representatives said before the meeting they had expected and wanted, and one that certainly would have cemented a unified front that might have made the schedule change a fait accompli?

The answer lies in Goodell and his legacy. The commissioner spent two weeks this summer traveling to NFL training camps, talking to coaches, holding fan forums and taking questions from players about a range of issues, including the labor talks, health and safety issues, and the proposed, new longer regular-season schedule.

That's where things went horribly wrong.

Goodell's non-answers, players say, created a largely negative reaction, finally bubbling to the surface when the notoriously mercurial Washington Redskins cornerback DeAngelo Hall told reporters that Goodell's Q-and-A with the players was "a total waste of time."

After those meetings, many players concluded that Goodell was no longer an honest broker between the union and the owners.

"He was seen as the owners' commissioner, not everybody's commissioner," said a players' union representative who asked not to be identified. "Roger has to realize he is the commissioner of football. Not the owners' commissioner."

The animosity in those meetings was real, several players said. And they believe Goodell heard it loud and clear. Even though he keeps reminding everybody that under the current collective bargaining agreement the league can do what it wants, Goodell already had determined not to unilaterally impose the new 18-game regular-season schedule on the players.

Now, he seems more determined than ever not to go forward without the players' consent.

"We want to do it the right way for everyone, including the players, the fans and the game in general," Goodell said. "There's a tremendous amount of momentum for it. We think it's the right step."

For the fans, the new format would mean two fewer preseason games and two more regular-season games: a win-win.

For the broadcast and cable networks, more meaningful NFL games would mean more programming, more advertising and sponsorship dollars and a greater ability to use games to promote other programs.

For the owners, it would be a windfall. Let's do the math. The NFL is an $8 billion business. Adding two regular-season games means you potentially grow the revenue pie by about 12.5 percent, or about $1 billion.

Clearly, additional regular-season games means the NFL would have to expand the current 53-man roster. That means more players, which means more jobs. That will make the union happy.

But the reason the owners voted out of the current labor agreement is that they want the players to take a pay cut. Many owners are up to their bottom line in stadium debt.

And, this week, Forbes Magazine estimated that the average team value of an NFL franchise has dropped -- by an average of 2 percent -- for the first time in 12 years.

Still, many players are asking: How do you ask your employees to take a pay cut while asking them to work more so you can make more money?

"All those things don't make a whole lot of sense," Cleveland Browns linebacker Scott Fujita told local reporters.

"This is a big issue for us," said George Atallah, assistant executive director for the NFL Players Association in Washington, D.C. "The players are not happy with it."

Atallah said it was encouraging that Goodell is being asked about other issues important to the players regarding the enhanced schedule, especially post-career health care and health and safety concerns.

"None of that was in the original proposal the owners made to us," Atallah said. "There is going to be an increased injury rate. We want to know, in the proposal and in any final deal, how players will be compensated."

Goodell promised that the union will get a new proposal shortly. But besides compensation and health, safety and offseason-workload issues, many players have questioned the wisdom of expanding the schedule from a competitive standpoint.

The extra two weeks in the schedule, some players argue, could just get clogged up by meaningless games between backups as coaches rest more and more starters for the postseason. If everybody is warning about more injuries in the extra two weeks of the season, that suggests coaches will be more concerned too, meaning they will want to keep key players off the field.

Cincinnati Bengals quarterback Carson Palmer, appearing on ESPN Radio's "Mike & Mike" show on the morning of the owners meeting, raised an interesting point about competitiveness that has been voiced in fan blogs.

"With 16 games, every game is important, and therefore the fans are very into it, the stadiums are packed because they know if their team loses, it pushes them further and further away from making the playoffs," Palmer said. "I think if you go to 18, each game kind of loses a little bit of its significance."

Remember, the NFL has not changed its regular-season schedule in more than a generation, playing a 16-game schedule for 32 seasons. Why? There simply has been widespread reluctance to tamper with a formula that has created vast success and wealth.

"Don't fix something that's not broke," Seattle Seahawks safety Lawyer Milloy told local reporters.

When the 16-game schedule was adopted in 1978 (expanding from 14 games), many in the game said that would be all the human body could take. And many current players would agree.

"When you get into December, you're like walking zombies -- you can't feel your joints," Chicago Bears tight end Desmond Clark told area reporters.

But Goodell, who is very cognizant of the NFL's standing in the global sports marketplace, says that the league has an extraordinary opportunity to use the current round of labor negotiations to create something great for the future. There is that legacy thing again.

The NBA has grown internationally. The World Cup did boffo TV ratings this summer. The NFL wants to play more games overseas. An 18-game schedule with two bye weeks would give the NFL the flexibility to schedule more games in Berlin, Barcelona -- maybe even Beijing.

Global expansion would, of course, allow the NFL to keep pace with and perhaps pass the competition. But one of the owners wants to apply the brakes: Jim Irsay of the Indianapolis Colts.

"I think," Irsay said after Wednesday's meeting, "we have to remember what our founders always asked when they were confronted with these issues: 'Is it good for the game?'"

The owners' answer to that question might be provided Oct. 11-14 in Charlotte, N.C., site of their next meeting -- if Goodell finally calls for the vote.

Sal Paolantonio covers the NFL for ESPN. His latest book, "How Football Explains America" (Chicago: Triumph Books), is available on Amazon.com.
SportsCenter correspondent / NFL reporter
Sal Paolantonio joined ESPN as a SportsCenter correspondent in August 1995, primarily reporting on the NFL. Beginning in 2004, he also served as host of NFL Match-Up, a weekly "Xs and Os" football show produced by NFL Films.
SPONSORED HEADLINES
MORE NFL HEADLINES
MOST SENT STORIES ON ESPN.COM
2010 NFL TRAINING CAMPS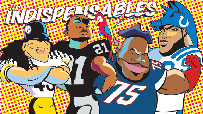 Follow ESPN's NFL coverage on Twitter
GREAT DEBATES
INDISPENSABLE PLAYERS
NFL BLOG NETWORK
CAMP CONFIDENTIAL: NFC
CAMP CONFIDENTIAL: AFC
COMMENTARY/BLOG POSTS
ESPN LOCAL COVERAGE