Commentary
Tip Sheet: LTs' summer of opportunity
Training camps crucial proving grounds for a crop of untested left tackles
Originally Published:
July 30, 2010
By
Len Pasquarelli
| ESPN.com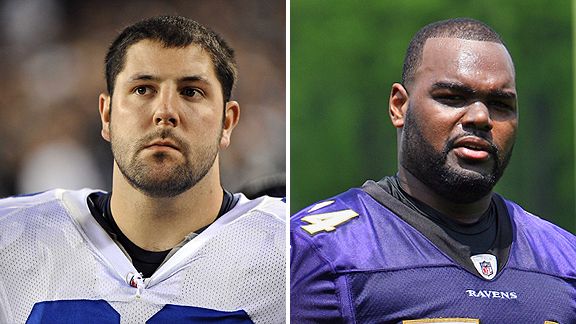 US presswire, Getty ImagesDallas Cowboys offensive lineman Doug Free (left) and his Baltimore Ravens counterpart Michael Oher (right) are two of the many young left tackles who will be thrust into the spotlight this season.
For all but 14 starts of the past 12 seasons,
Flozell Adams
protected the starting quarterback for the
Dallas Cowboys
, a half-dozen of them at last count. The club released him in April to avoid paying the durable 35-year-old left tackle a $2.5 million roster bonus and a 2010 base salary of $5 million.
Enter three-year veteran
Doug Free
, who started the final seven games at right tackle in 2009. Free has only modest experience on the left side, but he is the favorite to beat out
Alex Barron
, acquired from St. Louis in an offseason trade, for the right to serve as
Tony Romo
's new blindside bodyguard. "Those are some really big shoes to fill," Free acknowledged. Even if Adams played at times in 2009 as if he was operating in clodhoppers, Free does indeed step into a huge void and a daunting challenge. Perhaps because of the grandiose expectations surrounding the Cowboys -- with the team attempting not only to repeat as the NFC East champions but also to become the first franchise in league history to participate in a Super Bowl in its home stadium -- Free figures to be one of the NFL's most closely scrutinized players in training camp.
But Free, 26, won't be the only youngster under the microscope this summer. And certainly not the only young left tackle.
With incumbent
Donald Penn
still not having signed his restricted-free-agent tender, untested second-year veteran
Demar Dotson
takes over in Tampa Bay, at least for now.
Ditto Brandyn Dombrowski in San Diego, where he will try to fend off veteran Tra Thomas for the right to replace standout Marcus McNeill, who also has yet to sign his restricted free agent qualifying offer.
In Baltimore (
Michael Oher
), Arizona (
Levi Brown
) and St. Louis (
Jason Smith
), blockers who principally played right tackle in the past will move over to the left side.
Tackling The Hall
Four standout offensive left tackles were selected in the first round in the 1995-97 span, and all retired within the past few years. ESPN.com's Len Pasquarelli, one of the 44 selectors for the Pro Football Hall of Fame, addresses the tackles' chances of eventually being chosen for the Canton shrine:
Tony Boselli:
First player ever selected by expansion Jacksonville (second player overall in 1995), the former University of Southern California star played seven seasons with the Jags. He was chosen by Houston in the 2002 expansion draft. Five-time Pro Bowl blocker and, unofficially, allowed only 14½ sacks in his first seven seasons. Lack of longevity will be a detriment, as he started only 90 games, all but three of them in his first six seasons. Shoulder injury limited him to three games in 2001, and he never played a snap for the Texans in 2002. Chosen for the Team of the Decade for the 1990s.
Hall chance:
Not great, mostly because career was unfortunately cut short by injury.
Walter Jones:
Played entire 13-season career (1997-2009) in Seattle after being the sixth player chosen in 1997. Knee surgeries sidelined former Florida State star for the entire 2009 season. A nine-time Pro Bowl choice, Jones started in all 180 of his regular-season appearances. Incredibly durable, and in the 10-season period 1998-2007, missed only four starts. Seven times, Jones started all 16 games. One of the top pass protectors of the past quarter-century, he surrendered only 23 sacks in his career, according to unofficial records, and his run-blocking was also very good. Picked for Team of the Decade for the 2000s.
Hall chance:
Probably a lock.
Jonathan Ogden:
The very first player drafted by the
Baltimore Ravens
, after the team relocated from Cleveland, Ogden played his entire 12-year career with the franchise. Former UCLA star was fourth prospect selected overall in the 1996 lottery. Ogden played in 177 games, starting in all but one, and allowed only 17 sacks, unofficially. His 11 Pro Bowl invitations are the fourth most in NFL history for an offensive lineman. He missed only eight starts in his first 10 seasons, but a toe injury limited him to only 24 starts in 2006-2007 and curtailed his effectiveness. Selected to the league's Team of the Decade for the 2000s.
Hall chance
: Very good.
Orlando Pace:
Played the first dozen of his 13 seasons with St. Louis (1997-2008) before being released and signing with Chicago for 2009. Seven-time Pro Bowl performer blocked for three consecutive most valuable players (
Kurt Warner
in 1999 and 2001 and
Marshall Faulk
in 2000), started 165 games in career. Former Ohio State star was No. 1 selection in 1997 draft. Started 16 games eight times, including seven occasions in eight-year span. Triceps and shoulder injuries plagued him in his last few seasons, and he logged only 34 starts his final four seasons (2006-09). Member of Team of the Decade for the 2000s.
Hall chance:
Good.
-- Len Pasquarelli
Rookie first-rounders
Trent Williams
(Washington) and
Russell Okung
(Seattle) are expected to land No. 1 left tackle starting responsibilities.
Okung is projected to replace a potential Hall of Fame tackle, retired Walter Jones, on the left side. The Redskins were enamored enough of Williams that they will play Jammal Brown, a two-time Pro Bowl left tackle acquired from New Orleans via an offseason trade, at right tackle. Williams, a former Oklahoma standout, is projected instead as the left-side starter.
"You can't think to yourself, 'Man, I've got to be as good as the guy I'm replacing,' you know?" said New Orleans' three-year veteran Jermon Bushrod.
Last season, Bushrod replaced the then-injured Brown despite Bushrod's lack of experience (zero starts before 2009). Bushrod performed well enough for the Saints to capture a Super Bowl title. "You've got to be patient, be yourself and understand that this is your chance," Bushrod said.
A lot of young players will get an opportunity this summer to demonstrate that they are prepared to take on the left tackle challenge. There figure to be at least eight new starters at the critical position, and that number could expand by a couple more, depending on developments in other camps. That represents a substantial turnover at a spot that not only has been crucial but also had remained pretty stable until now.
Four of the changes are because of coaches dissatisfied with the level of performance at the position in 2009.
Said Levi Brown, the Cardinals' starter at right tackle the past three seasons but poised to replace Mike Gandy (who was not re-signed) for 2010: "It's the position that every [lineman] wants to play."
The old "changing of the guard" adage still holds true, as it does at the outset of every training camp cycle.
But this could be dubbed a "changing of the tackle(s)" season.
In the past decade, the league has experienced a kind of golden age of left tackles, with premier performers such as Jonathan Ogden (Baltimore), Orlando Pace (St. Louis), Jones (Seattle) and others. But many of the tackles who will replace them are young and still must polish their games.
"I'm confident … but there's still so much to learn," said Okung, who is expected to start a new era of longevity in Seattle. The Seahawks struggled to replace the injured Jones in 2009, employing four starting left tackles during the year. "You're talking about moving in for a Hall of Fame player."
The average age for projected left tackles in 2010 is 26.6 years, and the average experience is only 3.625 seasons, the lowest in at least 10 years. Nearly three-fourths of the projected left tackle starters (23 of 32) are 25 or younger. There are only five starting left tackles who are 30 or older.
"It's the one [offensive line] position everyone watches all the time," said Green Bay's Chad Clifton, the graybeard of the group (33 in September), and the only projected starter with double-digit seasons on his résumé.
Because of the unusual turnover at the position, there will be more than the usual complement of peepers on the left tackle spot for the coming season.
Len Pasquarelli, a recipient of the Pro Football Hall of Fame's McCann Award for distinguished reporting, is a senior writer for ESPN.com.
2010 NFL TRAINING CAMPS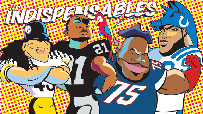 Follow ESPN's NFL coverage on Twitter
GREAT DEBATES
INDISPENSABLE PLAYERS
NFL BLOG NETWORK
CAMP CONFIDENTIAL: NFC
CAMP CONFIDENTIAL: AFC
COMMENTARY/BLOG POSTS
ESPN LOCAL COVERAGE