Commentary
Top modern-day All-Star performances
Updated:
January 25, 2008, 11:34 AM ET
By
David Amber
| Special to ESPN.com
Over the past three decades, we have seen some amazing performances from NHL All-Stars. As we get set for the 56th NHL All-Star Game in Atlanta on Sunday, we count down the top 10 modern-day All-Star performances.
[+] Enlarge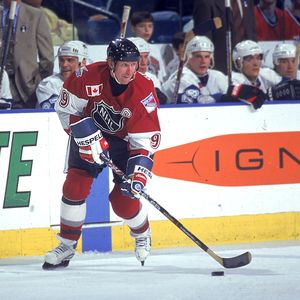 Bruce Bennett Studios/Getty ImagesWayne Gretzky played in his 18th and final All-Star Game in 1999 in Tampa.
10. Pavel Bure
2000 in Toronto (World 9, North America 4): "The Russian Rocket" blasted off a few times during this All-Star Game. Playing alongside his brother Valeri, Pavel Bure proved he was the fastest skater on the planet as he picked apart North America's Hall of Fame defensive core that included Scott Stevens, Al MacInnis, Chris Chelios and Ray Bourque. Bure scored three times, including the game winner, as the World beat North America for the first time in three tries. Bure was also named MVP of the game.
9. Wayne Gretzky
1999 in Tampa (North America 8, World 6): This was The Great One's 18th and final All-Star appearance and he would not disappoint. Gretzky, the team captain, scored the winner and added two assists as North America topped the World. Gretzky picked up his third MVP award, matching Mario Lemieux for most career All-Star MVP honors. The three points also pushed Gretzky past Super Mario for most career All-Star points (25).
8. Vincent Damphousse
1991 in Chicago (Campbell Conference 11, Wales Conference 5): On a team with Gretzky, Mark Messier, Steve Yzerman, Luc Robitaille and MacInnis, it was the lone Maple Leaf Vincent Damphousse who was the brightest star. The three-time All-Star scored four goals, including three in a nine-minute, third-period span, to capture the MVP award and upstage a 5-point night from Adam Oates.
7. Mike Gartner
1993 in Montreal (Wales 16, Campbell 6): No All-Star team has ever put on an offensive display as electrifying as the 1993 Wales team at this All-Star Game. Sixteen goals on 49 shots left the Campbell trio of Ed Belfour, Jon Casey and Mike Vernon in shock. Leading the way was the Rangers' Mike Gartner, who became the fourth player (third in four years) to score four goals. The seven-time All-Star upstaged a three-goal performance from the Islanders' Pierre Turgeon and Boston's Adam Oates (four assists in one period) to grab the MVP award.
6. Mario Lemieux
1990 in Pittsburgh (Wales 12, Campbell 7): The 41st All-Star Game was the first NHL game broadcasted on an American television network in a decade and the first to include the skills competition. It was billed as a battle between respective conference captains Gretzky and Lemieux. When Super Mario scored just 21 seconds into the game in front of the home fans, it was a sign of things to come. From beginning to end, Lemieux owned the ice. He scored on his first three shots and finished with four goals in what was, at the time, the highest-scoring All-Star Game with 19 total goals. Gretzky, who was held pointless, was on the ice for all four of Lemieux's goals.
[+] Enlarge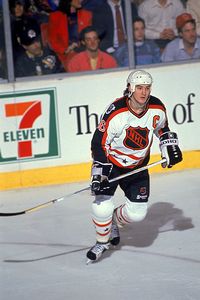 Bruce Bennet Studios/Getty ImagesMario Lemieux needed just 21 seconds to find the net in the 1990 All-Star Game.
5. Owen Nolan
1997 in San Jose (Eastern Conference 11, Western Conference 7): This game will be remembered for a few things. East coach Doug MacLean put the then-retiring Lemieux on a line with Gretzky, Messier, Bourque and Paul Coffey for his final shift; Montreal's Mark Recchi scored a hat trick and won the MVP award; and, of course, hometown hero Owen Nolan stole the show by scoring two goals in eight seconds (an All-Star record) and calling his hat-trick goal with a hand gesture before going roof on Dominik Hasek. Nolan may have lost the complimentary truck to Recchi, but he picked up a lot of fans with his bravado.
4. Mario Lemieux
1988 in St. Louis (Wales 6, Campbell 5, OT): The 1987-88 season was Lemieux's leap into superstardom. Lemieux, 22, captured his first league scoring title and Hart Trophy. At the All-Star Game, he added some more hardware as the game's MVP netted a record six points (three goals, three assists). Poor Mats Naslund and his All-Star-record five assists took a backseat to Lemieux, who averaged 2.3 points per game in his 10 All-Star appearances, the highest average in league history.
3. Dany Heatley
2003 in Miami (West 6, East 5 in shootout): This game gave us the first shootout in All-Star history before shootouts were the norm in regular competition. The West's win couldn't wipe the toothless smile off Dany Heatley's face as he made his All-Star debut. The Thrashers forward scored four goals in regulation, beating both Patrick Roy and Jocelyn Thibault twice. Heatley added an assist before scoring the East's only shootout goal. Despite the loss, Heatley was named MVP.
2. Mike Liut
1981 in Los Angeles (Campbell 4, Wales 1): The first All-Star Game played on the West Coast was supposed to mark the coronation of the Kings' "Triple Crown Line," featuring Marcel Dionne, Charlie Simmer and Dave Taylor. The trio combined for 161 goals and 352 points that season, but it couldn't beat St. Louis Blues goalie Mike Liut in the All-Star Game. No one could. Liut played a perfect 31 minutes, earning the win in a rare and exceptional shutout performance. Only a late goal by John Ogrodnick on Pete Peeters kept the Campbell Conference from completely blanking the Wales.
1. Wayne Gretzky
1983 in Uniondale, N.Y. (Campbell 9, Wales 3): This game was a nail-biter heading into the third period until The Great One took over. In a showstopping performance, Gretzky scored an All-Star-record four goals during a 13-minute span in the third period. In a season when he would collect 125 assists, he was held without a helper in the All-Star Game, but still picked up his first All-Star MVP award.
ESPN reporter David Amber is a frequent contributor to ESPN.com.
EDITORS' PICKS
McDonald: Vezina champ Henrik Lundqvist returned for the Rangers but it wasn't enough as the Bruins came up with a big win Saturday.
Story »

The fall of Jimmy Howard will only help the rise of Petr Mrazek in Detroit's net. Who else is making noise in the push for the playoffs?
Strang »

With seven guys within five points of the league scoring lead, who better to break down the Art Ross Trophy race than The Great One.
LeBrun »
MOST SENT STORIES ON ESPN.COM