Team Staal picks up SuperSkills victory
Updated:
January 30, 2011, 2:59 AM ET
Associated Press
RALEIGH, N.C. -- Alex Ovechkin took care of the flash and Zdeno Chara brought the blast. Together, they helped make Eric Staal look like a pretty shrewd general manager.
Ovechkin won his third straight breakaway challenge, Chara broke his own 2-year-old record for the hardest shot and players from the All-Star team Staal put together won five of six events Saturday night in the NHL's SuperSkills competition.
[+] Enlarge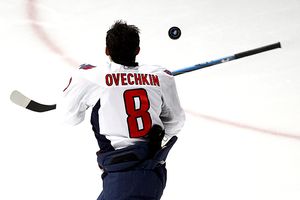 Jerry Lai/US PresswireAlex Ovechkin was on his way to this third straight breakaway challenge when he attempted to score a goal by using the knob of his stick like a baseball bat.
In this prelude to an All-Star game like none other, Staal's team led from start to finish in a 33-22 victory over Team Lidstrom.
"I thought we did pretty good" choosing the team, Staal said. "Obviously, we're going to see [Sunday] during the game, but tonight, it worked out with some good wins in some of the events."
The changes in the All-Star roster format meant a fresh look for the skills competition, too.
The Carolina captain and Nicklas Lidstrom of Detroit chose up the sides for teams that carry their names one night earlier during a televised 18-round draft. Players earned team points in the skills competition by winning preliminary heats and finals in some contests; by placing first, second or third in others or by scoring goals in the elimination shootout.
Ovechkin, the Washington Capitals star, came up with a few nifty moves to win hockey's equivalent of the slam dunk contest -- most notably, flipping his stick and bringing the puck in with the knob before flipping it back and beating a sprawled-out Marc-Andre Fleury of Pittsburgh.
"I just came up with that," said Ovechkin, who received 38.5 percent of the fan voting via text messaging. Fellow Team Staal member P.K. Subban of Montreal had 21.3 percent.
Chara set the hardest-shot record with a 105.9 mph slap shot in the final of that competition. In addition to that blast and Ovechkin's breakaway win, Team Staal also produced winners in the competitions for fastest skater (the Islanders' Michael Grabner), accuracy (Vancouver's Daniel Sedin) and the shootout (Anaheim's Corey Perry). Team Lidstrom's only victory came in the skills challenge relay.
"We'll let them have the skills competition, and we'll try to take the game tomorrow," quipped Team Lidstrom's Patrick Kane. "I think a couple years down the road, you won't even know if you won or lost the skills competition. Two years ago in Montreal, I don't know if we won or lost. It's all about the memories. It's all about fun."
Many of the oohs and aahs were reserved for the breakaway challenge, the one event that's all about style and not scoring.
Subban opened with a blatant attempt to curry favor with the home folks, pulling on the jersey of Carolina rookie Jeff Skinner -- and that move was met with earsplitting delight from the rowdy Caniacs. Subban later admitted the idea came from San Jose's Dan Boyle.
"[Subban] just came up to me 5 seconds before he shot it and said, 'I need your jersey,'" Skinner said. "I just took it off, and he put on a good show."
Perry skated in on Fleury while carrying the puck on his raised stick -- as if he were playing lacrosse. Team Lidstrom's Anzi Kopitar tried to kick the puck onto his stick as he neared Carey Price. And Ovechkin flipped the puck up with his stick and swung at it like a baseball player.
Chara also brought the RBC Center crowd to its feet in the final of the hardest-shot contest, breaking the record he set at the most recent skills competition in Montreal in 2009 and defeating Nashville's Shea Weber, who hit 104.8 mph on the radar gun in the preliminary round but topped out at 103.4 mph in the final.
"I think the limit is always going to be pushed," Chara said. "Who knows? It could go all the way to 110."
The six goalies repeatedly came up big in the night's final event, the score-or-you're-done shootout. Only two skaters -- Perry and Tampa Bay's Martin St. Louis of Team Lidstrom -- made it through two rounds.
Perry went first in Round 3 and his shot got by Tim Thomas and ricocheted in off the crossbar for his third goal of the event. That put the pressure on St. Louis, who faced Carolina's Cam Ward. St. Louis tried a spin-around backhand and Ward -- who Staal took with the No. 1 pick in Friday night's draft -- stuffed him to cheers from the hometown crowd.
One of Team Lidstrom's two eight-man entries claimed the relay competition, completing a gauntlet of shooting, skating and stickhandling in 2 minutes, 9 seconds. That lineup had Lidstrom, Brad Richards and Loui Eriksson firing one-timers passed to them by rookie Oliver Ekman-Larsson, Henrik Sedin shooting into a miniature net, St. Louis navigating the cones, Matt Duchesne finishing the stick-work drill and Jonathan Toews knocking out four targets.
Daniel Sedin needed just four shots to hit the four corner targets in 7.3 seconds in the accuracy competition. He then topped Kane in the final, taking care of the targets in 8.9 seconds.
Grabner won the fastest skater competition that opened the evening by winning a final runoff of rookies. He raced around the rink in 14.2 seconds in the final to beat Edmonton's Taylor Hall (14.7 seconds).
But the most interesting race was among the first: Ward vs. Thomas in a first-ever matchup of goalies in full pads. Thomas took a spill in the second turn and that allowed Ward to coast across the finish line in 18.895 seconds.
"Not very often do I do a hard full lap," Ward said. "I was just trying not to fall in the corner."

Copyright 2011 by The Associated Press
SPONSORED HEADLINES
MORE NHL HEADLINES
MOST SENT STORIES ON ESPN.COM
2011 ALL-STAR WEEKEND
Our gurus recap the 2011 NHL SuperSkills competition:
TEAM STAAL 33, TEAM LIDSTROM 22
LIVE FROM RALEIGH