Magnuson made a difference
Former Blackhawks defenseman Keith Magnuson epitomized what the team stood for.
Updated:
December 16, 2003, 2:56 PM ET
By
Darren Pang
| Special to ESPN.com
Speaking as one of a group of so many people whose life has been touched by Keith Magnuson, I am having difficulty accepting his passing.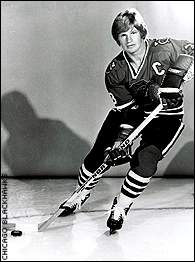 Keith Magnuson registered 14 goals, 125 assists and 1,442 penalty minutes in 589 games for the Blackhawks.
He touched so many people in so many different ways with his ability to make every person feel like they were special. He would walk into a room and shake hands or give a warm hug to everyone as he engaged in conversation, wanting to know how everything was. After he retired, Maggie and his best friend, Cliff Koroll, along with Stan Mikita, Dale Tallon and many others, created the Blackhawks Alumni Association, which is among the most successful in all of sports. They began a scholarship program immediately; Maggie's vision was to ensure that not only good athletes but good people were recipients. As a player, he epitomized passion and hard work. He would do anything for his teammates. He fought the toughest players at the drop of a hat, either to spark his team or defend a teammate. He would drop to his knees to block any shot and certainly got the most out of his body with his desire and tremendous will to compete.
EDITOR'S NOTE
On Jan. 7, 2002, ESPN's John Buccigross caught up with Keith Magnuson for the "What's up with..." section of his column: Perhaps, no Blackhawk wore that great sweater with such fierce pride and courage. In 589 NHL games, he scored just 14 goals. It took Atlanta's Dany Heatley just 38 NHL games to pass Magnuson on the career goal-scoring list. But if Heatley and other young NHL players ever learn to play with the preparation and passion of Keith Magnuson, they will do things they never thought they could. • Complete column
A few years ago, when the Hawks were having a real tough time, he brought them to a downtown watering hole to lift their spirits and see if he could bring them together to get them out of their funk. He hardly knew some of the players, and most had only heard of him. But by the end of the night, they were ready for Game 7 of the Stanley Cup finals. It was another typical display from a great leader. He always wanted to make a difference in life, and he did. Anyone who has participated in the Stan Mikita Alumni golf outing knows what I mean when I say that at the end of 18 holes Keith Magnuson made you feel like YOU had played those 10 years with the Chicago Blackhawks. He made you part of the team with his vibrant storytelling and charming personality. He was the Chicago Blackhawks and all that they stood for.
Darren Pang, a former goaltender with the Chicago Blackhawks, is a hockey analyst for ESPN.
NHL analyst
Darren Pang joined ESPN2 as an NHL game analyst in September 1993. He also works select ESPN National Hockey Night playoff contests and ABC Sports' telecasts. Pang played for the Blackhawks and was named to the All-Rookie team in 1987.
SPONSORED HEADLINES
MORE NHL HEADLINES
MOST SENT STORIES ON ESPN.COM
EDITORS' PICKS
Which were the 10 biggest trades of 2013-14? Hint: two of them involved Thomas Vanek.
Grantland »

Who are the top 5 players in the NHL?
Custance

It's safety first with Kings equipment manager Darren Granger takes the Cup for a spin.
Tracker »