Giggy looks to avoid injuries, Souray slap shots
Updated:
January 11, 2007, 9:53 AM ET
By
David Amber
| Special to ESPN.com
A few seasons ago, Jean-Sebastien Giguere shocked the hockey world by taking an overmatched Anaheim team within one win of the Stanley Cup.

Giguere
This season, Giguere and the Ducks are among the favorites to win it all. In this week's Facing Off, the former playoff MVP discusses why he's relieved to not be playing in his hometown of Montreal, what it's like to hang out at the Playboy Mansion and why Sheldon Souray won't be getting a Christmas card from him anytime soon.
Question from Amber: You were drafted by the now-defunct Hartford Whalers. What do you remember most about your first NHL game?
Answer from Giguere: It was against the Flyers. They had a great team at the time. [Eric] Lindros was in his prime and facing him was really intimidating. I didn't feel ready at all. I knew I wasn't ready to play in the NHL yet, but once the game started, the butterflies went away. So I felt OK, but we still lost the game and Lindros scored on me.
Q: Why do you think an NHL team didn't work in Hartford, where there is a strong core of hockey fans?
A: The team was just bad for a long time. They didn't make the playoffs for a long time, and at the end of the day, they needed a new building. The arena didn't have luxury boxes and I think that's why it failed. If there was a new arena there, I think hockey could work in Hartford.
Fast Facts -- J.S. Giguere
• He was selected by the Hartford Whalers in the first round (13th overall) of the 1995 NHL draft.

• Giguere was acquired by Anaheim from Calgary for the Ducks' second-round draft choice in the 2000 draft.

• In 2003, he became the fifth player in NHL history to win the Conn Smythe Trophy playing on a non-Stanley Cup winning team.

• He established an NHL record for longest consecutive shutout streak in playoff overtime games (168 minutes, 27 seconds).
Q: Speaking of teams possibly moving, Pittsburgh may lose their team. If you were NHL commissioner and had to choose a new destination for the Penguins, where would it be?
A: I like it the way it is, but if they're leaving, I think Kansas City could be nice. Maybe Vegas is something the NHL could try, seeing as there is no other professional team there. I would like for a team to move back to Canada, but I don't know if it is feasible. I don't know if Winnipeg or Quebec City are big enough cities to support the economics of an NHL team.
Q: I read that your body has difficulty taking in fluids when you sweat, so you once lost 19 pounds in a game. Is that true?
A: Yeah, it was in Albany, N.Y., when I was in the AHL. I lost 19 pounds. The arena was really hot and I just kept sweating. Now, on average, I lose about 10 pounds per game. This summer, I went to the [Gatorade Sports Science Institute] near Chicago and did some tests and it helped. I haven't been dehydrated in a game so far this year.
Q: Still, losing 10 pounds a game sounds crazy.
A: It's tough. The game finishes at 10 at night and then you wake up and have to practice in the morning. I'd show up to practice with my muscles all dried up and tired, they didn't recover from the game yet, so it was really tough. Playing back-to-back games was almost impossible for me a few years ago.
Q: Before the season started, four of seven ESPN hockey experts picked the Ducks to win the Cup, myself included. What is it like going into the season as the Stanley Cup favorite?
A: It's kind of nice that you guys think we have a good team, but we know that it doesn't mean much. If you look back at past years and see what predictions you guys have made, there aren't many that have actually won the Cup [laughs].
Q: Thanks! For your sake, let's hope we are right this time. Anaheim and San Jose are not traditional hockey markets, but how has the rivalry evolved in the last few years?
A: It's been great. San Jose has a really strong team. It is so tough to beat them in their building. Whenever we play there, it is packed and the fans are going nuts. Same thing when they come here. They seem to have a hard time at the Honda Center. It has become a fun rivalry.
Q: In your first career playoff game back in 2003, you stopped 63 shots against a stacked Detroit club. You won 2-1 in triple overtime. At that point, did you know you were starting something special for you and your team?
A: Not really. Going into the playoffs, I just wanted to learn really. I had nothing to lose. We were the eighth-seeded team and nobody would have picked us to win any games. I just took it as a great chance to learn. There was no pressure and things just started to roll from there.
Q: What was going through your mind when NHL commissioner Gary Bettman is awarding you the Conn Smythe Trophy for playoff MVP on the same night he is handing out the Stanley Cup to the team that just beat you, the New Jersey Devils?
A: It was a bittersweet feeling. Everything in hockey is team-related, so yes, I was happy to get the Conn Smythe Trophy. It was something I am proud of, but it's not something I can really share with my teammates, and they were as much a part of that playoff run as I was. That team didn't have a lot of talent, so we needed everybody to play their best to be successful and everybody did.
Q: After that incredible run to the Stanley Cup finals, when you became a household name to hockey fans, what was the coolest thing that you got to see or do?
A: I think the coolest thing was actually getting to the finals and getting to Game 7, even though we lost. The feeling was unbelievable to have everyone involved in hockey watching you, and all the media and the atmosphere during the finals. It was really amazing. There were some other things, too. I got to go on "The Tonight Show with Jay Leno" a couple of times, I went to the ESPY Awards, the Playboy Mansion.
Q: What was the Playboy Mansion like?
A: It was OK. It was part of the ESPY Awards ceremony. There was a boxing match featured there. It wasn't one of [Hugh Hefner's] parties. I was there with my wife, so it was fun [laughs].
Q: So, you didn't go into the famous "grotto" while you were there?
A: [Laughs] I went with my wife to check it out. It's cool.
Q: You are known as a really laid-back guy, but about a year ago, you had that one game vs. the Oilers when you picked up 16 minutes in penalties. Do you have a little of the Ron Hextall mean streak in you?
A: I got a little Giguere in me [laughs]. It's part of my family I guess. You know what, I try to stay calm, but every once and a while, I just lose it and it's hard for me to hold back. This year, I am very proud of the fact I haven't broken a stick yet, in practice or a game. I used to smash sticks all the time. It's a bad habit to have, but I'm working to stay calm.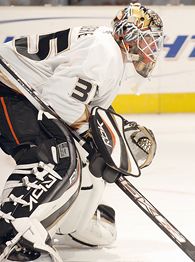 Noah Graham/Getty ImagesJean-Sebastien Giguere runs a hockey camp near Halifax during the offseason.
Q: That night, you were furious with Ryan Smyth. Is there any other player out there who is notorious for getting in a goalie's face and causing trouble?
A: Yeah, there are a bunch of guys like that. [Sean] Avery in Los Angeles is always stirring things up. [Tomas] Holmstrom in Detroit is pretty good at getting to the net, but he's good at staying out of the crease.
Q: If you could play in any other city besides Anaheim, where would you want to play?
A: I don't know. That's tough. I would play anywhere that I was traded to. I'm not one of those players that refuses to play in certain cities. There are things I like about every city.
Q: Oh, come on. You have to have a favorite city. I thought you would say Montreal because it's your hometown?
A: Do you really want to be a French Canadian goalie in Montreal? I don't know if I would want to. The last two French Canadian goalies in Montreal were superstars, and they got beat up so bad, why would you want to go through that? I love Montreal. I live there in the summer and it's my favorite city in the world, but playing there is something different. Those fans are tough.
Q: You've been fighting a groin injury, but I want to know about the other injuries goalies get. What happens when a shot somehow finds that area where there is no protection?
A: It sucks. We've all been through it. Sometimes, you're late getting into position, so the puck catches you in a bad spot and sometimes it just gets you where you have no padding. It really hurts, but in the heat of the game, you don't worry about it.
Q: When you see a Sheldon Souray winding up, heading toward the slot, is there ever any fear in your mind?
A: Well, last summer, I was skating with Souray and some other guys in Montreal. He walks in past the blue line, skates in past the hash mark with his stick up, and shoots it as hard as he can just past my head. I'm not kidding. As hard as he could. And I just look at him and say "What are you thinking here, it's August?" Everyone in the rink went "Ooohhh" when he shot it. As he was winding up, everyone on the ice moved away to let him shoot. I couldn't believe it [laughs].
Q: What was he trying to do?
A: I don't know. I think he was trying to score, but he almost killed me. We know each other, we're kind of friends, but I don't know what he was doing there.
Q: You are helping the next wave of great goalies hone their skills. What should we know about your goalie shop in Nova Scotia, where you played Junior?
A: A partner and I run a hockey store and school in Sackville Sportsplex Arena near Halifax. We have a hockey school that is a year-round, 12-month program. We also sell equipment just for goalies. It's a small boutique shop. We custom fit all the equipment because it is so important, especially for goalies, to feel comfortable in their equipment. We also have an artificial ice rink at the store where we give one-on-one training to goalies. My partner does the training all year, and during the summer, I go back for a week and run a hockey school.
Q: Business will surely pick up if you win a Stanley Cup. On a veteran team like Anaheim, who is the one main leader on your team?
A: I think our captain is unbelievable. Scott Niedermayer has won everything that needs to be won -- three Stanley Cups, Memorial Cup, Norris Trophy, and everything else. He knows what it takes to win, and when we're struggling, he is always the guy who shows up the right way. He's just a great leader who leads by example.
Q: Teemu Selanne and Niedermayer are known as two of the nicest guys in the league. Who wins a fight between them if they drop the gloves on the ice?
A: [Laughs] I don't know. That would be a fun fight to see, though. It would be a finesse fight. Not a lot of punches thrown, just some slapping!
ESPN reporter David Amber is a frequent contributor to ESPN.com.
SPONSORED HEADLINES
MORE NHL HEADLINES
MOST SENT STORIES ON ESPN.COM
EDITORS' PICKS
Claude Grioux scored twice late in the third period to rally the Flyers past the Blue Jackets.
PHI 5, CBJ 4 »

Do the Canadiens have a chance at passing the rival Bruins for the top spot in the Atlantic Division?
Inside the NHL

Custance: Gary Bettman has the NHL positioned for more expansion.
Story
Old Time Hockey Women's Anaheim Ducks Marina Heathered Black T-Shirt Shop »