Guerin talks Red Sox, records, recollections of Borat
Updated:
February 14, 2007, 1:14 PM ET
By
David Amber
| Special to ESPN.com
One season ago, many thought Bill Guerin's NHL future was in doubt after a rough campaign in Dallas.

Guerin
Think again.
Guerin has skated into St. Louis and shown everyone his game is alive and well. The 36-year-old winger made another All-Star appearance and wants to help the Blues fight back into the playoff race.
In this week's Facing Off, Guerin explains why the Blues could be considered "America's Team," how Mark McGwire is getting a raw deal from Hall of Fame voters and why hanging out with Bobby Holik just one night was more than enough.
Question from David Amber: You played at Boston College. Do those college rivalries continue in the NHL?
Answer from Bill Guerin: Yeah, they do. They're a little more lighthearted. They're not as serious as they were when you were there. But guys remember what happened at college. [Keith] Tkachuk and I played against each other when he was at Boston University and we always let the other guy know when our school wins the Beanpot.
Fast Facts -- Bill Guerin
• Guerin was drafted in first round (fifth overall) by new Jersey in 1989 NHL draft.

• He became the 24th player in NHL history to play in 1,000 games on Feb. 2, 2007 vs. Detroit.

• Guerin has scored 20 or more goals in a season 10 times over his career.

• He ranks seventh in games played, sixth in goals, eighth in points amongst American-born NHL players.

• Guerin is a four-time NHL All-Star.

• He played for the United States three times at the Olympics (1998, 2002, 2006).
Q: You won the Cup with New Jersey for the team's first Stanley Cup. What do you remember most about that experience?
A: The way we did it was pretty cool. We never had home-ice advantage and we won the Cup the second fastest of any team. I think the Oilers went 16-2 in the playoffs one year, and we went 16-4 that year [1994-95]. It was pretty wild. I don't think anybody really gave us a shot and we did it.
Q: The season before, the Devils had that famous Eastern Conference finals series against the Rangers. Describe what it was like to play in that series.
A: It was unbelievable. The two teams just had a deep hatred for one another. Every game was a nail-biter. It was the no-name Devils versus the star-studded Rangers; you know, [Mark] Messier and [Brian] Leetch and all those guys. The games were so intense. It was unbelievable.
Q: When did the Devils players find out that Messier had guaranteed a win in Game 6 of the series, when the Rangers were facing elimination?
A: We found out the morning of the game, when it was in the papers, and we were saying, "What's he thinking?" You never want to give your opponents bulletin-board material, but I guess he didn't care. Still, we didn't like it.
Q: As a 35-year-old free agent, why would you choose to go to St. Louis, a team that struggled so much last season?
A: When I spoke to [team president] John Davidson, I really liked the direction that they were going in. I don't think it takes much to go from last to first in the NHL in this day and age. With the free agents that the team went out and got, I thought we would be a playoff team. Transition-wise, from a personal perspective for me and my family, it was really going to help having Doug [Weight] and Keith [Tkachuk] around. That helped in the decision. Look at us now. If we had a better start, we would be OK. But you lose 12 games in a row and that really sets you back quite a bit.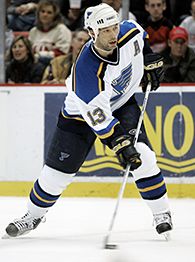 AP Photo/Paul SancyaBill Guerin reached his 1,000th career game earlier this season.
Q:
Andy Murray has stepped in and turned things around. How has he changed things for the Blues?
A: We think he has done a great job. He has been fantastic for us. I think part of it was just being a new face and new direction, but a lot of it was reinstalling discipline and making guys understand their roles each and every night. We just needed a change, and it has been good so far.
Q: With you, Tkachuk and Weight, should the Blues be considered "America's Team?"
A: That would be great, that would be awesome. I think we have seven Americans on our team. We've got quite a few, so why not?
Q: You grew up in Massachusetts. You must be a Red Sox fan.
A: Absolutely.
Q: So, how did you celebrate in 2004?
A: It was awesome. I didn't miss a pitch. I went to Game 4 of the ALCS against the Yankees when the Sox started the comeback after losing the first three games. I also went to Game 1 and 2 of the World Series. I still can't believe they won the World Series.
Q: And this offseason, the Red Sox broke the bank to get Japanese pitcher Daisuke Matsuzaka. What do you think of that move?
A: I think it's great, but he better be good [laughs]. I hope he knows what he's getting into.
Q: What was it like in St. Louis in October as the Cards were racing toward their World Series title?
A: It was great. I went to the three games at home, I went to the clincher and everything. This is an awesome baseball city. It was freezing cold at the stadium during the playoffs. It was like 30-something degrees, so we were all bundled up. I took a couple of my kids to every game. It was really cool.
Q: Do you think Mark McGwire should be elected to the Hall of Fame?
A: [Pause] I think he's going to have a tough time getting in. I would probably vote him in just because everyone else was doing [steroids].
Q: What about in the NHL? If a player was caught using performance-enhancing drugs, should they be allowed in the Hall?
A: I think it would be different circumstances because it's not an epidemic like it was in baseball. [Major League Baseball] missed the boat on everything. They screwed that whole thing up by not cracking down on it earlier and it just got to be too crazy. You couldn't tell who was on it, who wasn't on it, what was legal, what wasn't legal; now they're having a witch hunt on Barry Bonds. They forget that McGwire and Sammy Sosa single-handedly resurrected baseball. That's got to be worth something.
Q: A lot of people say that's why baseball as a sport turned a blind eye.
A: If they were able to turn a blind eye then, they should be able to turn a blind eye now.
Q: Who is the greatest American-born hockey player of all time?
A: I think Brian Leetch. I just think he was awesome. [Pause] Leetch or [Mike] Modano -- one of those two.
Q: I thought you might say Brett Hull?
A: Yeah, that's right. I forgot about Brett. Actually, he was born in Canada [laughs].
Q: Oh yeah, right, he was.
A: How many points does Brett have? Stats are tough to put your finger on. Those guys are all great.
Q: When you look at traditional hockey cities like Boston, Philadelphia and Chicago not selling out every game, what do you think about the state of the game in the United States?
A: It needs improvement. I know they're trying to improve on marketing, but we have to do more. We have to focus on the fans, we have to keep them happy and we have to reach out for more fans. It's definitely an uphill battle.
Q: What was it like returning to Dallas for the All-Star Game after struggling with them last season?
A: It was great. It was just fun. My wife and kids came along. It just gave us a chance to visit. We really loved living there, so it was nice to be back.
Q: What was the highlight of the All-Star extravaganza?
A: Getting introduced for the game and the reception the fans gave me was unbelievable. That was the highlight of the event for me.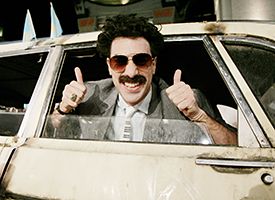 Eric Charbonneau/WireImage.comBill Guerin a Borat look-alike? You be the judge.
Q:
In 2001, you were the All-Star Game MVP with three goals and two assists. Where does that rank among your career accomplishments?
A: That ranks pretty high up there just because it was my first All-Star Game. I looked like a deer in the headlights. I was in awe of everybody in the room. Everything just came together and it was a very special experience. I got a Dodge Durango for winning MVP, so that was nice, too.
Q: You recently reached the 1,000-game milestone. What did that mean to you?
A: It meant a lot to me. Longevity in professional sports is hard to come by, so it's one of those milestones that you're happy to get because it means you have staying power and you're doing something right for the past 15 years.
Q: Any special surprises along the way to No. 1,000?
A: My wife had a video made for me and she had a surprise party for me after the game with all my teammates, all my buddies and my parents. It was really spectacular. The video was about a half-hour long and some of my old teammates, Scott Niedermayer, John MacLean, Randy McKay, Bob Essensa, even Lou Lamoriello, were on there.
Q: Yelling at you, I'm sure.
A: [Laughs] No, that was years before. Lou was OK on the video. So it was unbelievable. It made the night really special for me.
Q: In all your years in the NHL, who is the worst roommate you had on the road?
A: Bobby Holik. We roomed together for one night. I don't know if he has changed his ways, but back then, he didn't sleep. All he did was read the paper, so all I could hear all night was the newspaper rattling around. He didn't let me turn the lights off in the room. It was horrible. Thankfully, I put an end to it and moved out after one night.
Q: Have you seen the movie "Borat"?
A: Oh yeah. That's what guys on the team call me. They think I look like him. I thought the movie was brilliant. My hair is kind of long right now, so sometimes the guys call me Borat. I guess I better get it cut soon.
ESPN reporter David Amber is a frequent contributor to ESPN.com.
SPONSORED HEADLINES
MORE NHL HEADLINES
MOST SENT STORIES ON ESPN.COM
EDITORS' PICKS
Strang: A dramatic shift in the landscape has left many enforcers being escorted out of the game.
Story »

Pronman: Happy holidays! Here's your Team USA WJC preview.
Story

Burnside: We tell you who will make a roster for the 2016 World Cup.
Predictions »