Let's get it on toward getting along
It's time to leave the summer behind, hop on the Zamboni and join the rush toward a season of fan building.
Updated:
October 16, 2003, 10:35 AM ET
By
John Buccigross
| Special to ESPN.com
Hey John,
Just to be the 435,000th person to ask ... Are you tuning up the Zamboni for another year? Looking forward to the next column...
Rich Glazerman

Actually, you're the fourth person, Rich. If you remember the e-mail that ended last year's final column.
But, this is a year of fan building for me, and fan containment for the NHL and its players. A dawn of a new era. So, in the spirit of unity and good faith bargaining, let's all get along. Let's cast aside our mistrust and bitterness and show some good ol' Darcy Tucker fair play. A man never stands so tall as when he stoops so low to annihilate an anterior cruciate ligament. Oops. Sorry.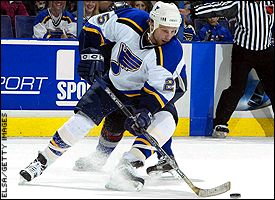 Shjon Podein will be a major impact player -- with more "Life of Podes" this season.
Summer was good. It started with a drive from New Jersey at 1 a.m. following an ESPN get-together the night of the Devils' Cup-clinching victory and ends with, as I type now, the first weekly column of the 2003-04 season. I'll be here, every week, barring a pulled groin or a case of the gout, talking hockey, music, otters, backyard rinks, living-room hockey, and anything else from mullets, Melrose, microwave popcorn, toe rings, emo, punk, rap, shootouts, red lines,
Ilya Kovalchuk
, Steve Yzerman,
Peter Forsberg
, TiVo, Neely, movies, Jack Black, beer, college hockey,
Sergei Fedorov
, and why Denis Leary is usually way too overdressed and his hair way too done up.
As many of you know, Chris Drury is the official active NHL player of this column. I'm a fan first, like you, and Chris is my favorite player. So, in honor of his new No. 23 (Chris says it's in honor of Don Mattingly. I say it's for Oil Can Boyd) for the Buffalo Sabres, here are 23 things about my summer vacation ... followed by my Eastern Conference preview.
1. My summer began with a "There's no way when I was a sophomore in high school with 17 zits, feathered back hair parted in the middle, wearing earth shoes from the Great American Shoe Store, I thought this would happen to me" moment. Mike Myers sent my 3-year-old son, Jack, a Fat Bastard action figure. He autographed the outside plastic on the package: "To Jack, your Dad rocks. Mike Myers." I guess Mike read my final column from last year and wanted to send his biggest fan, Jack, a thank you. I almost threw up with excitement for three days.
2. Saw a baseball game in Fenway Park ...
3. and Camden Yards ...
4. and Veterans Stadium ...
5. and the Pirates home park ...
6. and the Reds new park ...
7. and in Milwaukee ...
8. and two in Wrigley Field.
9. A scene from the first game at Wrigley is enclosed in the Penguins preview below.
10. The second game I sat in the bleachers with Andrew Brunette, Shjon Podein and Ray Ferraro. Not a bad line. Stay tuned for the first installment of the "Life of Podes." This year's first one made me laugh out loud when he left it on my voice mail. It's coming soon.
11. Ballparks 3-7 above were part of a five-ballparks-in-five-days tour by car with my best buddy Brett.
12. During the morning of the Milwaukee game, we played 18 holes at Whistling Straits, the home of next year's PGA Championship. Winning score in 2004? Four under.
13. Went to Ozzfest. Hung out backstage and learned that guitarist Zakk Wylde once punched Marilyn Manson's dinner in a restaurant because & well, because he's Marilyn Manson. Zakk is one of the coolest guys I've ever met. I liked him 1.7 seconds after I met him.
14. Went and saw Bruce Springsteen in Fenway Park with former Bruins goalie Cleon Daskalakis, who is a dead ringer for Andre Agassi. On the way out, I met former Bruins Steve Leach and Bob Sweeney. During the whole concert, I couldn't stop looking at the 7-foot guy in the 10th row with no rhythm. Bill Walton! I sat in section 4 (Orr), row 8 (Neely). The highlight was when Bruce was about to play "Jungleland" and screamed, "THIS ONE"S FOR GILLES GILBERT!!!!"
15. Best concert of the summer? Ben Folds and his piano.
16. Memorized every Stanley Cup winner. Go ahead, try me. 1934? Blackhawks.
17. While on the fifth hole of the Nicklaus course at Pine Hills in Plymouth, Mass., I got a call from Drury. "I just got traded to Buffalo," he said. "Is that good?" My response: "Yes, you'll be surprised. It will be good." Two months later Chris signs a four-year deal worth about $16 million.
18. I couldn't play in Chris's charity golf event for Travis Roy because my dad's charity event fell on the same day. So did Shjon Podein's. And the event Calgary Flames forward Chris Clark co-hosted. Sorry, Dad, but hockey is thicker than blood. I make the date next year.
19. Hosted Joe Sakic's charity event for the Food Bank of Colorado. Joe played in front of me, so we played a little match. I gave him two a side, and he beat me. Joe shoots left-handed and plays left-handed, too.
20. Ray Bourque called to say he made a double eagle on a par-5 at Salem Country Club. Driver, 4-iron. His voicemail said, "Boy, Jim, you should have seen it!!"
21. I played in an ABC/ESPN golf outing at Westchester Country Club, the week of the Buick Classic, or Open, or LeSabre, or Oldsmobuick, or whatever Buick event was that week. A guy in my foursome got a hole-in-one. It was the first time I ever saw one. I jumped on him like Yogi Berra jumped on Don Larsen after his perfect game. I was more excited than he was.
22. I fell in love this summer. Her name is TiVo. I love the sound when you first turn TiVo on. And I love the sound it makes when you delete a program. And I LOVE the drum sound it makes when you scroll down too far on the now playing list. I love my TiVo.
23. I played in the NHL's Hockey in Harlem charity golf event at Winged Foot (it was a good summer of golf courses played). I outbid Jean-Luc Grand-Pierre-Evert-Lloyd-Goolagong-Cawley-Rodham-Clinton of the Columbus Blue Jackets for a Wayne Gretzky autographed sweater. As I've written before when I "won" (see mounting debt) a Larry Bird jersey at Drury's charity tournament in 2002, autograph penmanship is the only way I will pay for an item. I am appalled at the slop many athletes pass for an autograph. Wayne's, like his passes, is a work of art.
Predictions: Eastern Conference
Last year, I was 6-for-8 in picking playoff teams in both conferences -- 12-for-16 for 75 percent. Not bad. This year, I'm shooting for nothing less than a Lindros -- 88 percent (14-of-16).

This is my life
it's not what it was before...
somebody shake me
cuz i
i must be sleeping.
-- "So Far Away" by Staind

What a nightmare for Jose Theodore after his fantasy summer of 2002. "Ah, Dad, could we ease up on the loan sharking this year?" Getting Bob Gainey back is a step in the right direction, but this team is no Hell's Angels on ice, as the Habs are soft and thin up front. Saku Koivu has already sprained his right knee after playing all 82 games last season. I'm a big fan of Mike Komisarek and his tenacity, and having Sheldon Souray back after missing all of last season will help Theodore -- IF Souray can stay healthy.


And I know that what is here will not be here much longer
Unless we alter what we have, or alter what we don't have
-- "Stay the Same" by Idlewild

I went to my first baseball game at Wrigley Field this summer with a group of friends that included new Penguin coach Ed Olczyk. As Moises Alou stepped in the batter's box for the Cubs in the bottom of the first, Edzo turns around to Ray "Chicken Parm" Ferraro, who was sitting next to me, and says, "Ray, five bucks Alou hits a homer." Next pitch, BAM! Home run. I have the photo of Ray handing Coach Olczyk the fin. Edzo is a feel player and will be a feel coach. If Mario can play 70 games, the Pens won't finish last. No. 66 is eight goals away from 700.


This is the story
Since time began
There will come a day
When we will know
-- "Shine Like it Does" by INXS

That time, as the late, great Michael Hutchence sang, is coming soon for the Panthers. They are on the track to long-term NHL success. Right now, they are too soft. They have all their bases covered and continue to draft well. Yes, some of this is based on projection, and that can always prove false. I wouldn't be shocked if Roberto Luongo was so good this year, the Panthers were in the playoff hunt.


I've had my share of sorrow, more than you could know
Save your lies and alibis, I've heard that tune before
-- "Pain of a Troubled Life" by Alison Krauss
Weak on defense and small and/or inexperienced up front. The best part of the team right now is the new owner. Everything appears on track to bring Buffalo back to an intimate, emotional hockey experience that the fans can attach themselves to during the long, cold winter. They have some fun, young players and a hockey god to build on. The first move is to get rid of those awful black uniforms. Bring back the colorful old school Sabre sweaters full-time. This isn't the mid-'90s anymore.


I'm gonna fight 'em off
A seven nation army couldn't hold me back
-- "Seven Nations Army" by White Stripes

Optimism was running high in Atlanta until the crash of Dany Heatley's Ferrari. The Thrashers have a week to get themselves together and realize that besides the initial scare that Heatley and Dan Snyder could have died as a result of the high speed crash, the Heatley injury is no different had he injured his knee and missed 6-8 weeks. He's not there, and that's the way it is. And while they will miss him on the power play immensely, the Thrashers cannot be taken seriously until they play better team defense, play better in net, and upgrade what has always been the weakness of their team, the defensemen. Snyder was likely to start the season on the injured list as he's been coming back from ankle surgery. One only hopes he can have a normal life again first before even thinking about playing hockey. It's all very depressing.


It's another lonely evening
And another lonely town
But I ain't too young to worry
And I ain't too old to cry
-- "Ride On" by AC/DC

The team is getting old, losing money has sucked the owners' enthusiasm for the cause, and they are thin on defense. Kolzig could backstop them into the playoffs, but the sense here is that if the Caps get off to a bad start they will fold like a Gwyneth Paltrow/Chris Martin ectomorph spoon-fest.


Liberate your mind
You're so narrow-minded
So narrow-minded
Liberate your mind
Will you liberate your mind
This time
-- "Liberate" by Disturbed

The Bruins will be right on the edge of the playoff picture, among the teams battling for the eighth spot, but ownership has shown its entire focus the last couple of years has been preparing for life after the new CBA, not winning a championship. They have two shining stars in Joe Thornton and Sergei Samsonov. Glen Murray is the perfect complement to Thornton: a between-the-circles, right-handed shot. The B's should score a lot of goals, but their suspect defense and average goaltending will likely mean a bit too many given up to make the cut.

THE PLAYOFF TEAMS


Where do we go when we just don't know
And how do we relight the flame when it's cold
-- "Serentiy" by Godsmack

From Stanley Cup final to worst in the league. That was the best thing that could have happened to them. Eric Staal will be good for the next 20 years. And while Staal won't be a huge impact player this year, he could complement a team that has experienced centers, a couple of snipers, some grit, and a deep veteran defense. All in front of Kevin Weekes who had five shutouts in 51 games last season. If healthy, that's a playoff formula.


I got heartaches in my pocket
I got echoes in my head
And all that I keep hearing
Are the cruel, cruel things that you said
-- "A Thousand Miles from Nowhere" by Dwight Yoakam

Bashin' Alexei Yashin has become an NHL rite of winter. And while the insanity of Yashin's contract can never be understated, the Islanders have made the playoffs during his first two seasons. The strength of the team is on defense, and the play of Garth Snow and Rick DiPietro will determine the Islanders' playoff chances. I think Snow is a little underrated and DiPietro will steal some games in net for the Islanders.


You can go through the motions with your
Magic spells
Buy all the potions that Fifth Avenue sells
You can try to call down all the stars above,
But you can't make love
-- "You Can't Make Love" by Don Henley

Heading into the season, they are structured OK. Last year, their goaltenders were an injury-marred veteran, a late-season trade addition and a teenager. Mike Dunham and Jussi Markkanen are an upgrade, and Dan Blackburn can develop playing for the Hartford Wolf Pack. Leetch's health is vital, and the Rangers are not off to a good start in that department. Also, you know if there is a league-wide fire sale of teams unloading in preparation for a work stoppage, the Rangers will be buyers. Glen Sather has instilled an off-ice dress code and a no-cell-phones-on-the-bus rule. There seems to be a purpose here that's been missing.


My heart is yours to fill or burst,
to break or bury,
or wear as jewelry,
which ever you prefer.
-- "Hands Down" by Dashboard Confessional

A couple of injuries here, especially to Ed Belfour and/or Mats Sundin and this team is toast. The development of Nik Antropov will go a long way here. If he can get to 25-30 goals, this team will have two good lines and will make the playoffs, no problem.


Enter in and up under your skin like a splinter
The center of attention back for the winter
-- "Without Me" by Eminem

Scott Stevens, Scott Niedermayer, Brian Rafalski and Colin White in front of Martin Brodeur is always a good place to start. Stevens is 40, and at some point he will hit a career wall like Chris Chelios seemed to hit during last year's playoffs, so that is something worth watching. With a weak Eastern Conference, it's hardly a long shot to say the Devils will return to the final. They were very healthy last year. We'll see how they do in that department this year.


You know, I'm not the little boy that I used to be
I'm all grown up now, baby can't you see
-- "Stacy's Mom" by Fountains of Wayne

This is where the Southeast Division winner lands, thus the No. 3 ranking. Carolina could easily be here. The Bolts have good centers, a cohesive defensive unit, good goaltending, and the biggest thing going for them -- room to grow. If John Grahame is the real deal, the Bolts could trade Nikolai Khabibulin for some offense. Maybe Nik and something for Alex Tanguay and Martin Skoula if David Aebischer doesn't work out in Denver.


I don't know why you bother
Nothing's ever good enough for you.
I was there and it wasn't like that.
You've come here just to start a fight
-- "A Punchup At A Wedding" by Radiohead
I'm not a big Jeff Hackett guy, but his team is so solid in front of him, I'll take the Flyers in the Atlantic Division. Experienced, tough, and their young players are dynamic. If they could get the power play clicking and score 220-225 goals, they will be in that 100-110 points range.


Shyness is nice, and
Shyness can stop you
From doing all the things in life
You'd like to
-- "Ask" by The Smiths

The Senators have that Stanley Cup equation -- score more than 250 goals and give up less than 200. That will usually get you a parade. Last year, the Sens did that comfortably. Their only concern would be entering this season a bit too relaxed and assuming their time will come by just showing up. That doesn't work in the NHL. You'll get pummeled. If you want to win the Stanley Cup, you have to be willing to bleed. Be aggressive. Be purposeful. And Bleed.
Next week: Western Conference
Is Ken the Otter really holding out for a one way contract?
James Weise
What would you expect? After a summer of Bowflex with Bill Romanowski and fat burners, Ken's body fat is down to 68 percent. It's not about the money. It's about respect.
---
John,
Hope you and Ken had a terrific summer. (Does your family suffer at all from otter envy? Just curious.) Now get your butt back to work. What, honestly, was the very first thought that entered your mind when you heard about Kariya and Selanne joining the Avs? Welcome back. Foppa rules.
Amy Matthew
Pueblo, Colo.
I was thinking, "Man, this double cheeseburger is good." I was at a Wendy's when Chicken Parm called me with the news. My second thought was, Joe Sakic wins the scoring title.
---
John,
On our trip back from vacation in Canada, my wife and I were in northern Wisconsin when we passed a sign for cabbage being sold by "Connie." We had never before seen a sign for someone selling cabbage. We had a couple of yucks at "Carneys" expense, of course. Then, no more than five miles later, we entered the town of Carney. I kid you not. I think we just looked at each other with raised eyebrows at that point, then we started looking around for Mike Myers. Hockey start is not far away. Whoo hoo!
Take care,
Alan Block
Keith Carney. Circus folk. Nomads, you know. Smell like cabbage. Small hands.
John Buccigross is the host of NHL2Night, which airs on ESPN2. His e-mail address -- for questions, comments or cross-checks -- is john.buccigross@espn.com.
SportsCenter anchor
John Buccigross joined ESPN as an anchor in October 1996. He currently can be seen as an anchor on "SportsCenter." Buccigross frequently contributes to ESPN.com during the season.
SPONSORED HEADLINES
MORE NHL HEADLINES
MOST SENT STORIES ON ESPN.COM
EDITORS' PICKS
Goalie Antti Raanta won't have any trouble filling in for injured Corey Crawford if the Hawks keep scoring six goals a night.
Blog »

Custance: Before they could beat the world, the Kessels had to beat each other.
The Mag »

Burnside: Let's face it, the Islanders are terrible -- and holding.
Column »