Tragically, life still goes on
Thoughts of Dan Snyder and Dany Heatley, followed by Western Conference picks.
Updated:
October 16, 2003, 10:33 AM ET
By
John Buccigross
| Special to ESPN.com
Last Sunday was a GREAT day.
It began after five hours of sleep the night before, as a result of anchoring the late night ESPNews show followed by an early wake-up call to take 4-year-old Jackson to his 8:40 a.m. learn-to-skate program.
Jack had a pretty good day on ice in his game-worn Darren Pang Chicago Blackhawks sweater.
After Jack's Icky Shuffle skating hour, it was off to Wallingford, Conn., for big brother Brett's' peewee game. After scoring the organization's first goal of the young season the day before, Brett was held scoreless in a 1-0 win. But he did have one sweet neutral-zone stick handling move that lasted five seconds and filled me with exhilaration the rest of the day.
Then it was a little couch time to watch some football, Red Sox-A's Game 4, and Tiger Woods. After that, Malorie and I played a little hoop in the backyard on a picture perfect October afternoon. Basketball is her game. Then it was dinner, followed by the writing of the Western Conference preview that you see below, while keeping an eye on the Braves and Cubs Game 5.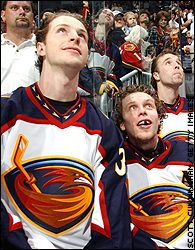 Dan Snyder and Dany Heatley shared a friendship and a love for hockey.
I'd been up for 16 1/2 candy sweet hours, when one simple sentence knocked the wind out of me. While sitting in the recliner having a cold one and watching SportsCenter, a "Special Report" ran across ESPN's BottomLine. ATLANTA THRASHER DAN SNYDER DIES FROM INJURIES SUFFERED IN A SEPTEMBER 29TH CAR ACCIDENT.
He was 25.
I felt shaken, breathless and alone in the dark. A young, enthusiastic hockey player was dead. The young son, the undrafted, overachieving role model, friend and victim of Dany Heatley's now fatal misjudgment. The pain was everywhere. Heavy and deep.
Considering the contents of my day, my thoughts went right to Snyder's parents. The pain of losing a child, I can only imagine, is the heaviest burden a human can carry. I actually think about losing one of my kids almost everyday. I think it's a lame defense mechanism I use, thinking it would lessen the bottomless, lifelong pain that would rain down every day. I can't imagine being able to get out of bed. This is the world of Graham and Luanne Snyder.
Next, I thought of Heatley. The 22-year-old kid who drove too fast one too many times. The depressed, regretful dread he felt while Snyder was unconscious just rose to highest power. I've known Dany Heatley for his two NHL seasons. I interviewed him for this column early in his rookie year, met him for the first time the spring of that season, interviewed him on ESPN Radio two summers ago, and interviewed him before and certainly after last year's All Star game, when he introduced himself to a national television audience and a culture of hockey fans as THE guy the NHL would use as their 21st century star. Talented, humble, well-spoken and photogenic with an endearing goofiness about him. Known as "Heater," most knew his stardom was coming before last year's All-Star game. He is the kind of kid who realizes his impact as a player after everyone else does.
Now what? Knowing Dany, right now he feels that he killed his friend and caused the Snyder family lifelong pain. He bereaves for his friend, swimming in his own regret, while recovering from jaw surgery and major knee surgery. He will cry more tears in the coming months than he has his entire life. Dany Heatley is a great kid who did a stupid thing. What he does now, while he mourns, is get better. Get healthy. Get back to work. Play with the spirit his friend Dan Snyder had. Undrafted and undaunted, Snyder made it to the NHL on will, guts and courage, despite a small stature and skinny legs. The only way Dany Heatley can approach life from this point forward, is to approach life as Dan Snyder did. That's his only option. There are too many people who love him, too many people who can gain from his existence for him not to come back a man complete.
He can give away some of the millions he will make and give away some of the ample hours of free time he will have as an athlete to serve others and serve the memory of Dan Snyder. He can set up a Dan Snyder scholarship fund at Wisconsin for that hockey player who gives all his heart, but just doesn't have enough talent to earn a scholarship. The penance one gives oneself is always more productive and positive than the penance others give. Do I think Heatley should go to jail? I don't. Although, if others in Georgia have for similar circumstances, perhaps it would be unfair. Should he lose his license for 1-2 years? Yes.
Next, I thought of the Atlanta Thrashers, especially general manager Don Waddell. He is one of hockey's good guys, a sound hockey mind that is slowly building the Thrashers into a future Stanley Cup contender. Each year he has added another piece. This was the year Atlanta was going to fight for the 8th spot in the East, probably come up short, but gain valuable experience by finally playing in some meaningful games. Coach Bob Hartley was at Game 5 of the Atlanta Braves-Chicago Cubs NLDS last Sunday night. His cell phone rang, he had a short conversation, and then Hartley buried his face in his hands. Dan Snyder was dead. Everything changed.
And so a young son, friend and teammate is gone. Forever. Just like that. I was still in a daze as I turned off the TV, my mind solely on Dan's mom and dad.
My plan earlier in the evening was to sleep in the basement for a quiet, undisturbed night's sleep after a week of two-, three-hour naps at night (the result of Jack's nightly 3 a.m. mattress hijacking).
But, after the heart-aching news of Dan Snyder, news that rocks you like a small ship at sea, I went upstairs, headed to Brett's room, climbed into bed with him, put my arm around him and held on tight.
Predictions: Western Conference

When everything seems planned out
when everything seems nicely planned out
well the human race will come and smack your face
-- "How Does a Duck Know" by Crash Test Dummies
How long until Sean Burke is in Colorado or St. Louis or Philadelphia? The new uniforms are a big upgrade, but the talent is thin right now. Their organizational tenacity should keep them in a lot of games, but do they have the talent to win them?


When the road gets dark
And you can no longer see
Just let my love throw a spark
And have a little faith in me
-- "Have a Little Faith in Me" by John Hiatt
A scrappy little bunch with a good goalie that is slowly adding nice pieces. Unfortunately, they have organizational money issues and no pillar for all their complements to follow. Their payroll will likely end up as the lowest in the league. They are one of the franchises that will have a hard time thriving and surviving without a salary cap and revenue sharing.


The times it hurts when you cry
The times it hurts just to breathe
And then it all seems like there's no one left
And all you want is to sleep
-- "Fight" by The Cure
Goal scoring is the No. 1 concern for the Sharks in the goal-scoring West. They will need Evgeni Nabokov to play like Evgeni Vezina to sniff the playoffs. Patrick Marleau having a monster year would help, too. Watching Marleau skate and shoot is a late-night NHL Center Ice Package joy. His skill level is sick. Marco Sturm is really coming on, too. He'll score 30 goals this year.


We turn away to face the cold, enduring chill
As the day begs the night for mercy love
-- "One Tree Hill" by U2
Whether or not Mike Comrie plays for them again or what they would get in a trade is key to the Oilers' season. Tommy Salo is a smallish goalie that has played a lot of hockey the last few years between the Oilers and the Olympics and you wonder if he is getting worn down mentally. The team is young and fast and plays with all kinds of purpose and heart. I just wonder if all that emotion has them worn down a bit and perhaps they are due for an off year.


I'm looking California,
and feeling Minnesota
-- "Outshined" by Soundgarden
The best story of last season for me was the Minnesota Wild. It is the heartbeat of American hockey, and until the NHL has 20 markets like Minnesota, hockey won't be a part of the mass sports culture. Hockey has deep meaning in the state and the Wild organization reflects that in the passion and detail with which they run their organization. No other NHL organization comes close. However, they are primed for a step back, especially if Marian Gaborik remains unsigned. He is their star. But the Wild are truly an everyone-is-equal franchise and they won't give in to Gaborik. They may reach a deal with the player, but they won't give in. By the way, the Wild will unveil a third jersey this year.


I can't feel the way I did before
Don't turn your back on me
I won't be ignored
Time won't heal this damage anymore
-- "Faint" by Linkin Park
It's all Tuomo Ruutu in Chicago. There are some good parts here, but no real star to wrap it all around. The defense is OK and they won't score a lot of goals. Like the Bruins' front office, it seems like the new CBA is the focus of the Hawks brass. Sometimes you get the idea that if the owners get their salary cap, the Bruins and Hawks will pop more expensive champagne than they would if they won a Stanley Cup. The Bruins haven't won a Stanley Cup in 31 years. The Hawks haven't won one in 42 years. There are reasons for this.


Headstrong we're Headstrong
Back off we'll take you on
Headstrong to take on anyone
-- "Headstrong" by Trapt
I really wanted to pick them for the playoffs. Darryl Sutter will have them playing hard. They have a star to wrap all their parts around and they a nice gritty bunch of defensemen. They won't be fun to play against. You just have to have concerns about the goalie. If they had a way to get Curtis Joseph or Sean Burke, I would pick them for the playoffs.


THE PLAYOFF TEAMS


I don't know how I got this way
I know it's not alright
So I'm breaking the habit
I'm breaking the habit
Tonight
-- "Breaking the Habit" by Linkin Park
I know they were last in the conference last year, but enough is here to make a big jump. Their biggest improvements have to come in defense (263 goals allowed) and road performance (9 wins). With the new NHL schedule emphasizing division play, the Jackets need to dominate the Predators and Blackhawks. Columbus has an electric rink that comes close to Minnesota in terms of atmosphere and they play very well there. They got to find a way to win 17-18 games on the road to make the playoffs. That starts with better defense and great goaltending. They have good coaching and enough veterans to overcome their past road woes.


We like to spy on the neighbors,
They look so happy together,
Funny the power of strangers
Sometimes I wonder if they got it better
-- "Green" by Edie Brickell
It's wasn't good to be the Kings last year. Injuries and THE DUCKS IN THE FINAL??!! An upgrade in goal, pretty good D, and a nice crop of young players who can play without pressure or the virus of losing every night. Of course, the playoffs hinge on the health of Jason Allison and Adam Deadmarsh. Deadmarsh was about to enter his 3-4 year, 35-40 goals-a-season stage of his career. He was born the same day as Bono so hopefully his song this season will be "The Unforgettable Fire" and not "Is That All?" Right now, Deadmarsh and Allison are still feeling woozy and the defense is really banged up. This might be a reach, but it's a long season and I'm banking on Allison and Deader to play 70 games.


Man in uniform told me he wants to get out
Didn't see it coming head in from the west
-- "Man in Uniform" by Pete Yorn
From the west came Teemu Selanne and Paul Kariya, and in one afternoon everything changed in Colorado. These are two great guys, and two fascinating players. But there are more important matters for the Avs. How will the defense play? How will their goaltender play? Will their third and fourth lines develop a personality and a purpose? How will the inexperienced coaching staff deal with all this stuff? That being said, they will be the sexiest team in the NHL. An Avalanche-Canucks game will be the most exciting hockey of the year. But remember, offense doesn't win championships; defense does. Will the Avs be a very good defensive team on top of all the offense? That's the issue.


You called to say you wanted out
Well, I can't say I blame you now
Sometimes you've got to fold
before you're found out
Well thanks for waiting this long to show yourself
-- "Rapid Hope Loss" by Dashboard Confessional
Is Sergei Fedorov a fraud as the Wings suggest? They talk and act as if they will not miss him, but how can a rational hockey mind really feel that way? Durable, productive, and better than a point per playoff game. Misinterpretation of body language and a language and cultural barrier can go long way to misinterpreting a man. That being said, there is a lot of good stuff here all over the ice and if they stay healthy, don't have one of their Hall of Famers suddenly age like a couple did last year, and the youth doesn't take a step back, they can win the conference again. I have enough regular-season questions to put them as a 100-point, second-place team, but they ARE a much better playoff team with the addition of Derian Hatcher.


Won't you look at me, I'm crazy,
But I get the job done
Yeah, I'm crazy, but I get the job done
-- "Philosophy" by Ben Folds
Marty Turco is a bit crazy and he gets the job done all right. He had the best modern era goals-against average last year. There is a lot of good stuff here as well. Let's face it, the top six in the West could be shuffled a few ways. The fact remains this Western Conference is still significantly stronger than the East and much more exciting. Losing Hatcher and Darryl Sydor is significant. Any key injury on the blue line will make things tough on Turco. But my goodness are they good up front.


You had your time you had the power
You've yet to have your finest hour
-- "Radio Ga Ga" by Queen
Get the "Sign Shjon Podein Now!" signs out in St. Louis! Their 99 points last year without Chris Pronger should turn into over 100 this year by getting their goals allowed back down near 200. The "C" being on Al MacInnis's sweater is very important for the Blues' room. Pronger is a better player when he can just play. "Chopper" is a lot like Ray Bourque in his leadership qualities. Quiet, but with a reverence about him.


This is my final fit. My final bellyache
with no alarms and no surprises
No alarms and no surprises
-- "No Surprises" by Radiohead
Mr. Duck has left the building. Paul Kariya said "no" to the Ducks' reduced salary offer and took less than the NHL minimum wage in Denver. It's a new era on SoCal ice. While the professionalism and talent of Kariya and Adam Oates will be missed in the postseason, this will be a better regular-season team than last year because they will score more goals, especially on the power play. Last year, the Ducks had just 56 power-play goals (T-18th). They could be a top 10 team this year.


All the people are so happy now,
their heads are caving in
-- "Nothing's Gonna Change My Clothes" by They Might Be Giants
Dan Cloutier's save percentage has gone down the last two years, as has his goals-against average. If he can elevate that save percentage to that .915-.920 range, the Cauncks would really have something here. With a lot of guys in their 20s, the Canucks are built for a lot of regular-season points. They also have enough playoff experience that they should be able to get something done this year.
John,
The Caps will definitely make the playoffs. Like most sportswriters you don't really care or understand the division so please don't even include any of the teams when making predictions.
Thanks,
Tom
District of Chaos

The Caps' most important players are all over 30, except for
Sergei Gonchar
(29), and they are thin on defense. That is the worst combination you can have because that means more chance of injuries and more chance of giving up lots of goals. The Caps are leaning in that direction. If I'm St. Louis, Philadelphia, Vancouver or Colorado, I'd take the contracts of
Jaromir Jagr
or
Robert Lang
to get
Olaf Kolzig
in a trade. The Flyers have a glut of young defenseman to pull it off best.
---
Hello Hockey God,
I have a quick Fantasy hockey question. Should I trade Saku Koivu for Jason Spezza?
Shawn
Dansville, N.Y.

I would. I think Spezza's numbers this season will be 24-52-76 points. Koivu will miss some games due to injury this year and finish with 17-39-56 points.
---
Just wondering, but do you have a picture of Ken the Otter? And if you do can I see a picture?
Thanks,
Katie Kohan

Yes. And no.
---
John,
Could you give a shout out to my boys on the Typhoons roller hockey team in Palatine, Ill.? Thanks!
Brian Fallon
Schaumburg, Ill.

You mean like, what Jack Black is to Tenacious D, Brian Fallon is to the Typhoons?
---
Hi John,
You're actually getting an e-mail from a hockey fan in Oklahoma City. I have a question regarding Peter Forsberg. Why would he be considering retirement when he has become one of the premier players in the league?
Thanks for your time.
Mark A. Hedrick

If a sports television network in Portugal offered me $10 million a year for five years to host "Goat Throwing 2Night," I would probably accept. By the time I was in the final year of my contract, I would start thinking how much I miss the U.S. and how this violent world of Goat Throwing could possibly leave me with an injury where I can't lead an active, healthy life. I would realize I had a net worth of about $20 million and now control my own employment destiny, which is the goal of every worker. But, if E-S-Portugal-N offered me $10 million again, would I keep saying, "Maybe one more year and a few more bucks in the bank. Then I could get TWO TiVo's! THEN I'll go back to my homeland." That's the bottom line of the whole Forsberg issue. One TIVO. Or two.
---
John,
My son just turned 1 last week. Not that I'm going to push hockey on him, but what's a good age to put a child in skates?
Mike McDowell

I would buy him roller blades first when he is 2 or 3. Have him get used to those for a year on the driveway and then try him on skates at 3 or 4. Also, begin cutting him up a banana to get him in the habit of starting every day with one. It's the secret to long lasting health.
---
Hello Mr. jb,
Is Mike Richter a Hall of Famer?
Dave Gigar
Newport Beach, Calif.

Not if Rogie Vachon isn't. Richter played 666 games and had 24 career shutouts. Trevor Kidd has 18 career shutouts in 372 games, most with bad teams. I loved watching Mike Richter compete. He was the kind of athlete who turned up his play when things mattered more. That's my kind of guy and worth something when weighing a career. But, to be fair, if Richter is a Hall of Famer, so are Tom Barrasso, Dan Bouchard, Sean Burke, Ron Hextall, Mike Liut, Andy Moog, Chris Osgood, Pete Peeters, possibly Felix Potvin when he's done, John Vanbiesbrouck, Mike Vernon, and Darcy Wakaluk. Wakaluk aside, all the others could argue with their numbers and honors that they had NHL careers in net comparable to Richter.
---
John,
I have a toe ring question. This girl I thought was my best friend got me a cheap-o photo album and a dollar store toe ring for my birthday, and mailed the package a month late. I've already returned the album for something snappier, but what should I do about the toe ring?
Cheers,
Beth
Syracuse, N.Y.

Either mail it to me or the estate of Toe Blake.
John Buccigross is the host of NHL2Night, which airs on ESPN2. His e-mail address -- for questions, comments or cross-checks -- is john.buccigross@espn.com.
SportsCenter anchor
John Buccigross joined ESPN as an anchor in October 1996. He currently can be seen as an anchor on "SportsCenter." Buccigross frequently contributes to ESPN.com during the season.
SPONSORED HEADLINES
MORE NHL HEADLINES
MOST SENT STORIES ON ESPN.COM
EDITORS' PICKS
Rumblings: Pierre LeBrun has the latest on Mike Richards, Martin Brodeur and more.
Blog »

Strang: Martin Brodeur has not tarnished his legacy by limping to the finish of his career with the Blues.
Story »

Custance: All-Star panel picks Rinne for Hart.
Story