Goalies: '80s one-hit wonders?
Thoughts while riding the Zamboni to work, with Ryan Malone, Podes and five rookies on board.
Updated:
December 3, 2003, 2:11 PM ET
By
John Buccigross
| Special to ESPN.com
Since no sports radio talk shows in the United States touch on hockey, and when they do it's rather ignorant, my daily half-hour drive to work is spent listening to music and conducting sports radio hockey talk in my mind. Maybe ESPN.com can set up a wireless microphone and I can conduct a daily hockey show online for all the deprived hockey fans. Until that glorious day arrives, I'll play radio talk show host and empty out my brain from all the solitary car rides from South Windsor to Bristol, Conn.
NHL goalies are becoming like candy-coated pop stars. They have a great playoff, leverage it into a bloated contract and then return to earth. From platinum-selling artist to the discount rack at Target. Jose "Rickey Martin" Theodore won't ever sniff a .931 regular-season save percentage again, but he held out for a three-year, $16.5 million contract. J.S "Jason Mraz" Giguere won't EVER have another postseason like last season, but he also leveraged into a four-year, $19.5 million (give or take a few dimes) contract. They are young, but both Theodore and Giguere have had only one season better than .500.

SHOT OF THE WEEK
Every week we will present an NHL photo and I'll provide a caption. E-mail me your suggestions (include your name and hometown/state) and next week we will use best ones and provide a new photo.

LAST WEEK:
Hall of Famer and Montreal Canadiens alumnus Guy Lafleur:
"This reminds me of my days ... wait a minute ... I've NEVER done this before."



"Hey, Guy! I'm pretty sure that curve on your stick is illegal."
-- Mark McLaughlin, Denver

"I'm Guy FREAKING Lafleur! Can't you get Richer to do this?"
-- Bruce M., Stanton, Calif.

"If we had a stronger NHLPA back in my day, I could be warming my buns now instead of shoveling snow."
-- Pete Moore, Denver

"Kerry Fraser needs to consider a different dandruff shampoo!"
-- Jeffrey Yot, Pittsburgh

"Where the hell is Robinson? Maybe 'Big Bird' should pick up his 'Big Shovel' and give me a hand here!"
-- Turner Watson, Georgia

"At least this beats what I had to shovel when I was a Ranger."
-- Joe Stack, Dublin, Ohio

"In 2035, the Islanders Ice Girls start to get a little ripe"
-- Dan Hausmann, State College, Pa.

THIS WEEK:



Atlanta's Ronald Petrovicky to Tampa Bay's Ben Clymer:
"I swear I don't know how Majesky's mouthpiece got in my ear, Ben, JUST GET IT OUT!."
As teams stand now, I'd say the Cup final will come from a pool -- or a pond -- of teams that includes: Philadelphia, Ottawa, New Jersey, Tampa Bay, Islanders, Bruins, Vancouver, St. Louis, Colorado, Detroit, Dallas and Anaheim.
Dany Heatley will begin skating in a couple of weeks, which means a February return is very possible. His legal problems haven't been settled. That appears to be the biggest obstacle in his return, not his health.
My vote for the first outdoor game in the U.S. is Ann Arbor, Mich. Detroit against the Rangers -- red, white and blue teams in front of 100,000 fans. The Red Wings and Rangers take home an average home game gate, and after all the bills are paid, the money is split between retired players pensions and Hockey Fights Cancer.
Because of a warm November, the backyard rink is only backyard boards. Last season, I was skating in the backyard in early December. This is year four of my rink. Year one I had over 30 skates, year two we had six and then last year over 30 again. I hope it's not an alternating pattern.
Last summer I did my first baseball park tour -- five stadiums in five days. I'm off Dec. 29 to Jan. 2 and I'm considering doing a hockey rink tour. Maybe an NHL, U.S. College, major junior, AHL, ECHL tour. Send me ideas and places I should go.
My sense is the NHL will use the work stoppage war as a way to re-launch the NHL. Along with the major changes to the economics, I see big changes in rules, fan relations and media relations. I'm still crafting my Articles of ConFANeration for a better NHL.
It's time for Joe Thornton to start playing every game of his life like his last and to play with the insanity of a KORN mosh pit. He needs to realize the strength he has, and start taking the puck to the net hard. Keep skating, get the puck and bull his way to the net from everywhere on the ice. He's averaging two shots a game. That's pathetic. His goal should be two shots a period, six a game, 480 for the year. He had only 196 last year! He should expect himself to score 60-70 goals a year and that's no hyperbole. Get the puck behind the net and use your strength to get around the net and get shots! I can't figure out his hesitancy to be dominating. He's a great guy, a great player, with a great number, in a great city, with great fans. It's time for Joe to carry the torch. Right here. Right now. Ryan Malone is the first Pittsburgh product to play in the NHL. The Penguin rookie was born in Pittsburgh because his father, Greg, was a member of the Pittsburgh Penguins. I called Ryan on Monday, Dec. 1, which was his 24th birthday. He had just woken up from his game day nap as he prepared to face the Atlanta Thrashers in Pittsburgh.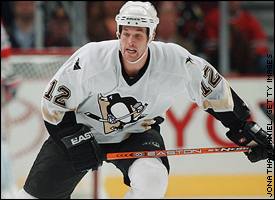 The young Penguins are establishing a strong foundation for future success.

No. 1: It's a game day. What have you done since the morning skate?
Malone: The first thing I do is head over to Olive Garden with a couple of the guys. I get the Chicken Alfredo with penne. Then I come back home to my one-bedroom apartment in downtown Pittsburgh and take a nap for about 90 minutes. After I'm done talking to you, I'm going to eat my rice here, jump in the shower, put on a good suit and head to the rink in a Ford Harley Davidson Truck.

The first F-150 Harley-Davidson pickup was the 2000-model extended cab. Ford built 8,200 and sold them all, fast. Dealers had ordered every one within five days. Ryan says he is getting a new ride soon.

No. 2: What's in your CD player right now?
Malone: Rob Zombie

The last concert Ryan saw was Dave Matthews Band.

No. 3: What are your most vivid memories of growing up with an NHL dad?
Malone: Always being around the rink, playing hockey, street hockey, knee hockey, whatever. Kelly Buchberger and I were talking the other day and he played lawn hockey with a whiffle ball, which sounds cool but I've never done.

Greg Malone played 11 seasons in the NHL (1976-87), scoring 191 goals and 501 points in 704 NHL games. He played seven seasons for the Penguins (1976-83) and is now in his 13th season as the Penguins head scout, overseeing all junior, college, high school and European scouting efforts. He has been part of the club's staff since 1988 and logs thousands of miles on the road each season in his quest for young prospects.

No. 4: How would you describe Ed Olcyzk's NHL head coaching style?
Malone: Definitely as a teacher, especially with all the assistants. They are very hands on and emphasize the little things. Every little thing helps.

On December 29th, 1988 Ed Olczyk and Gary Leeman scored goals for the Maple Leafs four seconds apart against the Quebec Nordiques. Ryan was nine.

No. 5: Who is the funniest guy on the team?
Malone: Marc Bergevin. Earlier in the year I wore a white hat to practice and while I was on the ice doing extra shooting after practice, he took my hat and put it on the table where the team has us sign things and when I got back into the locker room my hat was signed by the entire team. I got him back though. I filled the shaft of his sticks with water and taped them back up again. He didn't realize it until he got on the ice for practice. They were a LITTLE heavy. I shouldn't have told you that. He didn't know it was me.

I won't tell.

No. 6: Who's the hottest woman in the world right now?
Malone: Carmen Electra.

Ryan played four years at St. Cloud State. He uses Nike skates, Easton sticks and CCM helmets.

No. 7: What do you do with your paycheck when you get it?
Malone: Put it in the bank! I got to try to save up. I hope there is not a work stoppage, but you got to think like there will be. I'm trying to manage my money well, which I usually don't do a good job of. I have a two-way contract signed through next year, so I'll likely be in the AHL next year in Wilkes-Barre and at least be getting paid. Better than nothing.

It was Ryan's choice to wear the same number his dad did as a Penguin (No. 12).

No. 8: What call did Penguin broadcaster Mike Lang use when you scored your first NHL goal?
Malone: I haven't seen the tape yet. I would probably request, "I'LL BE COW KICKED!"

Do you think he uses his special calls during a moments of ecstasy?

Malone: (Laughter) I don't know!

Go eat your rice, dude.

Malone: OK.

Youth is king in the NHL. A strong 2003 draft class and the impending CBA storm have NHL teams thinking young and cheap. Economics aside, the NHL is blessed with a mosh pit full of real good young players. While many wonder how the league will survive when the long list of future Hall of Famers retire, I think Canada, USA Hockey and Europe are producing future legends to fill the void. Now if only Ecuador would start pulling their weight...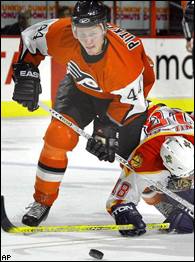 Joni Pitkanen leads Flyers defensemen and all rookies with a plus-10 rating.

1. Joni Pitkanen, D, Philadelphia Flyers: Tampa Bay can say all they want about Ruslan Fedotenko, but trading their 2002 No. 1 pick, which the world knew would be Joni Pitkanen, will go down as one of the worst in recent memory. Pitkanen, like Barret Jackman last year, is benefiting from beginning his career on a very good defensive team, but he has size and has shown great skill and confidence. He moves well and shoots well and will be the Flyers' best defenseman by the end of the season.

2. Jason King, C, Vancouver Canucks: Like my Nana, Jason King was born in Newfoundland. Unlike my Nana, Jason King is a Calder candidate. He knows where to go to score goals and has given the Canucks a second scoring line. Of course the coolest thing about Jason King is that he can say he plays with Swedish twins.

3. Patrice Bergeron, C, Boston Bruins: The Bruins second-round pick last summer. He's the youngest player in the NHL and will be 18 the entire season, even if the Bruins win the Stanley Cup. He is poised and smart, and in this athletic day and age if you are poised and smart you are way ahead of the curve. Throw in some talent and you got something. Bergeron is living with Martin Lapointe and his family this season.

4. Eric Staal, C, Carolina Hurricanes: Good size, good student, good hands, great future and the Hurricanes should get a good player for him to play with in next year's draft because it doesn't look like the Hurricanes are going to make the playoffs again.

5. Marc-Andre Fleury, G, Pittsburgh Penguins: His save percentage is still well over .900 and at 18 years old, on that team, that's good enough to make our first Calder list.

Trent Hunter, Matthew Lombardi, Brett McLean and Michael Ryder are all pushing Fleury.

Life of Podes
New to the segment? Shjon Podein is checking in for the first time this season since signing to play for Vaxjo in Sweden. Check the last installment:

My first AHL playoff in Cape Breton, we were playing against the St. John's Maple Leafs. It was the first game and I was really pumped up. I was so excited I took a run behind the net at Kevin McClelland, an old tough guy for many years.

As I started skating to backcheck, I heard him yelling "Hey, Podine," -- he pronounced it po-DINE, not the correct po-DEEN -- "you %*#/ing commie! Let's go!" So, as I skated to get away I yelled, "It's Podeeeeen, and not a $*#/in' chance!"

I'll check in again soon. And by the way, John, you still owe me child support from September, see ya.

Hi John!
The beloved Podes' stats news this week is more fun than the last time (few points, game misconduct). His team Växjö has only played two games, but they won both. Podes scored the game winner when they shut out Arboga 2-0 and was named best player for Växjö after a 2-1 victory over Bofors. So after 13 games, Podes has ten points (5-5-10), has fired 32 shots on goal and is plus-6.
Thanks,
Daniel Elmå
Umeå, Sweden
---
Hey John,
I love the section you are reserving for Podes every column. I met Shjon in my 6th grade DARE program, while he played for the Flyers, and my heart still flutters when I think of that! I love the column and my dream is to be included in it some week!
Thanks!
Emily C.
Cherry Hill, N.J.
Dream songs: I like "Dreamin'" by Kenny Nolan, "Dream Evil" by Dio, "Dream Weaver" by Gary Wright, "Dreams" by Van Halen, "Dream Lover" by Bobby Darin, "Dream Lover" by Mariah Carey (different song), "All I Have to Do Is Dream" by the Everly Brothers, "Dreamin'" by Vanessa Williams, "Daydream Believer" by Neil Diamond and The Monkees, "Bad Dream" by the Violent Femmes, "Dreamin'" by OMD, "California Dreamin'" by the Mamas and the Papas, "The Blues Is Just A Bad Dream" by James Taylor, "Ain't That Just Like A Dream" by Tim McGraw, "I Can Dream About You" by Dan Hartman.
---
Hey John!
Last night I caught a stick near the eye in my team's roller hockey game and it required stitches, but my teammates rallied to come back and beat Temple. Tonight I'm going to see The White Stripes. Is there anything better than winning a hockey game, getting hockey stitches, and going to see The White Stripes, all in the same 24-hour period?
Matthew McDermott
Ursinus College
Collegeville, Pa.
Yes. Winning a hockey game, taking a pina colada hot tub with the Carolina Hurricane cheerleaders (with their cowboy hats on), seeing The White Stripes, and bowls and bowls of watermelon Jolly Ranchers. Think bigger, Matt. Don't let Collegeville keep you down, brutha.
---
Montreal's José Théodore should benefit from team's improved defense.
John,
I loved Jose Theodore's tuque in the Heritage Classic! My girlfriend, Danielle, wants to know what the heck would have happened if a puck had been deflected away from the net by the little pompon on the top? Would we see a wave of netminders with tuques and oversized pompons? And what of the inevitable crackdown on the size of them? Would Sean Burke come out with a Stetson? Jean-Sebastien Giguere in one of those reggae hats?
Tony Lake
Burbank, Calif.
Garth Snow attempted to play goal for the Islanders last week with a giant yellow afro that had two ceiling fans nailed to the sides. The NHL had no problem with the "protective equipment" until they saw the extension cord strewn with Christmas lights that ran along the goal line. And the Frosty the Snowman next to each post.
---
John --
I see where you're going with the Ice Bowl idea! Two years ago I was a member of the Michigan State University Spartan Marching Band drumline (winner of many national drumline competitions) when we played at the Cold War held at Spartan Stadium, to break the record of highest attendance at a collegiate hockey game while watching MSU fight to a tie with Michigan. The event was a complete success, and I'm proud to say that I participated in it. But now, imagine if the Red Wings played the Leafs or the Blackhawks. It's too exciting for me to handle! Please pull some strings for us and influence the important people that you know to get this done for us. ;)
A loyal reader,
Damian Bundschuh
East Lansing, Mich.
While taking our weekly steam at the Brooklyn Gold's Gym, Gary Bettman told me the NHL is looking into an outdoor U.S. game.
---
John,
I don't think you'll find one person in Philly who did not love Tim Kerr. A great player, great team, tragic events (family and career). It was good to find out what he's been up to. Thanks.
John Venditti
DO3 - Mission Operations Procedures Branch
Johnson Space Center
In 1990, Tim Kerr's wife died from complications after giving birth. As we wrote last week, he's remarried and has five kids.
---
John,
To correct Dan Harnett from NYC on "Sunday Morning Save Percentage," the real formula is as follows: number of minutes needed to get out of the girl's apartment after realizing where you are, divided by the number of drinks you needed before going home with her on Saturday night. Also, you can keep a plus-minus rating if you want (add a +1 if she was attractive, and a -1 if she wasn't).
Cheers,
Travis
NYC
Ladies, feel free to give your perspective on Sunday Morning Save Percentage.
---
Hello John,
As a Georgia native, there are two things from this state, more specifically Atlanta, that I love, the Thrashers and the band Injected; they both rawk!! So John, now that we are two months into the season and the Thrashers have managed to maintain a high level of play, despite the injuries to Dany Heatley and Marc Savard, do you think the Thrashers make the playoffs?
Jonathan Stokes
Kennesaw, Ga.
I'm going to say no, Jonathan. They still aren't good enough defensively. In this era, teams that survive the six-month regular season are generally good defensive teams -- UNLESS, they score a bunch of goals. The Thrashers are on pace to score about 240 goals. If they can keep that pace, they will be in the hunt for the playoffs in February. If they are, they will likely get Dany Heatly back, and GM Don Waddell will trade for a defenseman or two.
---
John,
What CDs are in your car right now?
Brian
Philly
Go Flyers!
I'm playing the heck out of Fountains of Wayne "Welcome Interstate Managers," especially the songs "Hackensack" and "Valley Winter Song." I also have the greatest hits compilations of Lenny Kravitz, Stone Temple Pilots, and REM, Cowboy Mouth's "Are You With Me," the new OutKast, and Nat King Cole's "A Christmas Song," released in 1961 and still the best Christmas album of all time.
---
John,
Are Robert Esche and Jeff Hackett this good or is it Hitch's system?
James Maenner
Philly
I'm convinced a Ken Hitchcock coached team could go .500 with a plate of bruschetta in net.
---
Hey Bucci-
Here's one you will love... Your favorite fan/soldier-stuck-in-Kuwait was home for two weeks on R&R. I got back to Kuwait the Saturday of the Outdoor Game (of course). Have no fear, a friend TiVo-ed the game and is mailing it over to me soon!
Brian
Camp Victory, Kuwait
John Buccigross is the host of NHL 2Night, which airs on ESPN2. His e-mail address -- for questions, comments or cross-checks -- is john.buccigross@espn.com.
SportsCenter anchor
John Buccigross joined ESPN as an anchor in October 1996. He currently can be seen as an anchor on "SportsCenter." Buccigross frequently contributes to ESPN.com during the season.
SPONSORED HEADLINES
MORE NHL HEADLINES
MOST SENT STORIES ON ESPN.COM
EDITORS' PICKS
Vladimir Tarasenko leads the Blues into San Jose in the most intriguing game of the weekend.
Melrose

Who's trending up and down in the NHL this week? We're here to tell you who's hot and not.
Strang »

Clint Malarchuk: Let me tell you about the first time I was supposed to die.
Book excerpt »