Bringing bracket fever to the rinks
Updated:
March 17, 2006, 6:59 PM ET
By
John Buccigross
| Special to ESPN.com
First Period -- Busting The Brackets

It's Bracket Week in the United States. And while the Super Bowl might be the biggest sporting event here, the NCAA Tournament is unique with the interactive quality of the brackets.
All week, while millions of Americans are on the clock, they will be burning wood in their brains, trying to figure out if UConn will win it all (like every one says) or if the Huskies will stumble with their lack of a go-to guy. I'm picking Kansas.
SHOT OF THE WEEK
Every week, we will present an NHL photo and I'll provide a caption. E-mail me your suggestions (include your name and hometown/state) and next week we will use the best ones and provide a new photo.

LAST WEEK:

Midshift, Todd Bertuzzi is traded to the Rangers for Al Montoya.
Your submissions:
Todd Bertuzzi tries out for the part of Ned Braden in the 2006 remake of Slap Shot.
-- Marc Steiber, Madison, Wisc.
After a frustrating stint as an Albany River Rat, Alexander Mogilny calls his first penalty as a referee in Vancouver.
-- Elvis Lemieux, Seattle
"OK, just one more time. Over the jersey or under the jersey?"
-- Elizabeth Kraatz, Leesburg, Va.
Seen as a cheap imitation of Brandi Chastain, Todd Bertuzzi is escorted off after his post-goal celebration.
-- Howard Freedland, Jupiter, Fla.
"I'm too sexy for my shirt. Too sexy it hurts."
-- Matt, Dayton, Ohio
"Man, these training bras are murder!"
Jeff Neistein, Woodland Hills, Calif.
THIS WEEK:

"Here in the dirty south, we are five-hole haters!"
What about the opening round of the NHL tournament? We are still 20 games away from the end of the long regular season, but I'm going to take a stab at how the initial bracket might look with the possible opening-round games.
WESTERN CONFERENCE
1
VS. 8
GAME: Detroit vs. Vancouver. Detroit will win the Western Conference and play Vancouver in the first round. This is a good matchup for the Red Wings. A good way to start the postseason.
2
VS. 7
GAME: Dallas vs. Anaheim. This is an interesting matchup because both are good defensive teams with not a lot of prolific goal scoring up front. Both have good talent up front, but nothing that individually stands out. This series should go seven games with low scoring and multiple overtimes. I tend to give the Stars the edge.
3
VS. 6
GAME: Calgary vs. San Jose. Calgary will win the Northwest Division and play San Jose. This is not a good matchup for Calgary. San Jose is a much better offensive team and Miikka Kiprusoff will have to win the series. Jarome Iginla's resolve should be enough to win all of Calgary's home games, but it will be tough to win in San Jose. This is the best series in the West.
4
VS. 5
GAME: Nashville vs. Colorado. This is a nightmare matchup for Colorado. Nashville is a great skating team, which has a really good goalie, making it a tough road game for opponents. This series is good news for Nashville and bad news for Colorado.
EASTERN CONFERENCE
1
VS. 8
GAME: Ottawa vs. Atlanta. Erik Cole's injury costs the Hurricanes the No. 1 seed and the Senators win the East. Ottawa then plays Atlanta, which knocks Tampa Bay out of the final playoff spot. The Thrashers will enter the postseason on a roll, and if the Senators don't show good goaltending, they could be in trouble. Atlanta might have one of the best goalies in the tournament by the time April rolls around.
2
VS. 7
GAME: Carolina vs. Montreal. If Cole didn't get hurt, I would have picked the Hurricanes to reach the Stanley Cup finals. He is such a playoff creature. Now it will be tough. Still, Montreal is a good matchup for the Canes, and I see no reason why they shouldn't win in six.
3
VS. 6
GAME: Philadelphia vs. New Jersey. The Flyers will get their stuff together and win the division even though the Rangers really deserve it. This is a nightmare game for any team. The Devils are so scary with Martin Brodeur, but the Flyers should win this series.
4
VS. 5
GAME: N.Y. Rangers vs. Buffalo. Eastern New York vs. Western New York. The Rangers' defense will have a hard time with all that skill of the Sabres, but they have Henrik Lundqvist. The gold medal-winning goalie playing against the should-have-been goalie for Team USA. A seven-game classic.
Second Period -- The Honor Is Ours

This Monday, the Los Angeles Kings will give their fans a chance to say thanks and to recognize a man who epitomized what every fan wants out of their team's players: passion, dedication, toughness, fearlessness. Honoring Adam Deadmarsh is not about statistics or accomplishments, it's about ideals and ethics. That is what he stood for.
Everyone feels awful about the way his career ended (post-concussion syndrome), and this is just a way to make that ending special. The ceremony should be no more than eight minutes prior to the game. The Kings are going to introduce Adam and his family, present gifts from both the Kings and Avalanche, show a short tribute video and let Adam make a brief speech.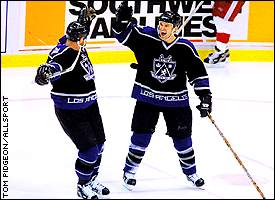 AllsportAdam Deadmarsh played in 567 NHL games and scored 184 goals.
Although the Los Angeles Kings' accomplishments are not like some of the more revered franchises in the NHL, they are trying to pay more attention to their history and recognize the people who helped define it. Deadmarsh is one of those people. I talked with him by phone from his private Idaho.
Question from Bucci: How do you feel?
Answer from Deadmarsh: Pretty good. There are times when I still wonder if there are still things going on up there. Minor things. The stuff that I do notice now does not really affect my life. I'm thankful for that. I got hurt three years ago and my body still tells me I'm not 100 percent.
(Adam Deadmarsh played in 567 NHL games and scored 184 goals.)
Q: What is the plan for the rest of your life?
A: I wish I could answer that. I've put in a lot of time thinking about it, but it's tough. I think something to do with hockey because that's really all I know. I never went to college, so hockey is what I know, and somehow, I'm going to stay in hockey. I'm in debt to the game.
(Adam turns 31 May 10, the same birthday as Bono and Chris Berman.)
Q: What other things get your blood flowing?
A: I love to fish, hunt, golf, snowmobile, all that stuff.
(Adam was selected by the Quebec Nordiques with the 14th overall pick of the 1993 draft. He played four seasons in the WHL for the Portland Winter Hawks.)
Q: What was your reaction when you heard the Kings were going to honor you before the game against the Avalanche?
A: I was surprised. By no means do I have any great achievements, record-wise. But I am very honored. I couldn't have picked two better places to play. I'm really excited about having all my friends and family there. It's kind of like our last chance at being together. I'm just excited to be at a hockey game! I just want to relate to the fans that it's an honor to be there, and what it all boils down to is all about the fans. Without them, there wouldn't be an NHL. I just found out today I have to talk! It will be real short. It will be an emotional time and I don't speak well when I'm choked up.
("Deader" played 118 games for the Kings and 471 for the Avalanche. His name is on the Stanley Cup. He had 17 points in 22 games for the Avs in their 1996 Stanley Cup run.)
Q: How difficult is it for you, like Cam Neely, to be retired at age 31? Do you get emotional, depressed?
A: To be honest, it is very hard. I loved to play the game and I sure do miss it. Boy, do I miss it. To end prematurely as it did is a tough pill to swallow. But there is a line that has to be drawn somewhere and that's just the way it is. At least I got to play nine years. I couldn't even watch a game on TV earlier in the season. Now, if I'm switching around and there is a game on OLN, it's hard for me to turn the channel.
(Adam has two children: 5-year-old twin girls.)
Q: In my basement right now is a jar of Adam Deadmarsh pickle pucks that were sent to me by someone in Colorado about six years ago. Should I open them and eat one?
A: You let me know how they are. They were good. I dropped a few of those one time, so you better empty that jar out and clean it. You don't want to spill a 6-year-old jar of pickles. Trust me.
Third Period -- A Letter from Podes

As we reported here last week, Shjon Podein, Esq., retired from professional hockey after playing this winter in Japan. I received this e-mail last week:
You Can Quote Me
"It's very sad. You don't find guys like this. The ovation he got from the fans -- my God. It's too late, but I'm sure he heard it all."
-- Former Montreal Canadien Dickie Moore speaking about the death and jersey retirement ceremony of Bernie "Boom Boom" Geoffrion. Geoffrion, a two-time NHL scoring champion and six-time Stanley Cup winner, died of stomach cancer early Saturday morning in Atlanta, on the day his No. 5 sweater was retired before the Canadiens' win over the New York Rangers.
"Well buddy, it's been a great run. I just finished the final game in Sapporo, Japan, and started thinking of the last 16 years. First off, I played 16 years longer than I thought I would. So, right off the bat, I feel like I won the lottery. I'm not as sad as I thought I would be. I played longer than I actually wanted to. Hockey kept opening doors that allowed me to experience a life that I couldn't have had I hung up the blades earlier. Life has been good, and in the last 16 years, I've learned a few things I'd like to pass on to my hockey playing brethren.
1. Play as long as you can because you can always work later.
2. Hockey is the best game in the world, so enjoy every day you're playing because it does end sooner than you think.
3. Learn from veterans who have great character. I owe a lot of thanks, and Craig MacTavish leads that list.
4. Don't just enjoy yourself on the ice but, as important, off the ice, as well.
5. Take pride in being a good teammate. Someone the other guys can count on.
6. The true character of an individual is never tested when things are going well, but tested the most when things are at their worst.
7. There is only one thing you can control every morning you wake up: your attitude.
"I remember playing in Cape Breton, Nova Scotia, back in 1990. After practice, I was talking with Wade Campbell. Wade was 32 at the time, and in my mind, an old, old man. He said, 'Shjon, enjoy it now because before you know it, it will be all over.' As I walked away, I remember then thinking, 'Whatever, old man.'
"Now, just turning 38 and wondering where the last 16 years went, I see Wade was wiser far beyond what that 22-year-old kid could fathom. Pro hockey is done, and now I'm excited to enjoy the world's greatest game from the other side of the glass. Now, maybe I'll be the one yelling at that slow left winger. How they must time his skating with a calendar. Sniff, sniff. Sorry about that, but that Philly fan will now know I have feelings, too.
"Enjoy life John, and I'll see you at the rink."
The Mother of All Mailbags

Hey Bucci,
Sometimes trivial things call for a pointless rant. Can someone please inform the media, broadcasters and other offenders that the correct term is ALTERNATE captain, not ASSISTANT captain, or even (yes, I actually heard this one once or twice) ASSOCIATE captain? I won't name names, but even some of the big shots in the business are guilty of this.
While at first glance the terms may seem interchangeable, if I'm interpreting the rules correctly, they're not. "Assistant" would imply one who is able to assist the captain in his duties, but if the captain is in uniform for the game, he alone may talk to the officials. Only in his absence may the alternate captain(s) talk to the officials, correct? In any case, it's just one more part of the tradition of the game going by the wayside.
I know it's nitpicking, but it just pains me to hear things like this. Don't even get me started on "offsideS"! (shakes head)
Let's Go Rangers!
Chris
Alternate Captain, not assistant captain. Check.
Offside not offsides. Check.
Hakan Loob not Jiffy Lube. Check.
---
John,
Jussi Jokinen is now 9-for-9 in the shootout. Can he please get some love in your mailbag?
BK
Do Jussi what I see?
Jussi are so beautiful to me
Blue Bayoussi
Jussi are the sunshine of my life
Will Jussi love me tomorrow?
Close to Jussi
If Jussi don't know me by now
Jussi so vain
I got Jussi babe
Jussi really got me
Every breath Jussi take
Jussi better, Jussi better, Jussi bet.
---
Hey John,
Just wondering what you think about Brooks Orpik's three-game suspension for breaking Erik Cole's neck?
Drew
Raleigh, N.C.
Hockey is such a fast game. There will be accidents. In a split second, a slight turn can make a shoulder-to-shoulder hit turn into a hit from behind. Erik Cole turned ever slow slightly at the last second, and a player, who has slow reflexes and collects NHL paychecks because of his free-safety-hit-first mind-set, severely injured the Hurricanes winger with an illegal and dangerous hit.
It's hard to hold up in sports, especially on ice. Hitting from behind must be a reflex that is taken out of the game, but it will happen from time to time. The game is too fast. The camera angles used on television make it all look so slow and methodical. Let me tell you, it is not. The game is not like walking through an empty mall in Asheville, N.C., on a Tuesday. It's like riding a New York City subway at 5 p.m. on a Friday night. Players can't see things as we see them on TV. Especially in slow motion. That being said, three games does seem a bit light. Maybe five games would have been better.
---
Dear John,
Having three children of my own, nothing warms my heart more than seeing another parent have their priorities straight. Reading your piece this week about your son, Jackson, scoring his first goal brought me to tears.
It brings to mind how many times I wept silently while watching my children do something. Anything. Huge accomplishments or random simple little things. Big and small. Learning to ride bicycles, getting their first little league hit, dancing their first dance recital. Taking first steps. Going potty. You name it. It's all great and it's even greater when someone can describe in words what a beautiful thing parenthood is.
There will be so many more first goals in your children's lives. Cherish them all.
Thank you,
Eric Chaffer
---
John,
Congratulations to your son on scoring his first goal. It's a moment he'll never forget. I still remember my first in hockey; redirect over the goalie's right pad on a shot from the point. Even better that you were there to experience it with him.
Shaun Phillips
Anthropology Graduate Student
Michigan State University
Even in this joyful life, there is a sense of loss as a parent. Jackson will never be a 6-year-old, first-year mite again. That is already depressing.
It was an enjoyable week reading all the e-mails from around the world on either you scoring your first goal or watching your child score his or hers. Thanks for sharing.
---
John,
I had a quick question. How come back in December, when Darcy Tucker hit Cam Janssen of the Devils, in the head twice with his helmet, he was only fined $2,500 and not suspended, while Evgeny Artyukhin is suspended for two games?
Tucker did receive a match penalty, but the league did not penalize him any more. I find it rather suspicious that the NHL would not suspend one of their "boys" in Toronto, but a Russian playing in Tampa would get suspended for the same action.
George
I would say Artyukhin's actions were a shade more wrong than Tucker's. Tucker was engaged in a fight, where animal instincts of survival and temporary insanity must take over to adequately defend and conquer. Artyukhin's "Three Stooges" move was more calculated, however hilarious it was. That being said, it was just a love tap and one game would have been enough. I also would have suspended Tucker one game, as well.
---
Bucci,
Wisconsin is your pick to win the Frozen Four? Have you actually seen the Badgers play? They haven't played like a team since Thanksgiving. Unless you were talking about the women's hockey team.
Tim Wagner
Section 212, Row C, Seat 8 at the Kohl Center. I was shocked by all the e-mail furor in my Inbox after picking the Badgers to win it all. Let me get this straight, Tim. The Badgers begin 19-2-2, then lose a couple of close games to Denver and mighty Minnesota. Then, they win three out of four. They have a stinker of a weekend playing an average Minnesota State team, giving up 13 goals in two games. The Badgers refocus and win four in a row, giving up two goals in four games. And you make them sound like they are a bucket of vomit warming in the Madison summer sun? Where is the great Midwest loyalty? This is not the time for negative thinking. Turn your tickets in. Your negative vibe will only hurt Wisconsin's chances. The Badgers are better off having Wolf Blitzer in your seat taking a nap than your doubtful karma. C'mon Tim, you're better than that!
---
Hey John,
As a Wings fan, the name of Adam Oates conjures up nothing but pain. When Jimmy D traded away Oates and Paul MacLean for Bernie Federko and Tony McKegney, it was like being stabbed. Oates went on to greatness and Federko spent the season sleepwalking.
No doubt Federko was upset at being sent out of town when he had been hoping to retire a Blue. For years, I would look back on that trade and think to myself that our top three centers could have been Steve Yzerman, Sergei Fedorov and Oates. Who knows what might have happened. Of course, later on, we added men like Kris Draper (only $1!) and Igor Larionov (bye bye Keith Primeau) and we won three Cups. All in all, not bad the way things turned out. Still, who knows?
Keep up the good work,
David Kramer
---
Bucci,
In hindsight, did the Avalanche keep the wrong two "big guns"? Do you think if they had kept Foote and Forsberg (plus extra cap room) instead of Sakic and Blake, would they'd be winning the Northwest? Do you see Sakic and Blake finishing their careers with the Avalanche?
Go Avs,
Bisco Hill
There is no way I would not have given Peter Forsberg the contract the Flyers gave him. I would have found a way. I would have handled Foote the same way the Avs did. Here's a fair deal to add millions to your net worth: $4.6 million this season for Adam Foote? Rob Blake, who turns 37 later this year, is obviously a bit overpaid at $6.3 million, but he is still a top-notch defenseman that makes the Avs better. Still, the Avs couldn't buy Blake out and get nothing; plus, his salary is too hefty for a trade. Blake is one of the nicest, coolest dudes in the NHL and I'm glad he makes that kind of money. I like it when likable people make mad bank because I know he does cool and generous things with that coin.
Joe Sakic is Mr. Avalanche. His value is insurmountable. However, salary caps take all sentimentality out of sports. Sakic makes $6.6 million this season and he is 27th in scoring. And he is paid primarily to score. The Jose Theodore trade was the first step in a major overhaul in Denver.
---
John,
A couple of things I wanted to point out in the ratings argument. The NFL, NASCAR, and golf all have schedules that favor higher ratings. Football games are every Sunday in the afternoon, when most people are home and able to watch TV. The same is true for NASCAR and golf, especially since golf is televised on the weekends after the cut.
Hockey ratings should be compared to the NBA and MLB to get a true test of how well it stands up. I'm sure if you put hockey on once a week on a Sunday around 1 p.m., ratings would soar!
Stephen
Saranac Lake, N.Y.
Good arguments, Stephen. But I can still tell you that when ESPN had exclusive games on two years ago, the games available only on ESPN (and not in local markets) had a showing of around 800,000 viewers for a regular-season game. The NBA almost always gets over a million, and the really big games can get close to two million. A Red Sox-Yankees Sunday night game can get 3.5 million in June. The exciting thing about the NHL, though, is it clearly has room to grow. Smart, creative planning, and execution, can make a difference. I have no doubt.
---
John,
With the emergence of Henrik Lundqvist, what do you see the Rangers doing with Al Montoya?
Chris Miller
Washington, DC
University of Michigan Alumnus
Great question. Montoya is only 21. He has a 19-5 record and .910 save percentage for the Hartford Wolf Pack in the AHL. If he continues to develop and is considered a franchise goalie, the Rangers will trade him for something the organization desperately needs: scoring. I can't imagine Henrik Lundqvist not being the Rangers' goalie for the next 10 years. If that's the case, and Montoya develops into a clear-cut starter, the Rangers owe it to Montoya to trade him. They need to strengthen any weaknesses they have.
---
John,
In your estimation, is Joe Sakic HOF worthy? Two Cups and a Smythe, Hart, Bing and a Bud Light Plus/Minus to his name. Seven 30-plus, five 40-plus and two 50-plus goal-scoring regular seasons, three 100-plus-point seasons, career average well over a point per game. He will end this season with 650 total goals & and is an all-around decent guy. Playing the homer for a minute, I think he deserves it when he is done.
Eric
Ft. Collins, Colo.
It's been fun studying the careers of former NHL players and estimating whether they pass my Hall of Fame standards, which are, admittedly, lower than most. This one is no fun, Eric, because it is too easy. What Mike Mills is to REM, Joe Sakic is to the Avs. They are both Hall of Famers.
John Buccigross' e-mail address -- for questions, comments or cross-checks -- is john.buccigross@espn.com.
SportsCenter anchor
John Buccigross joined ESPN as an anchor in October 1996. He currently can be seen as an anchor on "SportsCenter." Buccigross frequently contributes to ESPN.com during the season.
EDITORS' PICKS
LeBrun: Jason Spezza says Stars' offense could be "headache" for foes.
Blog »

Custance: The Bruins are still searching for the right combinations in their top six.
Blog

The Wild as a whole and Adam Henrique in particular are ready to break out in 2014-15.
Burnside »