Looking for other candidates to follow Pat Quinn into the hockey unemployment line? Here's a look at other coaches who are on the bubble:
Michel Therrien -- Pittsburgh Penguins
Therrien didn't earn many friends when he ran roughshod over the players after taking over for Ed Olczyk. It would be a major surprise if the new GM in Pittsburgh didn't look elsewhere for a guy with a little more finesse to handle this young squad.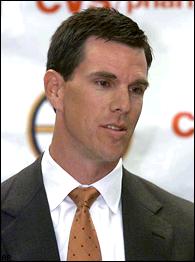 APBruins coach Mike Sullivan might not be invited back for another season in Boston.
Marc Crawford -- Vancouver Canucks
Let's put it this way. There's a 50-50 chance Crawford will get the ax after the talented Canucks nose-dived out of the playoffs for the first time since 2000, but there's a 100 percent chance either Crawford or Todd Bertuzzi will be gone by the fall. And since it's more difficult to move a big, overpaid, underachieving forward, Crawford better get the bags packed. Like Quinn, Crawford has good hockey smarts and loves an up-tempo, puck-possession game. If he does take the fall for a splintered dressing room and injuries to most of his defensive corps, Crawford might look pretty darned good sending Crosby and company over the boards in Pittsburgh.
Mike Sullivan -- Boston Bruins
The problems in Boston seemed to be more of a personnel nature when the Bruins started the season looking like conference challengers and ended up in the draft lottery with a lot of guys not pulling their weight. Still, the new GM will likely be looking for new blood and it figures Sullivan won't get an invitation back to one of the league's strangest franchises.
Mike Kitchen -- St. Louis Blues
You've got to feel for Kitchen, who got his first head coaching job at the expense of good buddy Joel Quenneville late in the 2003-04 season. Kitchen then had to wait out the lockout to hold his first training camp and got saddled with a lame-duck team waiting for a new owner. Opposing coaches will tell you the Blues were always well prepared and difficult to play against in spite of a dearth of talent. Kitchen may get a second chance in St. Louis because he knows the young players so well. If not, he'll get another chance somewhere, likely with a young, emerging team.
Brad Shaw -- New York Islanders
The Islanders did well to hang around the periphery of the playoff race after Steve Stirling was jettisoned by outgoing GM Mike Milbury. But whichever GM holds his breath and takes over one of the wackiest teams in the league, the Islanders will want someone with a more impressive résumé than Shaw's.
Trent Yawney -- Chicago Blackhawks
In the epicenter of complacency, GM Dale Tallon looks to be secure in his job even though he overpaid for most free agents and got little in return except an early start on the golf season. Coach Trent Yawney? Same boat.
Scott Burnside is an NHL writer for ESPN.com.
Hockey writer for ESPN.com
10 years at Toronto Sun, Windsor Star and National Post
Wrote best-selling true crime book "Deadly Innocence"
SPONSORED HEADLINES
MORE NHL HEADLINES
MOST SENT STORIES ON ESPN.COM
EDITORS' PICKS
CHI 4, TOR 0: The Blackhawks ripped into the suddenly slumping Leafs on Sunday night.
Recap »

Who's trending up and down in the NHL this week? We're here to tell you who's hot and not.
Strang »

Clint Malarchuk: Let me tell you about the first time I was supposed to die.
Book excerpt »