Why is there always a next time for Keenan?
So long Mike. But we won't be shedding any tears over your latest scorched-earth departure from yet another NHL team because it says here we haven't seen the last of Mike "Man of a Thousand Lives" Keenan.
The dust mites haven't yet settled in his old office in South Florida, the workmen are still trying to pry Keenan's nameplate off the door to make room for the one bearing Jacques Martin's name, and surely Keenan is plotting his next NHL challenge -- or is that victim?
You see, there's always a next time for Keenan because there's always an owner willing to read the 12-year-old press clippings from Keenan's one, true moment of glory and buzz his assistant excitedly and yell, "Get Keenan on the phone. He's our man."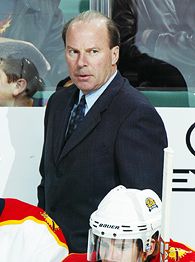 Eliot J. Schechter/Getty ImagesSince winning the Stanley Cup with the Rangers in 1994, Mike Keenan's teams have won just one playoff round.
Gee, has it really been a dozen years since Keenan coached the New York Rangers to the 1994 Stanley Cup? You'd think it was only yesterday given the opportunities extended to Keenan to both coach and manage NHL franchises into the ground.
Since 1994, Keenan managed Vancouver to a 25-43-14 record as interim GM and set the Blues back years with his turn as GM from 1994-1996. As a coach, Keenan's teams have won just one playoff round after that glorious run to the Cup in 1994.
Most recently Keenan was twice allowed to muck up the future of the Florida Panthers, once as coach and then, when he couldn't get that right, as general manager.
Who's next?
As much as the NHL has changed and gained traction where it looked like there was none two years ago, there remains the stain of owners who check whatever outside business acumen they possess at the arena door. Owners like the Panthers' Alan Cohen.
One imagines that Cohen must have watched what was happening in Long Island this summer and breathlessly called Islanders owner Charles Wang.
"Hey Charles, I like your style. Can you send me the Power Point presentation on NHL management structure you're using up there? I'd like to hire a backup goalie as a GM, but I don't really know anything about goaltending so I'm thinking of giving my coach the job. He doesn't have any management experience either. By the way, what kind of name is Luongo, anyway? It's all sounds like cold pasta to me. Anyway, I like the way you do things. Have your people call mine and we'll do South Beach."
How else to explain an owner who allows himself to be bamboozled into hiring Keenan as a coach, and then, after approving his dismissal, brings him back to manage the team a few months later? Makes you wonder how he made enough money to buy an NHL team in the first place. Makes you wonder when, or if, he'll ever understand that winners aren't named or appointed, they're built, and they're built by hiring good hockey people and allowing those people to do their jobs.
None of which has happened in South Florida to date.
Since a surprise appearance in the 1996 Stanley Cup finals, the Panthers have qualified for the playoffs just twice and were ousted in the first round both times.
Fans in Tampa were rewarded for suffering through the bad times with a Stanley Cup winner in 2004. Fans in South Florida are rewarded only with the nonsense that unfolded Sunday, the "resignation" of Keenan just days before the start of the Panthers' rookie camp.
Resignation? Ha, ha, ha.
If there was a resignation note, no doubt the handwriting looked curiously like Jacques Martin's scribble because this whole unsavory mess has Martin's fingerprints on it.
Sources close to the team told ESPN.com that Keenan was unhappy with the direction the Panthers were headed early last season and wanted to fire his longtime friend and associate.
The Panthers had talent and good goaltending, but Martin seemed unable or unwilling to adapt to the new, wide-open NHL and its emphasis on offense. Martin got wind of Keenan's plans and, because he enjoys a strong relationship with Cohen, was able to put the kibosh on his firing and essentially destroyed the pair's relationship, which dates back to their college days at St. Lawrence College.
"If I thought my GM had tried to get me fired at the first sign of trouble, I wouldn't be too happy," one of the sources told ESPN.com.
As for Martin's designs on a managerial job, as far back as the late 1990s he approached Ottawa GM Rick Dudley about taking over the vacant assistant GM role while maintaining his job as Ottawa head coach.
Dudley had already offered the job to Marshall Johnston, so the issue did not go any further, but another source said he was not surprised at all that Martin is now GM, especially given his close relationship with Cohen.
Fair enough. The NHL is rife with Byzantine office politics involving coaches, GMs, scouts and equipment managers, you name it.
But if there was this kind of unease between Keenan and Martin, why was the relationship allowed to continue through the crucial free agency period?
Why was Keenan allowed to trade franchise netminder Roberto Luongo for Todd Bertuzzi, a player who has yet to regain his form following his infamous attack on Steve Moore in March 2004, and mostly unproven young netminder Alex Auld?
Had Keenan been fired (sorry, he "resigned") at the end of last season, could Martin have locked Luongo into a long-term deal?
Impossible to say now, but the reality is the team has gambled its future on this trade.
Here's another element of the story.
Veteran forward Gary Roberts was unhappy with how Martin was handling the team last season and made his displeasure known, as he is wont to do, a source close to Keenan told ESPN.com. But when Roberts demanded to be traded back to Toronto in the offseason, Keenan would not acquiesce, not because he didn't think it made sense as a hockey deal, but because he wanted to send a message to the dressing room that Martin was in charge, the source said.
Keenan's message was that Roberts was going to have to live with Martin and it was important, especially for the young players in the room, to know that.
Of course, given the events of recent hours, maybe it was really Keenan's way of taking it to Martin.
So what now?
The Panthers are a team that, as a result of being bad for so long, has assembled a nice nucleus of young talent, including Jay Bouwmeester, captain Olli Jokinen, Nathan Horton, Stephen Weiss and Anthony Stewart.
But the corps of veterans that will play a crucial role in nurturing that young talent and pushing the Panthers into the playoff fray is not made up of Martin's players. Bertuzzi, Ed Belfour, Auld and Roberts are Keenan's boys.
Naturally, if the Panthers stumble, Martin will have a built-in excuse -- this was the team he inherited. But for a man who is now the only person in the NHL to hold the dual roles of coach and GM, Martin stands precariously close to becoming the man who won the battle but lost the war.
And Keenan?
Keenan will no doubt find his way into a broadcaster's chair somewhere. And at some point in the not-too-distant future, an owner who couldn't find his team's dressing room without a guide will become dissatisfied with his current coach or general manager and pick up a faded newspaper from June 1994 and put a call in to Keenan.
And the circus loop will begin anew.
Scott Burnside is the NHL writer for ESPN.com.
Hockey writer for ESPN.com
10 years at Toronto Sun, Windsor Star and National Post
Wrote best-selling true crime book "Deadly Innocence"
EDITORS' PICKS
The fall of Jimmy Howard will only help the rise of Petr Mrazek in Detroit's net. Who else is making noise in the push for the playoffs?
Strang »

With seven guys within five points of the league scoring lead, who better to break down the Art Ross Trophy race than The Great One.
LeBrun »

McDonald: The Bruins play the most important game of their season Saturday against the Rangers.
Story »
MOST SENT STORIES ON ESPN.COM