From 'world's best player' to one big question mark
There is already a sense of the past tense about Peter Forsberg.
At age 33, it is no longer news when Forsberg gets injured (as he was early in the Flyers' surprising 3-2 victory over the Islanders on Tuesday), but rather when he plays.
And when -- or if -- that might happen again is anyone's guess, especially Forsberg's.
"It's the same problem as before. It's just coming back," the slick center told Philadelphia reporters after he went to the dressing room with a groin pull after playing 6:59 of the first period Tuesday. "It's frustrating because it goes on and on. So we'll see what we can do. We'll try to figure it out. We're working and working and working.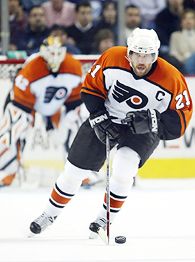 Jerome Davis/WireImage.comPeter Forsberg hasn't played a full NHL season since the 1995-96 campaign.
"If it is from the foot, I don't know, we're not 100 percent sure. Maybe that's why it's pulling. I can't say for sure. But maybe it's a regular groin pull. We'll see. I don't know how long I'm going to be out."
Some players in their twilight come in and out of the lineup, and it's difficult to tell the difference. When injuries and age start to take their toll, when the timing and the drive start to bleed out, simply being healthy enough to play often isn't enough anymore.
That's not the case with Forsberg, making his slow descent into injury-plagued curiosity all the more disheartening, not just for Flyers fans, but fans of the game.
For many years, Forsberg's name has often been accompanied by the tag line, "arguably the world's best player." It was a descriptor that was well-earned. He has won two Olympic gold medals with his beloved Swedish national team, including last year's emotional win in Torino, and was a member of two Stanley Cup-winning teams in Colorado (a wonky spleen did keep him out of action for the last part of the playoffs during the second Cup run in 2001).
Forsberg missed the next season recovering, but then miraculously returned for the playoffs and led all postseason scorers with 27 points in 20 games before the Avalanche were dispatched by Detroit in the Western Conference finals.
Even this season, as Forsberg has once again been hobbled by a degenerative foot problem and what he believes might be a groin problem related to the foot, the Flyers captain has been superlative when he's been healthy.
It was Forsberg who helped catapult the floundering Flyers to their first three-game winning streak of the season in recent days, recording back-to-back three-assist performances before leaving early in what would be their third successive win. In all, Forsberg has 23 points in 27 games this season, while the Flyers are 0-9-3 without him in the lineup.
All of which has made for fevered water-cooler discussion about where Forsberg might finish out the season and whose fortunes he might help reverse.
Despite the Flyers' insistence that they want to re-sign the potentially unrestricted free agent and that Forsberg has a no-trade clause in his contract, Forsberg's services would have been keenly sought-after by a host of suitors if anyone thought he'd be healthy enough to play in April or May or early June.
Regardless of whether Flyers GM Paul Holmgren really wants Forsberg back (it would undoubtedly be at a greatly reduced rate from his current $5.75 million price tag), it behooves him to try and restock his team for the future, and a healthy Forsberg would have commanded top dollar.
The list of teams seeking help down the middle is long. Atlanta, Calgary, the New York Rangers, Toronto and perhaps half a dozen other teams would have been interested in the asking price for a healthy Forsberg. And given last season's trade-deadline deals, it's a safe bet Forsberg would have commanded first-round picks and/or top prospects, at the very least.
He still might. But Tuesday's return to injury limbo will scare off some, if not many suitors, and drop Forsberg's value dramatically. It might also dramatically change the landscape come the end of the regular season.
A season ago, Carolina moved early to acquire Doug Weight, then considered the best available center-for-rent on the market. Although Weight was not instrumental to the Hurricanes' march to the Stanley Cup, he was part of the solution. More importantly, perhaps, he did not become part of someone else's arsenal, like the Ottawa Senators'.
This season, that dynamic would have been even more pronounced given Forsberg's pedigree. Having him would have been almost as important as keeping him from landing down the conference street or around the playoff corner.
So as time ticks away between now and the Feb. 27 trade deadline, teams will watch closely for medical reports out of Philadelphia. GMs will look at their young players and draft picks as they would a pile of poker chips. They'll look at Forsberg's statistics and see his 137 points in 139 playoff games, then they'll look again at the medical reports and try and figure out if Forsberg belongs more appropriately in the past, the present or the future.
Scott Burnside is the NHL writer for ESPN.com.
Hockey writer for ESPN.com
10 years at Toronto Sun, Windsor Star and National Post
Wrote best-selling true crime book "Deadly Innocence"
EDITORS' PICKS
BOS 5, SJ 3: The Bruins put on a furious third-period comeback and got a home win over the Sharks.
Recap »

Strang: Though Patrick Kane and Jonathan Toews are as different as players can get, they have found harmony in that balance.
Story »

Rumblings: Where will Marc-Andre Fleury and Johnny Boychuk be playing next season? Pierre LeBrun has all the details.
Blog »