Cleary out to make most of precious chance by Wings
DETROIT -- The history of the NHL is rife with stories of talented players who, propelled by unfulfilled expectation and shattered confidence or a lack of desire or commitment, plunge headlong into the void. Poof. Gone without a trace.
Daniel Cleary came to that edge. Put his skate blade over, even. And stepped back.
Talk to Cleary in the Detroit Red Wings' dressing room and it's not so much the words he uses to describe the experience but the look on his face that tell this story of transformation. Beneath the various cuts and bruises and scrapes that are the hazards of the trade the way it is plied by Cleary, is etched a look of understanding that these kinds of chances -- second chances, last chances maybe -- are not to be squandered but cherished.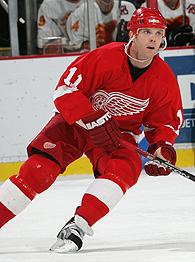 Bruce Bennett/Getty ImagesDetroit's Dan Cleary has gone from journeyman player to an early candidate for comeback player of the year in the NHL.
"It's been amazing," Cleary told ESPN.com before Saturday's 6-3 Wings victory over the
Chicago Blackhawks
. "I'm getting a chance to contribute, getting lots of ice time. It's been everything you could ask for. It's been truly amazing."
Through the first half of the season, Cleary has emerged as a leading comeback player of the year candidate. Through the team's first 45 games, Cleary's 18 goals lead all Wings players. How startling has his offensive output been? In Cleary's previous three NHL seasons, he had managed to score just 13 times in 202 games.
"I was drafted as a scorer. It was tough for me when I was younger, my first three or five years. I just couldn't find the offense that everybody, hockey pundits, expected of me," Cleary said.
The native of tiny Harbour Grace, Newfoundland and Labrador, tore up the Ontario Hockey League as a teen, once scoring 115 points in 64 regular-season games and adding 27 playoff points in 14 games. He was drafted 13th overall by the Blackhawks in 1997.
"He was Sidney Crosby before there was Sidney Crosby," Detroit GM Ken Holland told ESPN.com Saturday. In other words, a talented Eastern Canadian kid with oodles of offensive talent who was set to take the NHL by storm.
Except the storm never arrived.
Cleary bounced from Chicago to Edmonton to Phoenix.
"He kind of wore out his welcome in a couple of cities or teams got tired of waiting," Holland said.
During the lockout, Cleary played in Sweden and after the labor dispute ended he waited anxiously for weeks to see if the Coyotes would make him a qualifying offer. They didn't. Suddenly the one-time scoring prodigy appeared to be out of chances.
"It was like, well, where do I go from here?" he said.
Finally, after Red Wings defenseman Mathieu Schneider put in a good word for Cleary, Holland offered Cleary a tryout before the start of last season. No guarantees, just a chance.
Cleary, 28, moved in temporarily with Schneider and his family and worked like crazy through training camp.
"When I was younger, I didn't put everything into the game that you needed to," he said. "I just had a major lifestyle change, an attitude change. I don't take anything for granted anymore."
Cleary isn't just talking about change in the dressing room or on the ice, but life changes.
He is a new father, to 6-month-old Elle, and when Cleary talks about the support of his wife, Jelena, there is a heartfelt sincerity.
"I don't know where I'd be right now if it wasn't for her. I know I wouldn't be here, that's for sure," he said.
He recalls the uncertainty before last season.
"That sure was difficult," he said. "But we stuck together through it."
Cleary recalled the team flight from Toronto after the team's last preseason game before last season. One of his teammates had been called to the front of the plane to meet with Holland and coach Mike Babcock, who had cut Cleary from a national junior team years earlier because, in part, he didn't think Cleary was working hard enough. The player returned to his seat upset after learning he'd been sent to the minors. Then Cleary was told the two men wanted a word with him. The word was he'd made the team.
"I can't explain how it felt. When he told me, I couldn't wipe the smile off my face," Cleary said.
For the Wings, the move involved little risk.
Holland signed Cleary to a two-way contract, with the stipulation being that if the Wings sent him to the minors, he had the option of going to Europe to play.
"If he'd gone to Europe, it would have really been over," Holland said.
For Cleary, though, the move was a career-saver.
He spent most of last year working the fourth line, killing penalties and being a good citizen. Then, after Steve Yzerman retired and Brendan Shanahan went to New York, the door opened a little wider and Cleary stepped through.
"He was living on his skill," Holland said of Cleary's first NHL years.
He didn't understand, as is the case with many youngsters who come to the league with a spiffy junior resume and a boatload of expectations, that there's more to the equation than having good moves.
"Dan found out just in time," Holland said. "His commitment to conditioning and his defense have allowed him to have offense."
Although Cleary has scored just once in his last eight games, Holland said he is still an important part of the Wings' attack.
On Saturday, for instance, Cleary did not register a point but was standing on the edge of the crease blocking Chicago netminder Nikolai Khabibulin's view on Jason Williams' power-play goal in the second period that gave Detroit a 2-1 lead. Moments later Cleary was again on the doorstep for another Detroit power-play goal, this one by linemate Robert Lang. Late in the third period, Cleary was streaking to the front of the net as Williams scored what would turn out to be the winning goal, also on the power play.
"There have been a lot of ups and a lot of downs as well. It hasn't been all smooth sailing," Cleary said. "I think it's all made me a better player, but a better person, too."
How many players can say that about their own trip to the edge?
Scott Burnside is the NHL writer for ESPN.com.
Hockey writer for ESPN.com
10 years at Toronto Sun, Windsor Star and National Post
Wrote best-selling true crime book "Deadly Innocence"
SPONSORED HEADLINES
MORE NHL HEADLINES
MOST SENT STORIES ON ESPN.COM
EDITORS' PICKS
LeBrun: We predict who's in and who's out of the playoffs.
Story »

Strang: A dramatic shift in the landscape has left many enforcers being escorted out of the game.
Story »

Burnside: We tell you who will make a roster for the 2016 World Cup.
Predictions »