Owners need to size up Balsillie, reach collective stance on Preds
COLUMBUS, Ohio -- Jim Balsillie, rogue would-be owner or an important part of the National Hockey League's future?
Given the way the BlackBerry mogul has been demonized around the hockey world in recent weeks and months, isn't it about time the league's owners decided for themselves? Isn't it about time Nashville Predators owner Craig Leipold emerged from commissioner Gary Bettman's shadow and insisted the rest of the owners, or at least the NHL's executive committee, meet with Balsillie to find out exactly what his plans are for the Predators and why he's done so much to tick off so many hockey people?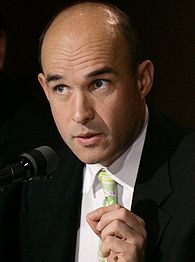 AP Photo/Carolyn Kaster,fileOutside of Craig Leipold, Jim Balsillie has yet to meet with any NHL owners about his potential Preds bid.
As time drags on, the situation threatens to become a major embarrassment for the NHL.
The Predators are determined to ice the most inexpensive team allowed under the collective-bargaining agreement, further enhancing the possibilities the team will fail to meet the necessary 14,000 average paid attendance threshold needed to keep the team in Nashville. This week, they traded the signing rights to captain Kimmo Timonen and Scott Hartnell to Philadelphia, and dealt all-star goalie Tomas Vokoun to Florida for draft picks on Friday.
A source familiar with the negotiations said Balsillie will honor the lease and keep the team in Nashville if that attendance threshold is met. But if the threshold is not met (and the further stripping away of the team's expensive players suggests it is going to be more difficult to attain), isn't it understandable for Balsillie to want to have assurances from the league that he can move the team to a location of his choosing, namely Hamilton, Ontario?
The implication has been Balsillie is a cowboy who is determined to force the NHL to let him into their ownership club on his terms and his terms alone. What is perhaps more accurate is Bettman is determined to make Balsillie an owner only on the commissioner's terms and the commissioner's terms alone. It is a position that may ultimately drive away the person who is now the only legitimate ownership possibility.
The Tennessean reported Saturday that William "Boots" Del Biaggio, who represented a group that reportedly made a $190-million offer for the Predators, is no longer interested in the team.
"That's Jim's deal now," Del Biaggio said told the newspaper. "I'm not going to get involved there."
A group of Nashville businessmen have also expressed interest in raising enough capital to try and buy the team, but they would have to borrow much of the money needed to make a legitimate offer, and that's not particularly attractive to the league.
So, all of a sudden, a safe fallback position for Leipold has been removed just as he further muddied the waters by announcing that he'd asked the NHL to stop considering Balsillie's enormous $238-million bid because there wasn't a binding offer and he was unaware Balsillie was going to ask the league to approve an application for relocation.
The initial implication was Balsillie was being shut out of the process for good -- and that may still happen. But a source close to Balsillie said Saturday the potential owner provided a draft copy of a binding agreement to purchase the Predators two-to-three weeks ago. The source also said Friday's move was made by Leipold in part to save on legal fees he was incurring by having the league examine the bid in the absence of a binding agreement.
The upshot of this high-stakes power struggle is Balsillie is willing to overpay for the Predators, but he will not overpay without knowing he will be able to move the team to Hamilton if the threshold isn't met. The strongly held opinion is Bettman would prefer the franchise move to Kansas City if it fails in Nashville; but Balsillie has no intention of spending almost a quarter of a billion dollars (well above market value) to be forced into a new market he didn't choose when Southern Ontario appears to be a fertile market for an NHL team.
The NHL's bylaws set out a number of criteria for relocating a franchise, chief among them having an arena and establishing there is a demand for tickets in the market in question. Balsillie did that by securing control of Copps Coliseum and collecting deposits for 14,000 season tickets in two days without any formal advertising campaign. There are also architectural drawings that show how the arena would be retrofit to meet league standards.
Yet the moves were seen by some in the hockey community as being over the top.
"Why can't he just do things like everyone else?" one top team official said Saturday.
It certainly has been embarrassing to Bettman, who made a show at the Stanley Cup finals by saying Balsillie told him he had no plans to move the team, a statement that was almost immediately thrown into question when Balsillie took control of the arena. But how else was Balsillie to satisfy that relocation criteria without making it public?
If Bettman is successful in driving Balsillie from the process, it's possible the Predators could exist in limbo indefinitely, losing money and playing to smaller and smaller crowds. Hardly an ideal situation for Leipold, one of Bettman's staunchest supporters, and hardly an ideal situation for owners who stand to see their own franchises devalued by the possibility of having the Predators twist in the wind well into this season.
"This is just a horrible situation for the league," the source said.
Since Balsillie began his quest for the Predators, he has yet to meet with any other owners. The source added there was a meeting set with the board of governors' executive committee for last Tuesday, when some of these issues might have at least been discussed, if not resolved, but it was canceled at Bettman's behest because two members couldn't attend. Meanwhile, a league source insisted there was no executive meeting planned.
So, we ask again, isn't it about time the league's owners insist that they hear from the would-be owner themselves? Isn't it?
Scott Burnside is the NHL writer for ESPN.com.
Hockey writer for ESPN.com
10 years at Toronto Sun, Windsor Star and National Post
Wrote best-selling true crime book "Deadly Innocence"
SPONSORED HEADLINES
MORE NHL HEADLINES
MOST SENT STORIES ON ESPN.COM
EDITORS' PICKS
All-Star Game: They've built their rosters. They've showed off theirs skills. Now it's time for the main event..
Burnside »

The NHL's stars are put their skills, creativity and humor to good use in Columbus.
Cross Checks »

Burnside: The World Cup of Hockey format is creating buzz.
Story »