Roenick exactly what the NHL needed
He was reckless -- perhaps misunderstood. But Jeremy Roenick was a dynamic and gritty player that the NHL needed.
There is something apropos about Jeremy Roenick retiring just five goals short of the magic 500 mark. He was a sometimes great player whose voice, in the end, resonated more than his game.
Not that this isn't the right time for Roenick to retire. In fact, it's likely about two years too late as far as the Los Angeles Kings and Phoenix Coyotes are concerned. But the history of the NHL is littered with players who hung around just a little bit too long for everyone's liking, so Roenick is no different in that regard.
To be sure, in his prime Roenick was exactly what the NHL needed. A cocky, witty, verbose American-born NHL star who said what he wanted off the ice and backed it up with gritty, sometimes inspired play on the ice.
"I think every sport needs those players. They're competitive and they have a magnetism to them that people really gravitate around," Ken Hitchcock, one of Roenick's former coaches, told ESPN.com Thursday.
Roenick could afford to get into verbal sparring matches with players like Patrick Roy, whom he taunted by suggesting Roy's jock strap was still somewhere in the rafters after scoring a playoff goal. Roy famously retorted that he couldn't hear anything Roenick said because he had his two Stanley Cup rings jammed in his ears.
It was golden stuff and it worked because it was two top players talking the talk and walking the walk.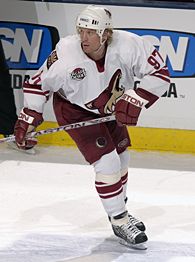 Richard C. Lewis/WireImage.comIn 18 NHL seasons, Jeremy Roenick advanced to the Stanley Cup finals just once -- in 1992 witth Chicago Blackhawks.
Most recently he walked the walk as a member of the
Philadelphia Flyers
. Roenick was the front man for a strong, dynamic Flyers team that advanced to the seventh game of the 2004 Eastern Conference finals, losing to eventual Stanley Cup champion Tampa Bay.
"He was a very, very competitive guy. He really put his body on the line a lot and played very reckless and you appreciated that," said Hitchcock, who believes Roenick, at least in Philadelphia, was a bit misunderstood. "He had very, very strong opinions about everything."
On a veteran team like the one in Philadelphia, that was OK because his teammates could accept that he was talkative but still giving it all on the ice.
"He was a guy that because of those opinions that he had, made you work very closely with him to make sure his opinions didn't dominate everything," Hitchcock explained.
During that 2004 playoff run -- Roenick's last good shot at winning his first Stanley Cup ring -- Roenick scored an emotional overtime goal in Toronto to eliminate the Leafs in the second round of the playoffs.
During that series, Hitchcock recalled Roenick embracing the Flyers' game plan for knocking Toronto captain Mats Sundin off his game physically.
"He was the first guy to go and do it," Hitchcock said. Sort of.
"He missed and hit our own player, Eric Desjardins," Hitchcock recalled with a laugh.
Almost from the beginning, Roenick was a treat for reporters who could always count on him to provide sometimes thoughtful, more often than not over-the-top commentary on everything from fashion to fighting, from singing to dancing.
Selected by Chicago with the eighth overall pick in the 1988 draft, Roenick will finish third in goals (495), fifth in assists (675) and third in points (1,170) among U.S.-born players. He scored 20 or more goals in 13 seasons. He played in one Stanley Cup finals series, with Chicago in 1992. He was twice a U.S. Olympian, winning silver in Salt Lake City in 2002.
Those are numbers and accomplishments that will see Roenick garner serious consideration for the Hall of Fame.
And yet, as time passed and Roenick's skills eroded, his behavior and comments suggested a man who was more interested in his own ego and profile than the game itself.
He was outspoken during the lockout, suggesting fans could kiss his behind, and fans who thought players were spoiled should stay home and stop watching games. Then, when the labor dispute was resolved and Roenick was traded to Los Angeles to make way for Peter Forsberg, he arrived out of shape and suffered through an embarrassing 2005-06 campaign in which he scored just nine goals in 58 games. At one point, he suggested he had purposefully arrived out of shape to punish the league, even though he was being paid almost $5 million by the Kings. He later apologized for not being a better player.
Roenick lobbied publicly to be included in the U.S. team at the Turin Olympics in 2006 and then suggested cryptically that USA Hockey had "blackballed" him -- although it's more likely USA Hockey scouts decided not to name him to the squad simply because they had watched game film of him.
After the disastrous turn in Los Angeles, Roenick lobbied in the offseason for a Canadian team to sign him. Ultimately he signed in Phoenix, where he arrived in camp in shape and talking optimistically about helping a rebuilt Coyotes team challenge for a playoff berth in the Western Conference. It didn't happen. Roenick was a shadow of his former self, and when coach Wayne Gretzky insisted he take time off to rest a sore back, Roenick bristled. After being made a healthy scratch in Vancouver, Roenick left the rink and watched the Coyotes-Canucks game on television in a restaurant, incurring the wrath of Gretzky and disdain from his teammates.
He finished the season with 11 goals.
On Wednesday, Roenick sent veteran hockey writer Tim Panaccio of the Philadelphia Inquirer a text message reading: "I'm retiring; is that still news?"
It was a fair question.
Scott Burnside is the NHL writer for ESPN.com.
Hockey writer for ESPN.com
10 years at Toronto Sun, Windsor Star and National Post
Wrote best-selling true crime book "Deadly Innocence"
SPONSORED HEADLINES
MORE NHL HEADLINES
MOST SENT STORIES ON ESPN.COM
2007 FREE AGENCY

Free agency is open and top players are on the move. Here's a recap of what's made news so far:
News
• Rangers keep Shanahan
• Big-spending Rangers give Lundqvist hefty raise
• Rangers introduce Gomez, Drury
• Sakic helped lure Smyth, Hannan to sign with Avs
• Bye, Buffalo: Flyers land big free agent Briere
• Drury, Gomez both sign with Rangers
• Smyth settles with Avalanche
Analysis
• Burnside: Term's the word for top free agents
• Hradek: How teams fared after Day 1
Keeping track
• Free Agency Tracker
• Complete free agency coverage
• List of free agents
Burnside's preview
• Part I: Top free-agent forwards
• Part II: Top free-agent defensemen
• Part III: Top free-agent goalies