Commentary
Will fan and corporate support follow latest Preds offer?
In the new HBO series "John From Cincinnati," a small green bird resurrects a teenage boy who has suffered a cataclysmic surfing accident by giving him a peck on the cheek.
In the wake of Wednesday's announcement that a group of Nashville businessmen had signed a binding letter of intent to purchase the Predators, we can't help but feel that unless these owners find a similarly empowered budgie to plant a similar smacker of life on the team, they will be nothing more than caretakers of an organization doomed to exist on life support until the moving trucks back up to the arena doors.
Despite all the back-slapping and toasts toward a long future in Nashville that accompanied the announcement, the future of the team is far from secure.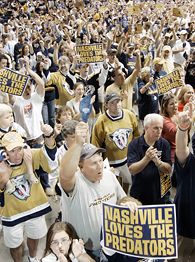 AP Photo/Mark HumphreyFans recently held a rally to help boost season-ticket sales for the Predators.
Only current owner Craig Leipold is closer to security after receiving a $10 million down payment on the group's $193 million offer, which brings him a giant step closer to unloading the team that has cost him $70 million since he bought the expansion club a decade ago.
The eight-man group is led by local businessman David Freeman and buoyed by the arrival of surprise investor William "Boots" Del Biaggio III of California. Del Biaggio came on as a minority owner after he failed to purchase the team on behalf of another group. If all goes according to plan, they will own the Predators by the start of the 2007-08 season. The board of governors, which needs to approve the deal, is scheduled to meet some time in late September.
That's when the heavy lifting will really begin, because buying the Predators is a relatively small step. Saving them will be quite another.
Let us say unequivocally that we love the Predators. Nashville is a team that's been built by the book and run by good, smart hockey people. The city is a favorite among NHL writers. The fact the local group came up with a purchase price of $193 million is a surprising development. The fact only 25 percent of the bid price is debt is an even bigger shock.
But all the goodwill won't change this one undeniable fact: There is absolutely nothing to indicate there are enough paying fans and enough corporate support to keep the Nashville Predators alive.
That's the reality.
That reality led Leipold to throw in the towel after losing $27 million over the past two seasons when the Predators were operating under the salary cap that was supposed to make teams like Nashville flourish. Leipold lost that money during a time when the Predators were one of the most exciting, successful regular-season teams in the NHL, collecting 216 points over those two campaigns.
"Our belief as kind of a local group is that, given a second chance, Nashville will support this team," Freeman said. "We have obviously agreed to write Craig some pretty large checks to back up that belief."
But that second chance will be made good only if fans and corporate sponsors do something they've failed to do in significant enough numbers for the past nine years: show up.
A recent rally helped push season-ticket sales to the 8,500 mark. Historically, the team has sold more season-ticket packages between the announcement of the NHL schedule in late July and the start of the season, so the chances of surpassing last season's 8,700 are good. It also increases the chances the team will reach the 14,000 average paid attendance plateau needed to maintain the team's arena lease with the city and meet the league's standards for revenue sharing.
That number is still about 2,000 short of a break-even point for the new group.
"We've said this a number of times -- 14,000 paid attendance does nothing for the long-term viability of this franchise. And I couldn't do it to make it work here and I was ready for somebody else to come in," Leipold said Wednesday.
But here's the problem. The Predators have never averaged 16,000 in paid attendance, even when they were new and novel and there was a buzz about them. Freeman was fairly vague on the subject of where the corporate and fan support was going to come from.
"There's no question in my mind, wherever the support comes from, it'll be sufficient," Freeman said.
But you know what they say about the value of talk. The reality is Leipold has already stripped down his talented team to cut salary to close to the cap floor of $34.3 million (they are just above that now). As a result, the Predators figure to move from a contender for a Central Division crown to jockeying for a playoff spot somewhere in the middle of the Western Conference pack.
Even with the emotion of a "Save the Preds" campaign creating headlines heading into the season, will an average of 16,000 fans pay to see a middle-of-the-pack team 41 times this season? That's asking a lot, which means the ownership group is looking at more significant losses in the coming season.
And that's just for starters.
How much is this new ownership group willing to shell out beyond this season? Will they spend to keep young talent like Shea Weber, Dan Hamhuis, Ryan Suter and Alexander Radulov? Will they pay for top-level free agents as GM David Poile did in the past by bringing in Paul Kariya and Jason Arnott? Will they take on salary as Poile did in bringing in Peter Forsberg and Brendan Witt at the past two trade deadlines?
Imagine when Kevin Lowe or some other sharp-eyed GM drops an offer sheet on Weber or Suter next summer when their entry-level deals come to an end -- and make no mistake, those offer sheets are coming. Will this new group ante up the $25 million or $30 million it'll take to keep those young stars in the fold?
Freeman's response to a local radio station about Poile's future budget couldn't have been more ambiguous.
"Honestly, our budget will come from the fans," Freeman said. "The more tickets we sell, the bigger David's budget will be."
Maybe such ambiguity is a way of keeping the pressure on fans so they don't think the work is done just because a local group has rescued their team from the evil ogre north of the border, Jim Balsillie.
But if Freeman is being honest when he says the ownership group doesn't expect to make money ("but we don't expect to lose money"), then that sounds alarmingly like a team destined to scratch and claw to stay afloat while hoping that magic budgie flies in the window and gives it the kiss of life.
Scott Burnside is the NHL writer for ESPN.com.
Hockey writer for ESPN.com
10 years at Toronto Sun, Windsor Star and National Post
Wrote best-selling true crime book "Deadly Innocence"
SPONSORED HEADLINES
MORE NHL HEADLINES
MOST SENT STORIES ON ESPN.COM
EDITORS' PICKS
Strang: San Jose didn't panic this offseason and former Sharks captain Owen Nolan likes that.
Cross Checks »

Rick Nash is the highest-paid Ranger and appears primed for a big 2014-15 season.
Summer Skate »

Bad Poetry: Top-paid 2015 UFAs.
Photo gallery