Commentary
First quarter -- Reviewing the Western Conference
Gee, where did the first quarter of the season go?
It seems like only yesterday we were marveling at the Brits' attempts to deep fry everything from shoe soles to carrots as we watched the NHL kick off its regular season for the first time on European soil.
Now, Bob Hartley is out as coach in Atlanta and Brett Hull is in as co-interim GM in Dallas. Go figure. Sean Avery is making friends wherever he goes, the Ducks are still waiting to see if Cup cornerstones Teemu Selanne and Scott Niedermayer will return and Sidney Crosby is cooking, but the Penguins are not.
Here's a first-quarter review of the Western Conference and what might be in store in the coming weeks. Check out the Eastern Conference review here.
[+] Enlarge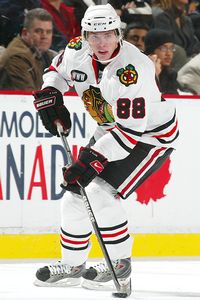 Claus Andersen/Getty ImagesChicago's Patrick Kane has seven goals and 15 assists in his first 20 NHL games.
"Welcome Aboard" Award
Brian Rafalski's transition in Detroit has been so seamless, it's as though the longtime New Jersey Devil has been wearing the winged wheel forever. But that's the mark of a good organization, no? Within minutes of the news that Mathieu Schneider had signed with Anaheim as a free agent on July 1, Detroit GM Ken Holland had Rafalski's name on a contract. The slick-skating defenseman has rewarded the Wings with stellar play thus far, posting 24:54 a night, recording 17 points in 20 games and helping the Wings to the top of the Western Conference standings, where it's assumed they will be when the final regular-season horn sounds.
Honorable mention: Robert Lang, who is on a point-a-game pace with the surprising Chicago Blackhawks.
The "We Actually Thought You'd Be Better" or "Bust-a-Rama" Award
We know they didn't plan to get hurt, but the long-term absences of Joni Pitkanen and Sheldon Souray, two big-time offseason acquisitions by the Edmonton Oilers, have doomed the Oilers to the bottom of the NHL standings, presumably for the balance of the NHL season. Pitkanen, acquired via trade with Philadelphia, and Souray, signed as a free agent, were supposed to jump-start the moribund Edmonton offense from the blue line. The pair has combined to play 14 games and gathered just four points.
Neither is expected to return any time soon, which means you can start thinking draft lottery. At least, the Anaheim Ducks can start thinking about it; they own the Oilers' first-round pick next summer.
Honorable mention: Oilers teammate Dustin Penner, who was signed to an offer sheet over the offseason and set off a Hatfield/McKoy-like feud with Anaheim, Penner's old team. Penner has managed three goals in 20 games. If he maintains that torrid pace, Anaheim GM Brian Burke may end up sending Edmonton GM Kevin Lowe flowers instead of darts by the end of the season.
Rookie "King" Award
Do we even have to say his name? OK, Patrick Kane. Everyone wondered if the 18-year-old would be big enough to play with the big boys when the Blackhawks made him the No. 1 overall pick last June. Uh, guess he's OK. Through the first 20 games of the season, Kane has 22 points to lead the Blackhawks back to respectability and into the playoff hunt. He leads all rookie scorers, holding a six-point lead over teammate Jonathan Toews, the other half of Chicago's dynamic rookie duo. The pair appears poised to go neck-and-neck in the Calder Trophy race for rookie of the year.
Honorable mention: Andrew Cogliano, a bit unheralded, but the real deal, in Edmonton.
"Coach Looking Over His Shoulder" Award
Everyone likes to point to Ron Wilson in San Jose. The Sharks got off to a wobbly start, but they have righted the ship heading into the first quarter turn, leading the Pacific Division and sitting second in the West. Actually, the coach with the most to worry about has to be Mike Keenan in Calgary, where the Flames rank 23nd on the road (3-4-1), 30th in power-play efficiency on the road and 29th on the penalty kill. And, oh yeah, they're 12th in the conference. For a team that had Stanley Cup hopes, Keenan has failed to produce any meaningful change from a season ago, and that's not good for job security.
Honorable mention: Stars bench boss Dave Tippett has to be a little worried after GM Doug Armstrong was shown the door earlier this month. The Stars better stay in the thick of the playoff hunt if Tippett wants to remain in Big D.
"I Knew He Was Good, But Not That Good" Award
We never get tired of watching Henrik Zetterberg play. Whether it's dishing the puck to linemate Pavel Datsyuk or skating around guys en route to the net (he's got 14 goals), Zetterberg does it all. The question is whether the best player in the West can stay healthy enough to challenge for a scoring title.
Honorable mention: Red Wings teammate Nicklas Lidstrom, who never seems to waver from being sensational. He's averaging 28:23 in ice time (third in the NHL), boasts a plus-14 and is tied for the lead in scoring among defensemen with 19 points in 20 games.
The "But I'm Not Dead Yet" Award (Presented by Michael Palin)
Go figure, it's Jeremy Roenick of the San Jose Sharks. GM Doug Wilson appeared to be off his rocker when he signed "the mouth that roared" this offseason, apparently failing to look at any Roenick game tape from the past two seasons. Lo and behold, Roenick has made Wilson look like a minor genius. Roenick, 37, has 13 points in 19 games and is second in team scoring behind Joe Thornton while averaging a modest 12:50 in ice time. Some perspective? Roenick had 28 points in 70 games a season ago in his forgettable return to Phoenix. Better yet, he appears to be truly enjoying his experience and is a positive influence in the San Jose dressing room. As we said, go figure.
Honorable mention: Brad Boyes, the one-time Toronto first-round pick whose career looked to be off track, is playing on the top line in St. Louis and leading the team with 12 goals in 18 games.
Big Things Coming -- Player Award
Everyone knows the story of Patrick Marleau and his disastrous turn in the playoffs for the San Jose Sharks last spring. Rumors that he'd be traded out of town dogged him right into training camp, even though he signed a contract extension in the offseason. Marleau appears to be suffering a postplayoff letdown and is well off his normal pace with just 11 points in 21 games. But he is too talented for this to continue. Whether he lights it up for the Sharks or someone else is another matter, but look for him to come out of his funk soon enough.
Honorable mention: Chicago's Patrick Sharp, who has come out of nowhere to lead the Hawks in goal scoring and is on pace for a 40-plus goal season.
Big Things Coming -- Team Award
The St. Louis Blues have won four in a row through Monday's action, while a scheduling quirk has meant they have played the fewest games (18) of any team in West playoff picture. Although they were shut out of the playoffs for the past two seasons, this well-coached team has plenty of defensive depth and a dynamite top line with Paul Kariya, Keith Tkachuk and Boyes. If coach Andy Murray can coax some more offense out of Lee Stempniak (just one goal through 18 games), Jay McClement and rookie David Perron, who has been impressive, the Blues will be back in the postseason.
Honorable mention: It goes to Chicago; its feisty play shows no sign of dropping off.
Bottom Falling Out -- Player Award
Pascal Leclaire, the talented young netminder for the Columbus Blue Jackets, won seven of his first nine starts and pitched five shutouts along the way to earn leaguewide raves. Lately, not so much. In his past five appearances, he has one win and has shown signs of coming back to earth. At 25, Leclaire is still the Blue Jackets' netminder of the future. He just may have to wait a bit for that Vezina Trophy.
Honorable mention: Nashville's Radek Bonk, who had eight goals through the Preds' first 20 games, which is a career-best pace for the perpetual underachiever.
Bottom Falling Out -- Team Award
Speaking of the Blue Jackets, they have been one of the feel-good stories of the first quarter; they've hung around the playoff race in the Western Conference standings. Through Monday's action, their 22 points put them in a four-way tie for seventh in the conference. Heady stuff for a team that has never been to the postseason and which most predicted would finish at, or near, the bottom of the conference.
After years of dysfunction, the team appears to have turned the corner with Ken Hitchcock in his first full season behind the bench and GM Scott Howson learning the ropes and getting ready for a full-fledged spending spree next summer. But this is still a team that relies far too heavily on Rick Nash (his 23 points in 20 games was eight more than the second-highest scoring Blue Jacket, Nikolai Zherdev) and that paucity of offensive depth is what will ultimately cost Columbus a playoff spot -- this season.
Honorable mention: The Dallas Stars, who still lack enough offense to be a contender.
Scott Burnside is the NHL writer for ESPN.com.
Hockey writer for ESPN.com
10 years at Toronto Sun, Windsor Star and National Post
Wrote best-selling true crime book "Deadly Innocence"
EDITORS' PICKS
Power Rankings: The Rangers thought they were allowed to look human this week, so it was time for a Wild shake at the No. 1 spot.
LeBrun »

With seven guys within five points of the league scoring lead, who better to break down the Art Ross Trophy race than The Great One.
LeBrun »
MOST SENT STORIES ON ESPN.COM