Commentary
Chicago's revival goes beyond rookies Kane and Toews
CHICAGO -- It is a chilly Saturday afternoon in early December. A biting wind whips along Michigan Avenue and it feels like it could snow. A line of people snakes along a major downtown street, bends around the corner and disappears out of sight.
Some have been here since 7 a.m. They have brought carafes of coffee, blankets, folding chairs and snacks with them. They have brought pictures and pucks and sticks and jerseys by the hundreds. The crowd, estimated at more than 2,500, has come to see two hockey players who have played fewer than 30 NHL games apiece for a team that hasn't won a Stanley Cup since 1961.
When Blackhawks rookies Patrick Kane and Jonathan Toews arrive, having hustled downtown from the team's practice facility in Bensenville, security officers create a gap in the line of fans so they can enter the team's tiny memorabilia store. Kane will later laugh and say it reminded him of the red-carpet treatment in Hollywood.
[+] Enlarge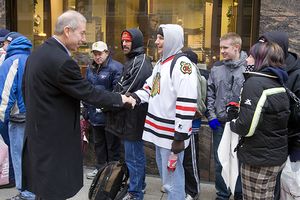 Ross Dettman for ESPN.comNew Blackhawks team president John McDonough met fans and signed autographs outside the Hawks' downtown team store.
The crowd applauds enthusiastically at the players' arrival and it's hard to reconcile such a show of support for a franchise that has long been considered one of the worst in pro sports.
New team president John McDonough takes in the scene with a mixture of disbelief and unbridled optimism. Walking up and down the line of fans, shaking hands, signing autographs, posing for pictures, McDonough calls the moment an epiphany.
"This tells you the vibration, the undercurrent that's out there for this team," said the former president of the Chicago Cubs. "I've never been more confident that we're going to get this job done."
The signs of revival for this long-troubled Original Six franchise are subtle like the drip of water from a melting iceberg.
A night earlier at the United Center, the youthful Blackhawks were down a pair of goals to defending Stanley Cup-champion Anaheim. But when Robert Lang's shot cut the deficit to one goal, the 17,734 in attendance rise up as one. For the next 1:50, the crowd is on its feet, the building abuzz. Chicago falls short, but out on the streets, fans decked out in Blackhawks gear are streaming into bars on West Madison.
They are talking hockey. Imagine that.
A team whose season-ticket base has shrunk to around 6,200, less than half of what the Anaheim Ducks boast by comparison, now leads the NHL in walk-up sales.
Drip, drip, drip.
For the past seven years, Michael Miller has operated a Web site called WirtzSucks.com. It was extremely popular as the legion of disenfranchised Blackhawks fans used the message boards to vent about the team's staggering failures, on and off the ice.
When Bill Wirtz, patriarch of the Wirtz family who owns the Blackhawks, died earlier this fall, Miller changed the name of the site to Blackhawkzone.com.
Why?
"Out of respect," Miller said. "You don't want to rip on a dead guy."
The name change coincided with seminal changes within the Blackhawks organization and its relationship with those same fans who frequented Miller's Web site.
After Wirtz's death, his son Rocky became the surprise head of the club instead of his brother Peter. Longtime front-office fixture Bob Pulford was shunted to the side. The team announced a series of home games would be televised locally, something for years the team refused to do in all but the most extraordinary circumstances. (By next season, the Blackhawks plan to televise all 82 games.) Then, the team hired McDonough away from the iconoclastic Cubs to lead the Blackhawks out of their wilderness.
In one fell swoop, the team managed to erase most of the elements that had caused the fan base to grow disenfranchised. "We always knew there was a little light at the end of the tunnel," Miller said. "But now, it's starting to get a little bigger."
Before we get too dewy-eyed over the rebirth of the franchise, there is the matter of not having won a Stanley Cup since 1961, the longest such drought in the NHL. The team has also failed to qualify for the postseason in eight of the past nine NHL seasons and last won a playoff round in 1996.
Two nights after the Anaheim game, the Hawks' announced attendance against Calgary was 13,382. In 16 home games, the Blackhawks have drawn more than 17,000 just three times.
But everyone, from McDonough to fans like Miller, seems to understand that erasing the past is a process, not a snap-of-the-fingers proposition.
Opposing GMs and coaches, even those with teams beaten by the Blackhawks, have told team officials how pleased they are the Blackhawks have got up off the mat.
"It's really important for the league," said Flames coach Mike Keenan, who also coached in Chicago from 1988-92. "It's important for the history of the franchise and the game of hockey that Chicago comes to life again and it's good to see."
McDonough grew up in a blue-collar neighborhood in the city and was part of the standing-room crowd that regularly made the old Chicago Stadium one of the most difficult places in to play in the NHL. Almost 25 years ago, McDonough made a detailed marketing pitch to Pulford in the hopes of landing a job with the hockey club. The club politely declined and McDonough went to work for the Chicago Cubs. They were one of baseball's forgettable franchises, but McDonough helped to market them into a national icon.
The team, which hasn't won a World Series since 1908, had enough success to maintain interest and market Wrigley Field as a destination, a cultural meeting point as opposed to simply a baseball experience. Does McDonough see similarities between the state of the Cubs when he took over and his new challenge with the Blackhawks?
"The similarities are eerie," McDonough told ESPN.com in a recent interview. "I think there was a sense that the Hawks let [fans] down."
The challenge is to create an environment where going to a Blackhawks game becomes a cultural event, a social event, a happening. "This is a hockey town," McDonough said. "This will be a hockey town again."
The key now is to turn buzz into revenue and paying customers. And the key to creating revenue is to win. Not necessarily win a Stanley Cup, although that could hardly hurt, but to be in the mix, to be a playoff team, a team with hope instead of one that routinely crushes hope.
To do that, the team has to draft and develop its players far more successfully than it has in the past. It's not just Kane and Toews, although they have become the faces of the team in an impossibly short period of time. By next season, there could be a dozen homegrown prospects in the lineup, including the surprising Dustin Byfuglien, Cam Barker, Jack Skille, Dave Bolland, Corey Crawford and Michael Blunden. Duncan Keith and Brent Seabrook are already maturing into solid NHLers at the tender ages of 24 and 22, respectively, and look to anchor an improving blue line.
On the ice, the team plays an exciting style, but, as with many young teams, is prone to letdowns and defensive gaffes. Despite another spirited effort late in the game, the Blackhawks' 3-2 loss to Calgary is their fourth straight, the longest skid of the season.
"The biggest thing is you can't be afraid of success," Hawks coach Denis Savard said. "I talked about that to them. Real success is equal to hard work and it's going to get harder. You establish something as a group, it's going to get harder, but you have to be able to accept that.
"We're there some nights. Some nights, we're not, just like a team that's in the middle of the pack. But I know for sure, and for a fact, that we'll be there. That's our goal and we're getting there."
When McDonough took over last month, one of the first things he did was meet with general manager Dale Tallon and assistant GM Stan Bowman. He asked what they needed. A new practice facility, an expanded scouting staff and a bigger budget were among the items they put on their wish list. All are in various stages of becoming reality.
"We're working hard at changing the whole thing," said Tallon, whose relationship with the franchise dates back to 1973, when he was traded to Chicago from Vancouver. "The next couple of years are going to be very exciting for us."
The rest of this season will certainly be interesting. If the Blackhawks can stay in the playoff hunt, it will only encourage the positive feelings in the community and dressing room. By next summer, the changing landscape in Chicago will require Tallon to fill fewer holes via free agency, but attract more elite players to fill those holes.
Coming out of the lockout, the culture of failure that permeated the franchise forced Tallon to overpay for lesser free-agent talent. The last couple of years, Tallon admitted his stomach would be in knots most nights. Those knots have disappeared.
"It's a completely different locker room this year," Tallon said. "We're not there yet, but the guys sure respect and like each other."
Inside the team store on Michigan, a young couple, Lindsay Cabai and Vito Barbanente, present a painting depicting Kane and Toews near the United Center boards. They also have a jersey for the rookies to sign. Instead of a player's name on the back, though, Barbanente has inscribed simply, "New Era."
Maybe he's right.
Scott Burnside is the NHL writer for ESPN.com.
Hockey writer for ESPN.com
10 years at Toronto Sun, Windsor Star and National Post
Wrote best-selling true crime book "Deadly Innocence"
NEW REVOLUTION

Rookies Patrick Kane and Jonathan Toews are the centerpieces of a rebuilding plan in Chicago. ESPN.com is following their progress throughout the 2007-08 season in a series called "Beginner's Puck."
PART III
Posted: March 11; Team record: 33-29-7
• Patrick Kane and Jonathan Toews are giving Chicago fans something they haven't had in a decade -- meaningful games in March.
Story
PART II
Posted: Dec. 14, 2007; Team record: 15-13-2
• Teens in the NHL? That's nothing new. But teens bringing a team back to life? Chicago's falling in love with the Kane and Toews show.
Story
PART I
Posted: Sept. 27, 2007; Team record: N/A
• Patrick Kane, Jonathan Toews and Jack Skille are just a few of the new crop of rookies coming into the NHL, and they're giving Chicago hope.
Story
MORE ANALYSIS
•
Cox: Teens in NHL a crapshoot
•
Hradek: Where will they be in 2017-18?
•
Melrose: Toews, Kane can handle it

MOST SENT STORIES ON ESPN.COM