Commentary
Want the ultimate outdoor rink? Dan Craig makes it so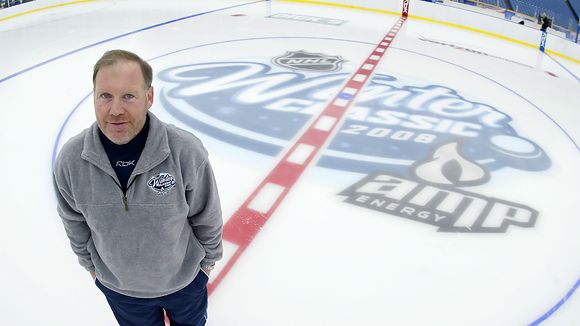 Rick Stewart/Getty Images for ESPN.com Along with monitoring the literal construction of the outdoor rink at Ralph Wilson Stadium, NHL ice guru Dan Craig has been obsessively watching local weather reports for Tuesday's outdoor game in Buffalo.
ORCHARD PARK, N.Y. -- Whenever Dan Craig looks to the western New York skies, which is pretty much every five minutes these days, he is not just looking for what the weather might bring in the coming hours, but rather what the future might hold for the NHL spectacle set to unfold at Ralph Wilson Stadium on Tuesday.
On Sunday morning, Craig was the first person to skate on the newly planted ice surface inside the stadium and joked that he had hoped to do so when reporters were eating lunch and wouldn't see him.
Craig was interested in some areas in front of one of the nets and others that may have been affected by rain here earlier in the week. He wanted to know what the wind felt like, how the ice felt under his feet.
So far so good as far as the NHL's ice guru is concerned, although he acknowledges that what you see now isn't necessarily what you'll see in 10 minutes.
"We're ready to go. Let's drop the puck and play hockey," a bleary-eyed, unshaven Craig told reporters Sunday afternoon, about 47 hours before the puck is set to drop on the Winter Classic outdoor game between Pittsburgh and Buffalo.
Yes, the single-most important man in the world of hockey is looking, well, a little rugged these days. Bloodshot eyes, the kind of stubbly growth and wild-eyed look one might find on a man who's been lost in the woods for about a week (or a Toronto Maple Leafs fan in midseason).
So, how much sleep are you getting, Dan?
"Basically, none," he said.
Craig led a small group of reporters down the steps from the stadium's press box to the edge of the NHL-regulation hockey rink that has appeared since the NFL's Buffalo Bills finished their home schedule late in the afternoon of Dec. 23.
We might suggest the rink appeared by magic, but you realize with one look at Craig that the rink is more hard work than supernatural transformation.
In about half the time Craig had to construct a similar rink in the middle of Edmonton's Commonwealth Stadium for the NHL's first outdoor experience in November 2003, he has achieved the same level of preparedness in Buffalo.
For most of the past week, Craig has marshaled work crews who have been working in shifts pretty much around the clock. He returns to his hotel occasionally, usually in the dark of night, and almost by reflex turns on the television to the local weather channel.
"Obsessive? Not me. Channel 49, automatically, as soon as I walk into the room. You have to know what's coming," he said. "The first four days I got here, I was looking at Colorado, looking into the Pacific, knowing there were four [weather] systems sitting back to back. 'Where are they going? Where are they coming? Where's the pressure from the south? Is it going to push us?' You know it'll be on us in 30 hours or so."
The Buffalo area received a few inches of snow overnight Sunday, which will give the stadium a nice clean look. Trucks have been hauling snow into the stadium for the better part of two days. The snow is then pushed around by front-end loaders covering the plywood that was laid down to facilitate equipment movement on the stadium floor.
"The rain the other night helped us out," Craig said. It gave us really good density on the bottom end [of the ice surface]. It doesn't look like there's rain [in the forecast for Tuesday], it looks like snow, which means exactly like Edmonton. We take the machine out, shave it up, take the snow off, dump it off, resurface with the hot water and we're ready to go. It can snow and we'll just remove it with the machines. ... No problems."
A native of the Alberta resort town of Jasper, Craig, 52, began preparing ice at the local rink when he was in high school.
"As a matter of fact, I just talked to two of my high school buddies here this past week, in Jasper," Craig said. "I phoned them and we chatted because they've been watching it online and I needed some positive reinforcement from back home, from my old roots."
After producing ice for the Edmonton Oilers for a decade (it was generally regarded as the best surface in the league), Craig joined the NHL in 1997.
He has since put ice down in Japan and Torino, Italy, and dozens of places in between. Earlier this season, Craig was in London, England, where he made a sheet of ice at the O2 Arena for the first NHL regular-season games in Europe.
While that was a challenge (it was the first time ice was put down in the new building), there will always be something completely unpredictable about trying to recreate NHL ice conditions outdoors.
Does he feel any pressure knowing the Winter Classic may be one of the single-most important games in recent memory for the NHL?
"No, I don't think there's more on the line here," Craig said. "There's as much on the line here as there is in Game 7 of a Stanley Cup final. That's how I classify it. I've always said, 'It doesn't matter, we've been to Japan.' We are not going to do anything different in any other game.
"The concentration level is huge. That's why I want to make sure that everybody comes with their 'A' game."
Late Sunday afternoon, the green ice resurfacing machine made it way slowly around the pristine surface. Workers shaved the ice around the edges with what looks like small lawnmowers. The scoreboard has been loaded with hockey images and audio. Camera stands and broadcast podiums are erected. Cameras are put in position and covered with plastic. There is a sense of movement everywhere.
"Try being here at 4:30 in the morning when nobody's here," Craig said. "It's awesome. It's the wildest, wildest thing. You have the privilege of being where nobody is. I grew up in mountains and I feel I want to be sitting in the mountains and you just say, 'This is quiet, peaceful.' And that's what it was at 4:30 [in the] morning."
Why was he here so early?
"Because I can't sleep."
Oh, yeah. We forgot.
Scott Burnside is the NHL writer for ESPN.com.
Hockey writer for ESPN.com
10 years at Toronto Sun, Windsor Star and National Post
Wrote best-selling true crime book "Deadly Innocence"
THE WINTER CLASSIC

The NHL hosted the first regular-season outdoor game in the United States on Jan. 1, 2008 as the Penguins and Sabres squared off at Ralph Wilson Stadium in Buffalo, N.Y.
GAME DAY
•
Recap: Crosby's SO winner caps magic day
•
Burnside: This should not be regular NHL event
•
Burnside: Grading the Winter Classic
•
ZOOM: Photos from Ralph Wilson Stadium
•
In-game blog
•
Outdoor game brings out tailgaters
•
Winter Classic highlights

NEWS
•
Winter Classic draws big TV numbers
•
Slight rule changes for outdoor game
ANALYSIS
•
Burnside: Players embrace outdoors atmosphere
•
Faceoff: Gimmick or celebration of heritage?
•
Burnside: The man behind the outdoor magic
•
Burnside: This time, more at risk for NHL
WATCH
•
Hradek: A preview of The Winter Classic

•
Melrose: Why Winter Classic is a good thing

MOST SENT STORIES ON ESPN.COM