Commentary
Our grades from the Winter Classic
ORCHARD PARK, N.Y. -- Here are our grades from Tuesday's Winter Classic between the Pittsburgh Penguins and Buffalo Sabres at Ralph Wilson Stadium:
[+] Enlarge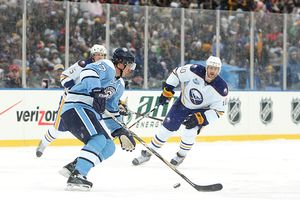 Harry How/Getty ImagesSidney Crosby assisted on the Penguins' lone goal before scoring the shootout winner in Tuesday's Winter Classic.
Pregame activities
Hey, how great is it when you are driving into the stadium at 9 a.m. and folks already are packed into parking lots, hanging out in front of barbecues, fire pits and the like, roasting meat, drinking beer and playing road hockey? OK, nutritionally not so great, but in terms of atmosphere, boffo. Grade: A
Weather
If you are grading the weather on the optics, this was Western New York weather at its best -- swirling snow, but not as bitterly cold as the 2003 Heritage Classic in Edmonton. Someone suggested the stadium looked like a giant snow globe. If you are grading the weather as it related to the game itself, well, the snow pretty much made passing and seeing the puck impossible, especially in the third period. Generally, those are two important elements in NHL games. Grade: A/F
Ice surface
No knock on the NHL ice crew that did yeoman service to get this rink into shape in a little more than a week. But, by the end of the game, holes in the ice were being repaired almost constantly. Still, players and coaches mostly praised the ice conditions. Grade: C
Crowd
Happy, boisterous, well-behaved (at least from where we were sitting), even Sabres fans didn't seem too upset at the result of the game. Western New Yorkers embraced this game in stellar fashion, first by buying up every ticket available and then by coming early and staying late on game day. Grade: A-plus
Sabres
The Sabres gave up a goal to Colby Armstrong 21 seconds into the game and took a couple of penalties before they got their outdoor legs under them. But they dominated the play in the second and in overtime, when they outshot the Pens 7-0. Still, they couldn't dent Ty Conklin. Grade: B
Penguins
The Penguins seemed to fall asleep for much of the second period, when they were outshot 14-2 and allowed Brian Campbell to tie the score early in the frame. But Conklin was terrific, turning aside 36 of 37 shots and two of three shootout attempts to help the Pens earn much-needed two points. Grade: B-plus
Sidney Crosby
Crosby set up Armstrong's goal to open the game with a nice drive to the net. He almost made a highlight-reel move, tapping the puck several times in the air and directing it past two Buffalo defenders before losing control. And, of course, he scored the winner in the shootout. All in a day's work for the NHL's brightest star. Grade: A-minus
Game comments
"Oh, my gosh. I had a little bit of a brain cramp there. I guess I should have went over to the bench to where the heaters are. I was panicking. They decided to scrape the ice, too, during the whole time I was sitting in there, so I had plenty of time to think about it. It's a cold, lonely place over there, for sure. When you're a bad guy, they don't give you much." -- Colby Armstrong, on being assessed a penalty at the end of regulation. Grade: A
Overall grade
When you decide to take your game into Mother Nature's backyard, you never know what kind of reception you're going to get. That's part of the allure of these events. But, by the end of the afternoon, with the snow piling up and the ice breaking down, it seemed less magical than when the game started. Grade: B-plus
Scott Burnside is the NHL writer for ESPN.com.
Hockey writer for ESPN.com
10 years at Toronto Sun, Windsor Star and National Post
Wrote best-selling true crime book "Deadly Innocence"
SPONSORED HEADLINES
MORE NHL HEADLINES
MOST SENT STORIES ON ESPN.COM
THE WINTER CLASSIC

The NHL hosted the first regular-season outdoor game in the United States on Jan. 1, 2008 as the Penguins and Sabres squared off at Ralph Wilson Stadium in Buffalo, N.Y.
GAME DAY
•
Recap: Crosby's SO winner caps magic day
•
Burnside: This should not be regular NHL event
•
Burnside: Grading the Winter Classic
•
ZOOM: Photos from Ralph Wilson Stadium
•
In-game blog
•
Outdoor game brings out tailgaters
•
Winter Classic highlights

NEWS
•
Winter Classic draws big TV numbers
•
Slight rule changes for outdoor game
ANALYSIS
•
Burnside: Players embrace outdoors atmosphere
•
Faceoff: Gimmick or celebration of heritage?
•
Burnside: The man behind the outdoor magic
•
Burnside: This time, more at risk for NHL
WATCH
•
Hradek: A preview of The Winter Classic

•
Melrose: Why Winter Classic is a good thing