Commentary
If Capitals return to playoffs, will Kolzig be along for the ride?
After all this time, after all the losing and disappointment, it would seem wrong if Olaf Kolzig wasn't on hand to see the Washington Capitals scrap their way into the postseason.
But the elephant in the corner of the Capitals' dressing room is the fact that unless Kolzig is able to turn in more consistent performances down the stretch, Washington is either doomed to fall short or it will have to find someone else to get the job done between the pipes.
Either way, these are trying times for one of the league's most stand-up players.
[+] Enlarge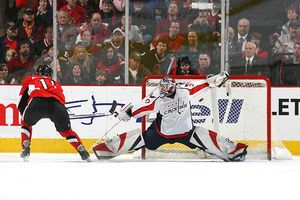 Andre Ringuette/NHLI via Getty ImagesOlaf Kolzig has a 3.07 goals-against average and .884 save percentage through 42 games this season for the Capitals.
"It would be ironic, that's for sure," Kolzig told ESPN.com during a recent interview.
The thorny topic is a not a new one for Kolzig.
He joked with GM George McPhee, who happened to be in the dressing room during our visit, that it's just another day of being asked about being an old goaltender who has lost his edge.
"I should have a prepared statement," Kolzig joked.
The good humor, and the repeated questions about Kolzig's play, belie the seriousness of the issue.
Kolzig and goaltending coach Dave Prior go over the tapes of every goal from every game. If there are areas Kolzig needs to focus on, Prior does. He said he doesn't see what others apparently see.
Kolzig, 37, is an anachronism; a player who eschewed more money to play elsewhere as a free agent, a player who chose to stick around the woeful Caps because he loved the community and believed in the direction the team was taking. He could see what Alexander Ovechkin was going to become and wanted to be around when the Russian star, and the team around him, began to bloom.
But analysts, former NHL netminders and other league sources have told ESPN.com they believe Kolzig appears to have hit the wall, that his reflexes and size and intuition, all qualities he possessed in significant amounts over the course of his career, are now failing to consistently get the job done.
Over his past 13 games, Kolzig has turned a save percentage of better than .900 just five times.
Last week's 5-4 overtime victory over Montreal provided a snapshot of Kolzig's recent play. The Caps jumped out to a 3-0 lead over Montreal, but the Habs pulled to within 3-2 when Kolzig couldn't control a rebound and Andrei Kostitsyn scored with less than a second to play in the period. Late in the game, after Kolzig denied Tomas Plekanec with an unbelievable blocker stop, the netminder couldn't control a loose puck at the side of the net and the Canadiens tied the game with an extra attacker on the ice in the final minute of regulation. The Caps won the game in overtime on Ovechkin's fourth goal of the game, but to lose would have been a crippler.
And in a conference where every point is crucial, the Caps can't afford to leave any on the table -- especially because their goaltending isn't up to snuff.
Kolzig acknowledged he hasn't played as well as he did the past couple of seasons and that is a contributing factor to his 3.07 goals-against average and .884 save percentage. "My numbers are in the toilet," he said.
But he's got a winning record (or close to it, at 19-18-4) despite facing far more dangerous opportunities under Bruce Boudreau's aggressive high risk/high reward offensive style and the new coach's decision to go with a goalie rotation with Kolzig and Brent Johnson over the past month.
"I've come to grips with that," Kolzig said. "I don't look at my stats. I've never been consumed by save percentage and goals-against."
The team is giving up roughly the same number of chances per game, but the ones they give, "they're beauties," McPhee added.
The veteran GM said he wasn't happy with the team's goaltending earlier this season, but was pleased with their play of late.
Does he have any plans to make a move to improve the team's goaltending? "No," McPhee said.
Kolzig is the longest-serving Washington-based athlete by a long shot. He was the Caps' first pick (19th overall) in the 1989 NHL draft. He will become an unrestricted free agent at the end of the season and there have been no discussions about an extension.
"As far as I know, I plan on being here right through to the end of the season," Kolzig said.
If there was justice in hockey, the Caps would also be there, with Kolzig leading them as he has for these many years.
Sadly, justice doesn't always make itself known in these kinds of matters.
Scott Burnside is the NHL writer for ESPN.com.
Hockey writer for ESPN.com
10 years at Toronto Sun, Windsor Star and National Post
Wrote best-selling true crime book "Deadly Innocence"
SPONSORED HEADLINES
MORE NHL HEADLINES
MOST SENT STORIES ON ESPN.COM
EDITORS' PICKS
Strang: San Jose didn't panic this offseason and former Sharks captain Owen Nolan likes that.
Cross Checks »

Rick Nash is the highest-paid Ranger and appears primed for a big 2014-15 season.
Summer Skate »

Bad Poetry: Top-paid 2015 UFAs.
Photo gallery