Commentary
Those rumors? Here are the ones that didn't become reality
If and when they make the movie of the 2008 trade deadline (new Tampa owner Oren Koules knows where to get the cameras, by the way), it might well be called "The Devil You Know."
As the clock ticked away toward Tuesday's 3 p.m. deadline, names that had been rumored to be on the move fell by the wayside, locked up by their own teams, refusing to waive no-trade clauses or simply staying put. Part of the reluctance to deal is based on the tightness of the standings; part of it is based on the large number of deadline deals that blew up in GMs' faces last season.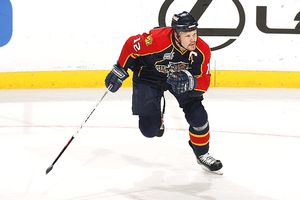 Eliot J. Schechter/NHLI via Getty ImagesAfter being the subject of many rumors, Olli Jokinen is still in South Florida after Tuesday's trade deadline.
Here's a look at some of the deals that didn't get done:
• When Mats Sundin announced he wouldn't waive his no-trade clause in Toronto, one imagined there would have been a considerable market for Florida captain Olli Jokinen. But there he was, still with the Panthers at the end of the day, still wondering what it would be like to play in his first playoff game. We're still guessing either Jokinen or coach/GM Jacques Martin is gone by the time the June draft rolls around in Ottawa.
• Maybe the Panthers were simply asking too much for Jokinen, but Calgary GM Darryl Sutter poured cold water all over the Flames' trade rumors that included Jokinen when he said before the deadline that winger Alex Tanguay wasn't going anywhere. And Sutter was right -- Tanguay remains a Flame and Jokinen is not.
• While Bob Gainey mystified many with his dealing of Cristobal Huet to Washington and his failure to land Marian Hossa, another player that looked to be dealt was forward Michael Ryder, who will be an unrestricted free agent this summer and doesn't appear to fit into the Habs' long-term plans. He was oft-rumored to be going to Calgary for Tanguay, but a Hab he remains (at least for the time being).
• The New York Islanders, who looked to be sellers, locked up center Mike Comrie for another season. Then, they either couldn't find any takers for Miroslav Satan or couldn't find any that fit Satan's bill. Either way, the Isles remain in the thick of the playoff hunt having only disposed of defenseman Marc-Andre Bergeron and oft-suspended Chris Simon.
• The Los Angeles Kings were looking to move some veteran personnel, but no deal came up to entice Rob Blake to waiving his no-trade deal. So, he's still a King and will likely re-sign with L.A. over the summer. Ladislav Nagy won't be back, but there weren't any takers for the injured Slovak.
• There was much speculation former rookie of the year Barret Jackman would be on the move from St. Louis, but the Blues locked him up before the deadline for four more years.
• Pick anyone from Toronto and his name was mentioned in some sort of potential deal. But with Sundin refusing to be traded and four other Leafs with no-trade/no-movement clauses likewise refusing to go (Bryan McCabe reportedly opened a very small window, too small to be traded through), all interim GM Cliff Fletcher could manage was a handful of low draft picks for Wade Belak, Chad Kilger and Hal Gill.
• While Atlanta GM Don Waddell spent most of the day getting a top package for Hossa, it was a bit surprising he didn't move Bobby Holik, who will be an unrestricted free agent this summer, or Mark Recchi, who found a second (or is it third?) wind in Atlanta.
• When the Colorado Avalanche acquired Ruslan Salei early Tuesday, it seemed to set the table for the Avs to move puck-moving defenseman John-Michael Liles, who could be an unrestricted free agent this summer and has been rumored to be on his way out of Denver all season. It didn't happen and, in the end, the Avs may be thankful they never made this deal.
• There seemed to be some interest among Western teams, perhaps Vancouver, for Boston's Glen Murray, but the Bruins were silent on the day.
• One might have imagined at least one of Edmonton's netminders -- Dwayne Roloson or Mathieu Garon -- might have been in play. Roloson has tons of playoff experience and Garon has played well, stealing the No. 1 job away from Roloson -- and he's dirt cheap. But, in the end, both remained with the Oil.
Scott Burnside is the NHL writer for ESPN.com.
Hockey writer for ESPN.com
10 years at Toronto Sun, Windsor Star and National Post
Wrote best-selling true crime book "Deadly Innocence"
2008 TRADE DEADLINE

Brian Campbell and Brad Richards both went West and Marian Hossa was sent to the Pens in another big day of deals before Tuesday's 3 p.m. ET trade deadline.
THE DEALS
•
Trade Tracker: Complete list of deals
Marian Hossa to Pittsburgh Penguins
• Atlanta sends Marian Hossa and Pascal Dupuis to Pens for Colby Armstrong, Erik Christensen, Angelo Esposito and picks. Trade details
Brad Richards to Dallas Stars
• Tampa Bay trades Brad Richards and Johan Holmqvist to Dallas for Mike Smith, Jeff Halpern, Jussi Jokinen and pick. Trade details
Brian Campbell to San Jose Sharks
• Brian Campbell to San Jose forSteve Bernier and a first-round pick. Trade details
Roundup: Huet traded to Capitals
• Leading off our roundup of the rest of Tuesday's deadline deals is Montreal's move to send goalie Cristobal Huet to the Capitals. Story

ANALYSIS
•
Burnside: Grading the deadline deals
•
Burnside: The deadline deals that didn't happen
•
Burnside: How trades impact playoff picture
•
Buccigross: Me, Ken the Otter, and a bunch of deadline intrigue
•
Trade deadline blog: Countdown to 3 p.m.
•
Fantasy: Hossa headlines deadline deals
WATCH/LISTEN
•
Melrose podcast: Maple Leafs, Habs lose out

•
Hradek: Breaking down the big deadline deals
•
Melrose: Trade deadline winners
•
Melrose: Trade deadline losers
•
GM Dave Tallon on Blackhawks' moves