Commentary
Hearing you've been traded is tough; making the move is tougher
DALLAS -- The trade deadline.
Players, picks and prospects flit from team to team like chips across the felt; give you this for that and then move on; build, rebuild; pieces on an icy chess board.
[+] Enlarge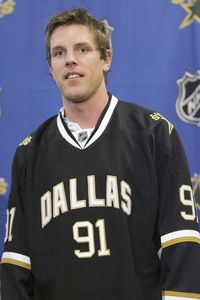 AP Photo/LM OteroBrad Richards, left, will wear No. 91 in Dallas, reversing the No. 19 he always wore in Tampa Bay.
And then, there's what happened to Jay Feaster.
The Tampa Bay general manager called Brad Richards on Tuesday morning to tell the former Conn Smythe Trophy winner he had been traded to Dallas. Feaster, Richards and Richards' agent, Pat Morris, had been talking about the potential move for days, so the news was hardly surprising. Still, Feaster had to hang up the phone.
"I phoned Brad and I couldn't finish the conversation. I broke down and I couldn't finish talking to him," Feaster told ESPN.com a day after he sent Richards to Dallas along with backup netminder Johan Holmqvist for goalie Mike Smith, forwards Jussi Jokinen and Jeff Halpern and a 2009 fourth-round pick.
"It was the weirdest day of my life," Richards told ESPN.com shortly after his first practice with the Stars.
On Monday, Richards was taking part in the Lightning's short skate and team golf outing. The next morning, Feaster told Richards to stay home from practice. What had been a theoretical discussion a couple of weeks ago -- would Richards consider waiving his no-trade clause if the right deal came along -- had become inevitable.
Richards' parents, who were supposed to spend three months in Tampa this winter to escape the Maritime winter in Eastern Canada, came to Richards' home from the house he rented for them on a local golf course.
The family bided their time until the trade was final. Then, after the Lightning players had skated and left the St. Pete Times Forum early Tuesday afternoon, Richards stopped by to pick up his personal possessions and take one last stroll through the only NHL dressing room, the only NHL rink, he has ever called home.
He sat for a while with the trainers, joking a bit, and sent a text message to Feaster, who came down to the locker room to say goodbye. Richards reminded Feaster that he crafted Richards' first pro contract after the Lightning selected him with the 64th pick in the 1998 draft. Feaster was then an assistant GM; Richards was a raw kid out of Prince Edward Island.
"As Brad pointed out to me, he said, 'You and I have been together 10 years," Feaster said.
Ten years with one NHL club is a lifetime, especially if you've accomplished what Richards and the Lightning have, turning a league laughingstock into a Stanley Cup winner.
Remember Richards' three-point performance in Game 6 of the 2004 Stanley Cup finals, which helped force a seventh and deciding game vs. Calgary back in Tampa Bay? Or his NHL-record seven game-winning goals during that championship run?
The names of Richards and his teammates are engraved forever on the Stanley Cup, but in some ways, the team's imprint will always be on the community in Tampa. Richards, like many of his teammates and friends, embraced the city. Richards has a charitable foundation and a suite for children with cancer. After every game, Richards made a point of stopping up to visit.
Feaster said Richards is not a player who just gives money, he gives his time.
"He's an even better person than he is a hockey player and he's a great hockey player," Feaster said. "He's a special young man."
[+] Enlarge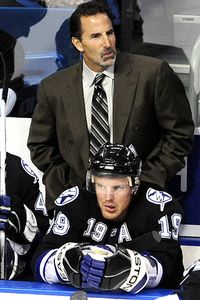 AP Photo/Steve NesiusDespite his trade to Dallas, Brad Richards says his 2004 Cup win under Bolts coach John Tortorella formed a bond that can never be broken.
Richards also met with coach John Tortorella before he left. That, too, was a difficult parting.
"There was a lot of emotion there, too. We grew up together, too," Richards said. "He turned us into champions. There will always be that bond."
He was, not surprisingly, in close touch with teammates Martin St. Louis and Vincent Lecavalier throughout the talks. "We've been through a lot together," Richards said.
Richards and St. Louis arrived in Tampa at exactly the same time. Lecavalier? He and Richards have been teammates since they were 14 years old, from prep school through junior, international tournaments and playing in Russia during the lockout.
When the Lightning finished their practice on Tuesday, Lecavalier and St. Louis came by and the three went out to lunch.
"That was when it really kind of hit me," Richards said. "That's when it got kind of tough."
This emotion doesn't just run one way.
The Dallas media arrived at the team's practice facility Wednesday to chronicle a team's excitement at having added a former playoff MVP, an Olympian, a winner. But juxtaposed against the optimism that they may be a big step closer to a championship is the recognition that Richards comes at a price.
On a franchise level, that price is measured in futures and what might have been given up in unrealized potential and assets. In the Stars' dressing room, that price is measured in friends and teammates who are now gone.
Stars goalie Marty Turco recalled his last conversation with Smith, his self-described "little brother, " as being "very sad."
Coach Dave Tippett likes to talk about team-building in a wheel metaphor -- the players are spokes in the wheel. You need all of your spokes to move forward. Now, three are gone.
Co-interim GM Les Jackson acknowledges the human toll of trades. He and the rest of the Stars organization drafted Jokinen and Smith, they sold them on the team and there was an element of trust in that relationship.
Then, in a moment, the relationship changes.
By the time Richards got to the Dr. Pepper Star Center in Frisco on Wednesday, there was already a Stars jersey with his new No. 91 (he always wore No. 19 in Tampa Bay) in a display case near a replica Stanley Cup (which retails for $199.99) and a fairly creepy looking large Turco figurine.
Richards was, of course, in a different situation than many NHL players in that he had a no-trade clause. He could have, a la Mats Sundin, said, "No thanks, I'm staying put." But he said he didn't want to hold a gun to management's head.
He understood the economics of the situation, but it still didn't make it any easier to walk away. He isn't married and doesn't have any pets to worry about. He is unencumbered, but that doesn't make the move any easier. He admitted that it has been difficult to reconcile the sadness with the excitement at this new opportunity.
When Richards stepped off the ice after his first practice with the Stars on Wednesday, the team's training staff dropped by to see what he needed before he was whisked away for interviews and photo ops. On a shelf in Richards' dressing room stall were a couple of shaving kits bearing the logo of the Tampa Bay Lightning. A moment later, the logos were turned to the back of the locker.
"It's been a weird two days," Richards said. "I think it's hit me that I've left Tampa, but it hasn't hit me yet that I'm playing for a new franchise."
Scott Burnside is the NHL writer for ESPN.com.
Hockey writer for ESPN.com
10 years at Toronto Sun, Windsor Star and National Post
Wrote best-selling true crime book "Deadly Innocence"
SPONSORED HEADLINES
MORE NHL HEADLINES
MOST SENT STORIES ON ESPN.COM
2008 TRADE DEADLINE

Brian Campbell and Brad Richards both went West and Marian Hossa was sent to the Pens in another big day of deals before Tuesday's 3 p.m. ET trade deadline.
THE DEALS
•
Trade Tracker: Complete list of deals
Marian Hossa to Pittsburgh Penguins
• Atlanta sends Marian Hossa and Pascal Dupuis to Pens for Colby Armstrong, Erik Christensen, Angelo Esposito and picks. Trade details
Brad Richards to Dallas Stars
• Tampa Bay trades Brad Richards and Johan Holmqvist to Dallas for Mike Smith, Jeff Halpern, Jussi Jokinen and pick. Trade details
Brian Campbell to San Jose Sharks
• Brian Campbell to San Jose forSteve Bernier and a first-round pick. Trade details
Roundup: Huet traded to Capitals
• Leading off our roundup of the rest of Tuesday's deadline deals is Montreal's move to send goalie Cristobal Huet to the Capitals. Story

ANALYSIS
•
Burnside: Grading the deadline deals
•
Burnside: The deadline deals that didn't happen
•
Burnside: How trades impact playoff picture
•
Buccigross: Me, Ken the Otter, and a bunch of deadline intrigue
•
Trade deadline blog: Countdown to 3 p.m.
•
Fantasy: Hossa headlines deadline deals
WATCH/LISTEN
•
Melrose podcast: Maple Leafs, Habs lose out

•
Hradek: Breaking down the big deadline deals
•
Melrose: Trade deadline winners
•
Melrose: Trade deadline losers
•
GM Dave Tallon on Blackhawks' moves

Reebok Men's New York Rangers Brad Richards #19 Blue T-shirt Shop »