Commentary
'Penner Rule' ups ante for restricted free agents
There is another issue to look for come July's free-agent season: the specter of the offer sheet.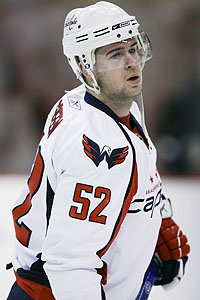 Chris Gardner/US PRESSWIREThe Capitals will have to pay big bucks to keep Mike Green in Washington.
Last summer, the Edmonton Oilers shook the hockey world when they submitted an offer sheet first to Buffalo restricted free agent Thomas Vanek and then to Anaheim forward Dustin Penner. The Sabres reluctantly matched it; the Ducks didn't and obtained a series of draft picks from the Oilers.
This summer, many of the top restricted free agents already have been locked into long-term deals or presented with qualifying offers, but there are a few who could be of interest to rival general managers.
• Tops among this group would be Florida defenseman Jay Bouwmeester, although the Panthers likely would match any offer.
• The other marquee defenseman not yet under contract is Mike Green of Washington. The smooth-skating Alberta native had a breakout season for the Caps, who won't want to see him leave. Still, it's going to cost a bundle to lock him up, likely in excess of $4 million annually.
• Columbus isn't likely to stand by and watch netminder Pascal Leclaire walk out the door via an offer sheet.
• Corey Perry won't be signed until after July 1, but GM Brian Burke won't watch another position player leave Anaheim via the offer sheet.
• Jeff Carter was rumored to be on the move at the trade deadline, but Philadelphia dealt R.J. Umberger to Columbus at the draft. That should open up room to keep the emerging offensive threat in Philly.
• Minnesota forward Pierre-Marc Bouchard will be unrestricted a year from now, and the Wild aren't crazy about paying him only to see him walk next summer, so he could be had and at a reasonable amount.
Scott Burnside is the NHL writer for ESPN.com.
Hockey writer for ESPN.com
10 years at Toronto Sun, Windsor Star and National Post
Wrote best-selling true crime book "Deadly Innocence"
2008 FREE AGENCY

The free-agent period opens on July 1. Here is Scott Burnside's preview of the top players on the market:
WHO TO WATCH

•
The forwards
: This isn't the most star-studded free-agent pool in recent years, but there are still veterans to be had, starting with Mats Sundin.
Story

• The defensemen: The New York Rangers are one of a few teams looking for help along the blue line. Here's the group they'll be picking from. Story

• The goalies: It's slim pickings when it comes to goalies on the market, which could mean big paydays for Cristobal Huet and Jose Theodore. Story

• The RFAs: Thanks to the Edmonton-Anaheim offseason feud that yielded the Dustin Penner offer sheet, the ante now is up for restricted free agents. Story
• The rumors: Get all the latest news and information on soon-to-be free agents and where they'll land come July 1. Rumor Central

MORE COVERAGE
•
Watch: E.J. Hradek's take
•
Fantasy: Offseason Top 75 player rankings
•
Fantasy: Free agency watch