Commentary
5 Things: The new Zherdev, the old Penguins and the struggling Stars
Stock Up, Stock Down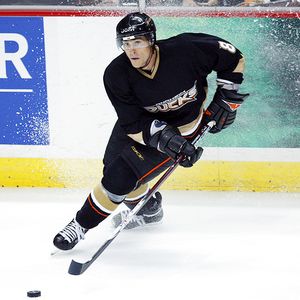 Stock Up: A word to all those general managers lusting after Mats Sundin -- we guess showing up for training camp does make a difference after all. After missing half of last season while deciding whether he still liked the game or not, Anaheim forward Teemu Selanne showed up to camp this season (albeit slightly late, given the Ducks' salary-cap problems) and has jumped out to a frantic scoring pace. The Finnish Flash, now 38, has eight goals in 13 games and is tied for third in the league. He has put up seven goals and four assists in his past six games. The Ducks, by the way, are 6-0-1 in their past seven.

Stock Down: The battle for the top pick in June's draft is going just as we predicted. The New York Islanders, Los Angeles Kings and Atlanta Thrashers have established themselves as the league's dominant doormats through the month of October. The franchises are a combined 8-20-4 overall and 2-8-3 on the road; they also have been outscored 113-82. The Isles, minus netminder Rick DiPietro and his wonky knee for a month or so, blew a 4-1 lead against Montreal on Saturday night and lost 5-4 in regulation, while the Thrashers were whipped 6-1 by New Jersey a few nights after losing 7-0 to Philadelphia at home. The Thrashers did rebound to beat Florida 5-3 Sunday at home.
-- Scott Burnside
1. Who are you and what have you done with Nikolai Zherdev?
In hockey parlance, when a player is described as "enigmatic," it often implies an unpleasant stew of laziness, lack of focus and heart, and general disinterest in the face of significant talent.
And so it was that Rangers coach Tom Renney explained a few things to, well, the enigmatic Nikolai Zherdev after New York acquired the Russian forward and Dan Fritsche from Columbus for defensemen Christian Backman and Fedor Tyutin in the offseason.
First, Renney explained he and Columbus coach Ken Hitchcock are good friends. Second, he said he and Hitchcock are different coaches, and as long as Zherdev works hard, the forward will get all the chances to prove himself.
Whatever else Renney said, it has worked far better than most would have expected.
Zherdev, the fourth overall pick in 2003, has 12 points in 14 games and, perhaps more spectacularly, is a plus-9, tied for second in the league. Last season in Columbus, he had four goals and six assists over his first 14 games and was a minus-9 on the season.
"I think he trusts me," Renney told ESPN.com.
And the notion of trust between player and coach is an important part of the dynamic for many players, especially Europeans, he said.
One of the knocks on Zherdev in Columbus, apart from a wild swing in game-to-game performances, was his awkward relationship with his teammates. In New York, Renney said he's seen Zherdev become part of the mix, the butt of typical pranks and barbs, a sign of positive integration. "He's got a great attitude. He's happy as heck," Renney said.
On the ice, Renney loves Zherdev's explosiveness and would like to see a little more of it, taking defenders wide and then exploding to the net. All in all, though, the Zherdev who suits up in Rangers' blue bears little resemblance to the one who was a Blue Jacket the past four seasons.
2. Who needs those pesky reporters, anyway?
Since the lockout, the NHL's general managers have gathered in Florida for their annual winter meetings to discuss rule changes and other pressing league matters. The timing has been especially good for those covering the league, as the meetings have taken place a week or so in advance of the trade deadline.
The number of media members making the trek has increased significantly over the past couple of years as a result of the meetings' proximity to the trade deadline. Last season, our ESPN.com colleague Pierre LeBrun suggested to commissioner Gary Bettman that the trade deadline actually coincide with the meetings to drive up the attention, much like baseball's winter meetings. Bettman asked GMs about it, but they weren't interested.
This season, the NHL has gone out of its way to quash this little spasm of media interest. Claiming that the closeness to the trade deadline made it hard for GMs to concentrate on league business, the meetings now are scheduled for the week after the March 4 trade deadline.
Go figure.
A number of GMs have complained quietly to ESPN.com that the move makes no sense -- a league desperate for media attention, especially in this day of shrinking newspaper travel budgets, shouldn't be turning its back on a ready-made media event. But likewise, there is a small group of GMs who aren't thrilled to see the media hanging around the hallways at the posh resorts where they hold their meetings.
If they were trying to sell a house, we could understand the concern over media driving down property values; but to move their meetings to cap media interest is short-sighted and all too typical of a league that even now supports keeping all but the most vague player injury information away from the media, and therefore the fans who pay the freight.
3. So, should we really feel sorry for the Penguins?
Many folks are looking at the up-and-down Pittsburgh Penguins and nodding their heads sagely, suggesting they knew it was going to be a tough road for the Penguins coming off their Stanley Cup finals loss to the Red Wings this past June.
The first month of the season has seen a number of ups and downs for the Pens, thanks to a number of factors, not the least of which are the long-term injuries to defensemen Ryan Whitney and Sergei Gonchar and a pop-gun offense that has scored two or fewer goals six times this season.
But a little perspective, please. Many forget the Pens were less than intimidating out of the blocks a year ago. At times, coach Michel Therrien moved defensemen Whitney and Brooks Orpik to forward because he was so displeased with their play. Petr Sykora couldn't hack it playing with Sidney Crosby and was dropped to third-line duty until he found instant karma with Evgeni Malkin and Ryan Malone later in the season. After 13 games in 2007-08, the Pens were 6-6-1 with 38 goals and 41 goals against.
This season? The Pens are 6-4-2 with 32 goals and 29 goals against following Saturday's win over St. Louis. If the Pens finish up this season anything like they did this past spring, we doubt many will recall the worried whispers that followed the team into November.
4. Are the Stars really this bad?
Well, sadly, if you picked the Dallas Stars to win the Stanley Cup, as we did before the start of the season, the short-term answer is yes. The Stars are 4-6-2 and boast the league's worst goals-against average, allowing 4.17 goals per game. Yikes. As of Sunday, their penalty kill was 27th in the league, and Dallas has looked only occasionally like the team that went to the Western Conference finals last season.
But if there was ever a time for the Stars to turn things around, this is it. After imploding and losing 5-1 to Boston on Saturday, the Stars don't play again until Friday. During that period, two significant things will happen to the lineup. Barring any kind of setbacks, Sergei Zubov and Jere Lehtinen will rejoin the squad after both missed the first month of the season; Zubov was recovering from hip surgery, and Lehtinen was battling a nagging groin injury. They have the potential to bring stability to what has been a surprisingly unstable group thus far this season.
It's early, of course, but watch for the Stars to start to turn things around as they host Anaheim, San Jose and Los Angeles. If not, co-GMs Les Jackson and Brett Hull are going to be asking some pretty tough questions in Big D.
5. Why do the Sharks suddenly look like the best team in the NHL?
San Jose Sharks coach Todd McLellan began the season in a unique position as a rookie coach. Instead of taking over a rebuilding (read: junky) franchise, as was the case for his counterparts in Florida (Peter DeBoer), Atlanta (John Anderson) and Long Island (Scott Gordon), McLellan took over a Stanley Cup contender.
Still, McLellan has put his stamp on the team from the get-go, and one of the ways that has manifested itself is in the way the Sharks are playing at home. Last season, the Sharks were 4-5-2 at home through the end of November and didn't manage to win their sixth home contest until Dec. 13. Although they righted the ship with a strong home stretch later in the season, the inconsistency dogged the team for weeks and raised questions about coach Ron Wilson's competency.
This season, the Sharks have been much more focused at home and are the only team with a perfect home record through October. They are 6-0-0 at the Shark Tank and have dispatched, among others, Detroit, the defending Stanley Cup champs and McLellan's old team. Pittsburgh and Anaheim also have been victimized in San Jose, where the Sharks hold a 23-11 edge in scoring.
Scott Burnside covers the NHL for ESPN.com.
Hockey writer for ESPN.com
10 years at Toronto Sun, Windsor Star and National Post
Wrote best-selling true crime book "Deadly Innocence"
SPONSORED HEADLINES
MORE NHL HEADLINES
MOST SENT STORIES ON ESPN.COM
EDITORS' PICKS
LeBrun: Wade Redden knows what it's like to be a highly paid NHLer exiled to the minors.
Story »

Burnside: It is clear their hopes for winning are tied to Max Domi and the highly anticipated draft.
Story »

Player Power Rankings: Devan Dubnyk looks solid with Minnesota Wild, but Ilya Bryzgalov not the answer for Anaheim Ducks.
Strang »