Commentary
Ducks, group give soldiers and their families special day of recognition
It's easy to sometimes feel as though the National Hockey League exists within its own hermetically sealed bubble, unaffected and immune to the world outside.
This past weekend, though, the Anaheim Ducks provided a powerful reminder of how the game and reality can and should intersect.
The Ducks hosted upward of 200 U.S. military personnel and their families at the Honda Center on Saturday at a private event. These folks, mostly from military bases in California, watched the Ducks practice, and mingled with players, the coaching staff and their own families. There was ball hockey and food and games.
The next day, the Ducks hosted the families at their game against the Florida Panthers.
The two-day event was a joint collaboration between the Ducks and Operation Homefront, a volunteer group that works to help the families of military personnel, most of whom are serving or have served in Iraq or Afghanistan.
Rob Wolford, Operation Homefront's national chairman of the board, says an event like the one the Ducks hosted is akin to winning the lottery for these families.
Operation Homefront has distributed over $25 million to military families who are in need of everything from help with a leaky roof to funds to send a child to camp. That number will grow as this year's donations alone should top $10 million, Wolford told ESPN.com.
The success of the group, which relies on the work of some 4,000 volunteers, is based on a simple premise.
First, Operation Homefront doesn't care how you vote, to whom you pray or what your views are of the U.S. conflicts around the world. They do care, however, that people respect the sacrifices made by members of the military serving half a world away and, more importantly, recognize that these families often need special help when it comes to dealing with myriad issues related to having loved ones in harm's way far from home.
In 90 percent of cases, the personnel serving away from home are male, so the job of keeping things together on the home front in the father or father figure's absence falls on the mother. That burden often can be crippling.
"It's definitely a juggling act keeping the family afloat," Wolford said. "Our job is to get in there and solve these problems before they wipe out a family."
[+] Enlarge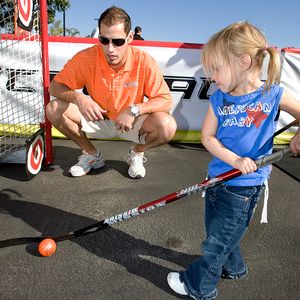 Courtesy of Anaheim DucksRyan Getzlaf and the Ducks hosted and played hockey with military families as part of Operation Homefront.
In recent days, many of the calls to Operation Homefront have been financial in nature: families unable to pay their mortgages. "We get a lot of those calls these days," Wolford said.
There are three components to the Operation Homefront mandate.
One is helping families with things around the home that may be beyond the resources or capabilities of family members. That includes the aforementioned leaky roof, mortgage payments, car payments and the like.
Then, there is the job of repairing families when personnel return home. Operation Homefront has established transitional housing near rehab facilities for armed forces personnel who have suffered physical and/or mental trauma during their tours of duty. These facilities are fully furnished and allow families to be together during rehabilitation and training that will help military personnel reintegrate with society.
Then, there is the morale component. That's where the Ducks come in.
They are the first NHL team to connect with Operation Homefront, setting up an event that put families in touch with pro athletes on a special day. Wolford said when he discussed the idea with executive vice president and GM Brian Burke, he got nothing but support.
"I've pitched a million organizations. It's a different path if you're working from the bottom up, rather than the top down," Wolford said. "This is really, really special for Operation Homefront."
Burke said the team was "honored" to be hosting the military families.
"The burden borne by these families, people just don't realize," Burke told ESPN.com last week before the event. "They deserve to be honored."
If veteran Todd Marchant is any indication, the event created a buzz inside the locker room, as well as with the players' families.
"This type of an event is a little different than most," Marchant said.
The NHL's record with charitable organizations is exemplary; and with 31 Operation Homefront offices or chapters around the United States, here's hoping the Ducks start a trend in connecting with this organization and these families.
Scott Burnside covers the NHL for ESPN.com.
Hockey writer for ESPN.com
10 years at Toronto Sun, Windsor Star and National Post
Wrote best-selling true crime book "Deadly Innocence"
EDITORS' PICKS
Part II: Which players figure to spend their entire careers with one team? Some answers might surprise you.
Buccigross »

Trade deadline: Why the Bruins and Leafs eased up heading toward the deadline.
LeBrun »

New additions helped lift the Blackhawks and Sharks after a trade deadline that saw several smart moves.
Inside the NHL