Commentary
Avery's gone, but his legacy may stick around Big D for a while
DALLAS -- By the end -- with Sean Avery wearing his earphones in the dressing room, texting and e-mailing in the hallway outside the dressing room between periods, and refusing to take part in team functions -- the distance between Avery and the rest of the Dallas Stars organization had grown vast.
But as much as the Stars' mantra is about moving forward and putting the Avery debacle behind them, the reality is Avery's legacy may linger longer than folks here in Big D would like to believe.
Let's start from the beginning, shall we?
By the time the Detroit Red Wings had dispatched the plucky Stars in six games in the Western Conference finals last May, the buzz had returned to Dallas.
[+] Enlarge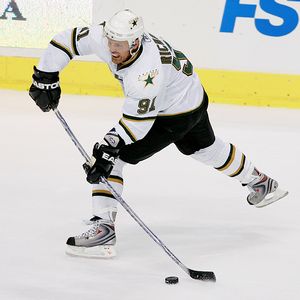 AP Photo/Tony GutierrezBrad Richards has 21 points in 28 games this season for the Dallas Stars.
This was a team that looked ready to challenge Western Conference powers in Detroit, Anaheim and San Jose after it dispatched both the Ducks and Sharks during a surprise playoff run last spring. The Stars were deep down the middle with reborn Mike Ribeiro, stolen from Montreal after he looked to be on a dead-end track there, former Conn Smythe Trophy winner Brad Richards and classy veteran Mike Modano. There was gritty, talented captain Brenden Morrow, rock-solid netminder Marty Turco and a strong supporting cast chomping at the bit for another run at a championship.
That was the view from the outside.
A closer inspection at the start of this season would have revealed something much different.
On the back end, quiet leader Mattias Nordstrom retired, and by the time training camp rolled around, the Stars found themselves without the services of Philippe Boucher and the quietly spectacular Sergei Zubov. All three defensemen had logged tremendous amounts of ice time, allowing Mark Fistric, Nicklas Grossman and Matt Niskanen to mature last season.
Up front, complementary scorers Niklas Hagman and Antti Miettinen departed for Toronto and Minnesota, respectively. Character guy Stu Barnes traded in stick for headphones as part of Dave Tippett's coaching staff. Veteran point-producer Jere Lehtinen has been injured for most of the season.
The Stars needed help along the blue line, but came up dry on the free-agent front.
Instead, the Stars surprised many by jumping into the Sean Avery fray, landing the agitating forward with a four-year deal worth $15.5 million.
With youngsters James Neal, Loui Eriksson and Fabian Brunnstrom looking to play NHL minutes and Steve Ott already occupying the resident agitator role, the signing seemed, well, superfluous.
Had the Stars got off to a San Jose-like start, who knows how this would have played out.
The Ottawa Senators put up with a dysfunctional dressing room through 2006-07 and went to the Stanley Cup finals. But it unraveled last season, and now Ray Emery is in self-imposed exile in Russia and Brian McGrattan, now in Phoenix, is in the NHL/NHLPA's substance abuse and behavioral health program.
In Dallas, the team battled injuries and inconsistent play from the beginning and the rope frayed almost immediately.
"We thought Sean would take up some of the slack [offensively]," Tippett told ESPN.com.
He didn't.
Avery managed just 10 points in 23 games, not nearly enough for a player at his salary bracket.
The defense, without Boucher and Zubov, and more recently Stephane Robidas, was exposed, the goaltending was spotty and the team concept that has been Dallas' identity for years seemed to evaporate.
After being one of the top-scoring teams last season, the Stars are 22nd in goals per game. They are 28th in goals allowed per game, a shocking stat given Dallas' long history of playing airtight defense. Their power play and penalty killing are both 28th.
How bad is it?
Phoenix coach Wayne Gretzky admitted Tuesday morning he was concerned his youthful players might take a game against the Stars for granted.
"Our identity is set in stone and we're not going to change that," Tippett said. "It looks like we might have changed it, but in actual fact, we've just misplaced it for a while. I feel that's been one of the biggest things that we've been lacking is our team play."
And therein lies the challenge for these Stars as they try to move forward from the bog of poor play and bad public relations that marked the Avery era.
The injury woes are significant, so Tippett must continue to rely on players who perhaps aren't ready to manage the load they're being asked to shoulder. Heading into Tuesday's home date against resurgent Phoenix, the Stars were dead last in the West.
Do you know how long it's been since a Dave Tippett-coached team was in last place? Neither does Tippett.
The good news is that more than half the season remains and the Stars are just five points out of the last playoff berth.
"We'll pull out of this and be where we need to be at the end," said Turco, who has played better of late after a grisly start.
The veteran netminder, who shone during the playoffs last spring, said the coming weeks will reveal the true character of the players in the Stars' dressing room.
"You'll see who wants it and who's willing to put the team first at the hardest of times," Turco said.
Tippett is cautiously optimistic, as well.
"I feel very positive we can get to where we want to be," Tippett said. "But it really puts pressure on every game and not letting opportunities slip by."
In short, for a franchise that's missed the playoffs just once in the past 11 seasons and has won a Stanley Cup championship over that period, part of moving forward means coming to grips with the hole the Stars have dug for themselves.
It was the topic of discussion in meetings Monday.
"We talked about [Monday] morning, that some players have never been in this situation before, where every game in December is a must-win for us," Tippett said. "We have to realize that's where we are right now."
In some ways, that sobering reality is Sean Avery's legacy.
Scott Burnside covers the NHL for ESPN.com.
Hockey writer for ESPN.com
10 years at Toronto Sun, Windsor Star and National Post
Wrote best-selling true crime book "Deadly Innocence"
SPONSORED HEADLINES
MORE NHL HEADLINES
MOST SENT STORIES ON ESPN.COM
EDITORS' PICKS
Burnside: Fair or not, the perception around the hockey world is that there is a distinct lack of buzz surrounding the NHL's marquee regular-season game.
Story »

A mumps outbreak is hurting the NHL's image, but Randy Carlyle's team is doing just fine.
Inside the NHL

The Leafs are winning and fans are cheering, but Toronto could be ready to come back to earth.
Story »