Commentary
5 Things; Jagr, Stamkos, more
Stock Up, Stock Down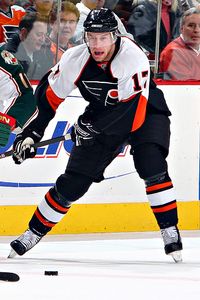 Stock Up

Jeff Carter, Philadelphia Flyers: Carter took over the goal-scoring lead in the NHL with a two-goal performance in a 4-1 victory over Toronto on Saturday night. The markers gave him 29 for the season, two more than Alex Ovechkin and Thomas Vanek. The goals also ended a four-game goalless drought, the longest of the season for the London, Ontario, native.
Stock Down

Mike Ribeiro, Dallas Stars: Last season, Ribeiro was on his way to Atlanta for the All-Star Game and a career-best 27-goal campaign, including five game-winners. This season, Ribeiro will spend the All-Star break wondering where it all went as he has just seven goals and zero winners, and the Stars continue to languish outside the Western Conference playoff bubble.
-- Scott Burnside
1. Is Jaromir Jagr headed back from Russia any time soon?
Discussions with five-time NHL scoring champ
Jaromir Jagr
can be a bit fuzzy, but the short answer is no, at least not while his Continental Hockey League team Avangard Omsk continues to pay the bills.
During a round of telephone interviews with North American hockey writers coinciding with last weekend's KHL all-star game in Moscow, Jagr talked about his commitment to Avangard Omsk and the trials this season has brought.
Specifically, he said watching teammate Alexei Cherepanov die during a game in October was something that will stick with him forever.
"We've had some problems. A lot of bad stuff happened," Jagr told ESPN.com. "To be honest with you, I've never really experienced anything like that before. I've never seen a dead body before. Having someone die right next to you, it wasn't good."
Jagr added that the death of the former Rangers prospect made it difficult to concentrate on hockey.
There have been other issues, including the recent controversy over whether Wayne Fleming will remain as Avangard Omsk's coach and the dismissal of goaltender John Grahame.
But, according to a source familiar with Jagr's situation in Russia, as long as the five-time NHL scoring champ is getting paid, he has no out from the two-year contract he signed in the offseason.
There have been rumors KHL teams are having trouble making payroll or there may be calls for players to roll back their salaries. Jagr said there has not been an issue of being paid in Omsk.
Rest assured, the moment Jagr's checks stop coming in, he'll be coming back to North America and to the NHL, where he had a number of offseason offers, including a whopper of more than $8 million per year from Edmonton.
"I don't know what's going to happen [in the future]. Right now, I'm here, I'm in Omsk and I'm really hoping to do the best job to help the team," he said.
As for the level of hockey there, he estimated the top four or five teams in the KHL could be competitive with the teams in the middle of the NHL standings, but it's difficult to compare.
"It's a different game. Different ice and it's different hockey," Jagr said. "You can't really compare it."
2. Do you think the Ducks are still Cup contenders?
Yes. And here's why. Although they've faltered of late (4-4-2 in their past 10 games), the Ducks will get star forward
Teemu Selanne
back in the next couple of weeks after he managed to slice himself with his own skate. Perhaps more importantly, though, top prospect
Bobby Ryan
is starting to assert himself as a top-six forward.
In the past month, Ryan has led all NHL rookies with nine goals and eight assists for 17 points, including a franchise-record three-goal outburst during a two-minute, 21-second span a week ago. On Sunday, he scored another highlight-reel goal to lead Anaheim to a 4-3 victory over New Jersey.
The second player selected in the 2005 draft (you remember the first -- his name is Sidney Crosby), Ryan was forced to start the season in the AHL because the Ducks had no room to keep him under the salary cap.
"He handled it very well," GM Bob Murray told ESPN.com on Sunday. "It wasn't good for him, and it wasn't good for the team."
When defenseman Francois Beauchemin went down with a serious knee injury in mid-November, the door opened, and Ryan hasn't disappointed.
When Corey Perry was suspended for four games, Ducks coach Randy Carlyle moved Ryan onto the top line with Ryan Getzlaf and Chris Kunitz. With Perry back as of Sunday, it's likely Ryan will move back to a productive second unit, centering Brendan Morrison and Andrew Ebbett.
Murray credits Ryan (6-foot-2, 208 pounds) with working with a team nutritionist and training staff to prepare for the rigors of NHL hockey.
"You always knew he had great hands," Murray said. "He sees people, sees the ice. All those things were always there."
When Selanne returns, look for him to join Ryan and Morrison. And if the Ducks can stay healthy, they suddenly will look a lot more like the team that rolled to the Stanley Cup in 2007.
3. Is it a big deal Steven Stamkos got benched?
It's probably a bigger travesty the Tampa Bay rookie and top pick in the 2008 draft got named to the YoungStars team than the fact that he was a healthy scratch for the first time this season during the team's recent western road trip.
Some would argue former coach Barry Melrose imposed a virtual benching of Stamkos early in the season when he limited the rookie's ice time. That, among other things, got Melrose fired.
Now, with the Bolts among the worst teams in the NHL, it seems current coach Rick Tocchet has been given the green light to use players as he sees fit, which means limiting Stamkos' exposure. That's not necessarily a bad thing, although it seems to have taken an alarmingly long time to figure out Stamkos isn't ready for the NHL -- at least not every night.
We recall two seasons ago, when critics lambasted the Pittsburgh Penguins for keeping Jordan Staal with the big club and then occasionally making him a healthy scratch. At the time, the center had just turned 18. Yet GM Ray Shero and coach Michel Therrien were following a prearranged plan about Staal's playing time. In the end, Staal wound up with 29 goals and was a finalist for rookie of the year honors.
Stamkos? Not so much, in terms of a plan or how things are likely to turn out.
4. What's the deal with Ilya Kovalchuk's being named captain in Atlanta?
Hard to know whether the "C" stands for "captain" or "contract," as in, "Please sign one here." Regardless, it's hard to imagine there is a less inspiring captain in the NHL than the mercurial forward, who appears destined to leave Atlanta at the first possible opening despite constant denials from GM Don Waddell that Kovalchuk will be moved.
As for leadership, Kovalchuk, who can become an unrestricted free agent at the end of next season, has shown a remarkable ability to lead the Thrashers to almost nothing, including zero playoff victories during his 509-game NHL career. With 16 goals, Kovalchuk is on pace for about a 40 percent drop in goal production this season, and he is minus-13.
The Thrashers once again will be a draft lottery team. One might imagine their captain should be a character guy, someone who might lead by example with a consistent effort every night, something that hasn't necessarily been Kovalchuk's calling card. For our money, Colby Armstrong or Todd White would have been a more logical choice. Not that logic ever has had much to do with how the Thrashers do business.
5. So, why do the Americans always tank at the World Junior Championship?
Don't think the folks at the U.S. National Team Development Program in Ann Arbor, Mich., aren't asking themselves that very same question at this very moment. Once again, the Americans entered the top international event for under-20 players as a legitimate contender for a gold medal, and once again, the U.S. squad spit the bit and lost its first elimination game to lowly Slovakia.
How bad was the upset? Well, the Russians beat Slovakia 8-1 during the round-robin portion of the schedule, while the Americans cruised through to the playoff with a 3-1 record. Slovak netminder Jaroslav Janus, an undrafted 19-year-old, played out of his mind in the team's 5-3 victory over the Americans. Still, as one NHL GM who viewed the game told ESPN.com, that's no excuse for not getting the job done.
But not getting the job done seems to be a constant refrain for the American team at this tournament. The results at the WJC are shocking given the number of talented players the U.S. is producing. Americans were drafted first overall in 2006 and 2007 (Erik Johnson and Patrick Kane, respectively). Another GM said there clearly is an issue with how the team is put together. With the recent successes of Canadian teams coached by former NHL players/coaches such as Craig Hartsburg, Brent Sutter and Pat Quinn, maybe the U.S. should look at a similar model if it is really serious about performing at a top level.
One more thing about the WJC. Yes, the Canadians are a dominant force, having won five straight gold medals. But let's provide some perspective here. The WJC is a mostly Canadian-driven event. When the tournament is held in Europe, it is sparsely attended. When it's held in the U.S., it's largely ignored unless it's in a city that's within driving distance of Canada, as was the case when it was at the University of North Dakota in 2005. It will be so again when it's held in Buffalo in two years.
Next year, the WJC will return to Canada, and organizers have arranged it so it rarely strays far from Canadian soil. And why not? This year's tournament was a resounding success from a ticket sales and television standpoint. But Canadians playing in front of home fans on an almost annual basis sure makes it easy to maintain a stranglehold on the gold medal, no?
Scott Burnside covers the NHL for ESPN.com.
Hockey writer for ESPN.com
10 years at Toronto Sun, Windsor Star and National Post
Wrote best-selling true crime book "Deadly Innocence"
EDITORS' PICKS
The Panthers acquired five-time NHL scoring champion Jaromir Jagr from the Devils for two draft picks.
Story »

Two of the league's hottest goaltenders face off when Devan Dubnyk's Wild visit Pekka Rinne's Predators.
Strang »

Rumblings: The Blackhawks' interest in Antoine Vermette could raise the price to what the Coyotes can live with.
LeBrun »
MOST SENT STORIES ON ESPN.COM