Commentary
Ducks, Canucks and the wacky West
Stock Up, Stock Down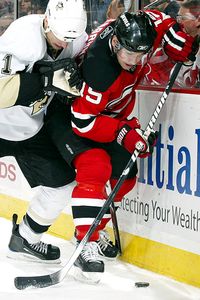 Stock Up

Jamie Langenbrunner, New Jersey Devils: The Devils' captain has posted three straight two-goal games and has three straight winners as New Jersey is on a 9-1-0 streak that has seen it take over the Atlantic Division lead and pull within one point of the second seed in the Eastern Conference. Overall, Langenbrunner has 14 points in his last 10 games.
Stock Down

Colorado Avalanche: The Avs, who have stayed in the hunt for a playoff spot in spite of the absence of top players Adam Foote, Joe Sakic and Paul Stastny, are on the verge of sinking out of sight in the Western Conference as they've lost four straight and are 1-5-0 during their current eight-game homestand. If you can't win at home and you can't win on the road (the Avs are 9-13-1 away from Denver), then there's pretty much only one thing to do -- get your golf game ready.
-- Scott Burnside
1. What's with that wacky Western Conference and how do you handicap the playoff hopefuls?
How much fun is this? As of Monday morning, five teams occupying sixth through 10th place were tied with 53 points and eight points separated fifth through 14th. How crazy is the Western Conference? Well, Phoenix looked like it had firmly established itself as a playoff team as it sat fifth in the conference after the All-Star break, but after three straight losses, the Coyotes are now 10th. Dallas, once left for dead in the nether regions of the conference, was among those teams at 53 points and sit seventh overall.
With 2½ months to go, we figure the Coyotes are cooked unless they find more consistent scoring. Columbus, likewise, doesn't have enough scoring depth and its power play is the worst in the league. If there's one team currently in the top eight that we can't get a handle on, it's Edmonton. The Oilers got blasted 10-2 by Buffalo, turn around and beat division foe Minnesota, but then fall flat against Nashville 2-1 at home Sunday. If there's hope for the teams outside the bubble, it's the Oilers' multiple personalities. As for Vancouver, see below.
2. Just checking, but how's that Sundin signing working out so far?
Actually, the better question is, who is going to take the fall for the massive collapse on the West Coast? After waiting like a love-struck teen at the window, the Canucks finally got
Mats Sundin
to sign just before Christmas. A team many believed would struggle offensively had managed quite nicely up until then, and there was talk about what the Canucks might be able to accomplish come playoff time. Ha, ha. Then, netminder
Roberto Luongo
went down with an injury and the free fall began.
The worse part is, Luongo is back and Sundin has, presumably through no fault of his own, managed to disrupt whatever offensive chemistry they had going. The Canucks have won just once in their past 11 games. Sundin has chipped in a meager three points in nine games and is a minus-6. Luongo, meanwhile, hasn't won a game since Nov. 19 and has allowed 19 goals in five games since returning from his groin injury. One has to wonder how long the leash is for coach Alain Vigneault. He is not Mike Gillis' guy and Gillis' grand plan in his first year as GM is turning to mud before his very eyes. True, the Canucks are just one point out of eighth, but they're sitting in 11th with little in the way of positive signs. Look for some sort of change before too long.
3. How is the goaltending situation going to shake out in Anaheim?
It's been interesting to watch as coach Randy Carlyle has quietly moved to
Jonas Hiller
as his starting netminder, leaving former Conn Smythe Trophy winner and recent All-Star Game participant
Jean-Sebastien Giguere
on the bench. Hiller has started all three games since the break, including back-to-back games last week, the first time this season Carlyle hasn't alternated netminders on such occasions. Since late December, Hiller is 6-3-0, while Giguere was pulled from his last start against the
New York Islanders
prior to the break, a move that prompted Giguere to take out his frustration on some sticks at the Ducks' bench.
At the All-Star festivities in Montreal, the personable Giguere talked of his efforts to get back on track mentally and acknowledged he hasn't given Carlyle much reason to use him. The Ducks, who just got forward Teemu Selanne back from injury, are part of that tightly packed group in the Western Conference, where a bad week can see a team fall right out of the playoff bracket. Given that, look for Hiller to continue to carry the ball as the Ducks try to figure out whether they're going to be buyers or sellers at the March 4 trade deadline. It's worth noting that in 2006 and 2007, when the Ducks went to the Western Conference finals and won the Stanley Cup, respectively, Carlyle made use of both his netminders, so it's not as if opponents have seen the last of Giguere.
4. Hey, the Red Wings are in a bit of a nose dive. What's up there?
Yes, we've all been spending a lot of time slapping GM Ken Holland on the back for re-upping
Henrik Zetterberg
last week, so much that maybe the Wings' recent collapse has been all but forgotten. But you can bet Holland has noticed.
Zetterberg hasn't played since signing the 12-year extension, the longest in team history, as he struggles with a nagging back problem. Brad Stuart is out long-term (at least 10 games) with a rib injury and Tomas Holmstrom is trying to deal with an ongoing groin issue. The Wings have lost five straight and, perhaps more problematic, are 21st in goals against per game after leading the league in that category last season.
Forget catching San Jose (Detroit is now eight points in arrears of the West-leading Sharks and has played one more game), the Wings have to be wary of being overtaken by Calgary for the second seed, while Central Division-foe Chicago is just seven points back with a game in hand.
Holland told ESPN.com last week he won't have much room to move salary cap-wise at the trade deadline, but he'll be working the phones, presumably trying to find some defensive depth. Last season, Holland (here we go with the back-slapping again) managed to add Stuart at the trade deadline. Stuart ended up being a top-four defenseman who had a stellar Stanley Cup finals series as the Wings won their fourth Stanley Cup since 1997. Look for Holland to take a hard look at former Wing Mathieu Schneider, who will be on the move from his current home in Atlanta.
5. Doug Gilmour was honored by Toronto on Saturday. Will he end up back with the franchise some day?
Gilmour, the much-loved Maple Leafs captain, is in an interesting place and we don't just mean now that his visage is hanging from a banner in the Air Canada Centre rafters with the likes of Bill Barilko and Johnny Bower.
Gilmour joined the Leafs' front office under former interim GM Cliff Fletcher and then took a job coaching the major junior team in his hometown of Kingston, Ontario. He is part of a large group of his NHL peers finding their way in post-NHL careers. Al MacInnis, Ron Francis, Luc Robitaille, Steve Yzerman and Cam Neely are all heavily involved in management and/or coaching duties in some form with their respective franchises, but Gilmour's path is less clear. He hopes to return to Kingston next year even though the team has struggled.
Toronto GM Brian Burke is a smart guy and knows Gilmour's profile with the team is something that can only help, at least from an optics perspective, if Gilmour wants to explore other hockey options. Gilmour joked that his father used to coach him from the time he began playing until he was 40, often suggesting he should shoot more even though Gilmour was more a playmaker. Now, his father offers coaching suggestions, Gilmour joked during a conference call.
And then, there's the issue of the Hockey Hall of Fame. His 1,414 points over 20 NHL seasons are certainly Hall-worthy, and he's tied for seventh overall with 188 postseason points. In terms of impact, the scrappy forward helped revive a moribund Toronto franchise in the mid-1990s, leading them in back-to-back Western Conference finals appearances in 1993 and 1994. No wonder his banner looks so good hanging up in the ACC.
Scott Burnside covers the NHL for ESPN.com.
Hockey writer for ESPN.com
10 years at Toronto Sun, Windsor Star and National Post
Wrote best-selling true crime book "Deadly Innocence"
SPONSORED HEADLINES
MORE NHL HEADLINES
MOST SENT STORIES ON ESPN.COM
EDITORS' PICKS
Strang: A dramatic shift in the landscape has left many enforcers being escorted out of the game.
Story »

Pronman: Happy holidays! Here's your Team USA WJC preview.
Story

Burnside: We tell you who will make a roster for the 2016 World Cup.
Predictions »